A Nashville Family 1962 Travelogue
An Image Maker Returns to Italy
Note: Last names omitted for privacy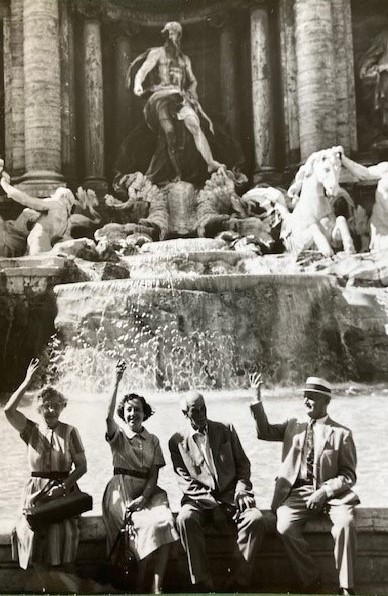 Left to Right: "Mother" (Amelia), Ottavia (the travelogue author), "Mr. Marsili" who is Giovacchino's cousin and a brother of Louisville Image Maker, Constantino Marsili, and finally, "Father" Giovacchino.
Many in the family who read this will recall "Ottavia" daughter of Anacleto and Giovacchino's niece, who owned to the Bottega with her husband, Archimede, at the foot of Case del Rosso and died not so long ago. The Bottega property is closed but still owned by AnnaM, Ottavia's only child.
*I photographed the pages of the travelogue so you could see how the journal is written on a manual typewriter of the time, before computing. I remember typing many term papers and I am just so tickled to see a term-paper like journal in a green folder. Just so wonderful!!!
Recently, I received a special gift from cousin, NancyWM, granddaughter of
Nashville Image Maker, GiovacchinoM. This image maker comes to America in 1906 to work as a plaster caster in New York for his uncle at G.C.I. & Company. He is 17 years old and he has been working as figurist for many years traveling throughout Europe before coming to The U.S. He may have even studied with a master plaster craftman as he is a skilled figurist.  Once Giovacchino is in America he never looks back. He moves to Louisville in 1909, then finally, after marrying, AmeliaM, a German immigrant, they move to Nashville TN establishing a successful statuary. Giovacchino never retires. Two years before his death in 1964, he returns to Italy, for a brief visit, including a stop in his hometown, Gromignana, where he had left 56 years before. The travelogue of his trip is written by his daughter, Ottavia, who accompanies her parents on the adventure. The travelogue is not only amazing primary source material for the research of the Gromignana Image Makers, it is also a  glimpse into the experience of a 1962 traveler. The differences and similarities of their trip in the sixties vs. trips to Gromignana today will jump out as you read this wonderful  piece of history.
BELOW IS A PHOTOGRAPHIC* COPY OF THE 19 PAGE TRAVELOGUE WRITTEN BY OTTAVIA. "DADDY" IS GIOVACCHINO, HER FATHER, AND "MOTHER" IS AMELIA, HER MOM.