Is it possible to create delicious memories if we eat a sugar-free, white-flour-free, highly-processed-foods-free diet? A brave group of DM readers are willing to try. Starting Ash Wednesday (2/17/2021) our group will attempt to eliminate all or some of these foods. This PAGE will highlight the journey and the adventures of these intrepid souls!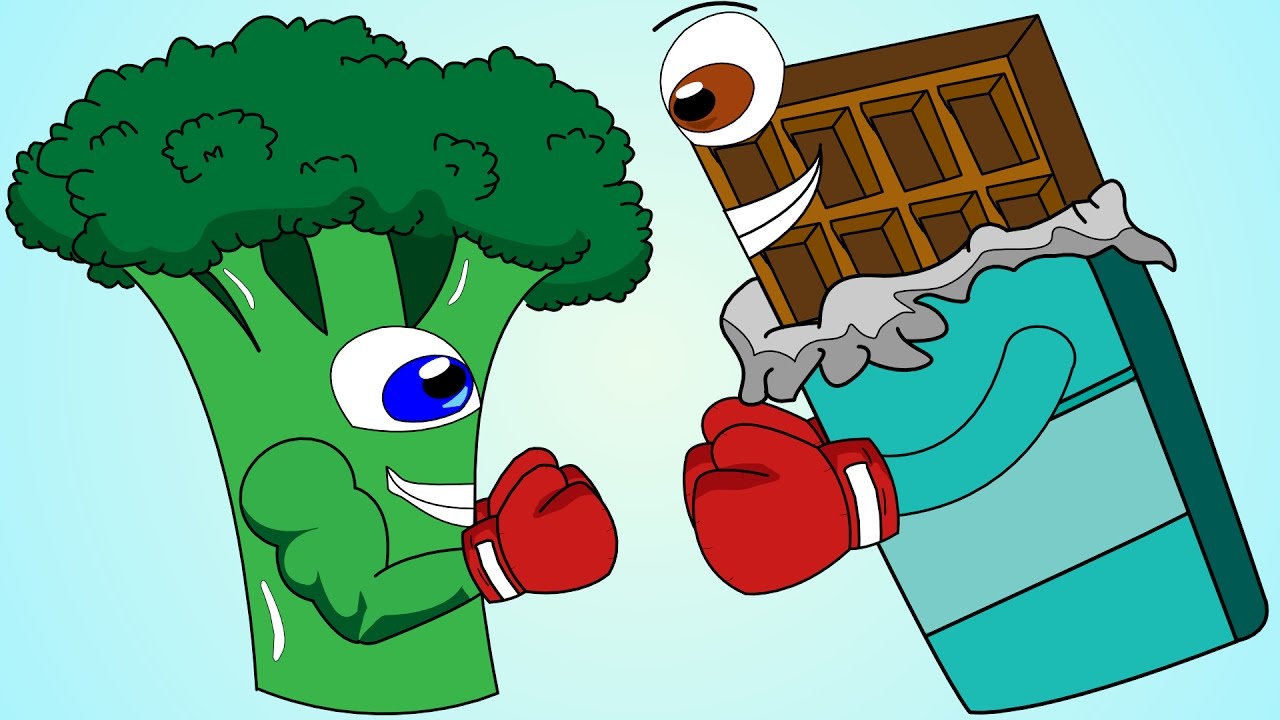 Day 35 ...
I am al fruited out! Our last week hopefully each day will be all XXXs. HOPING!
Day 34 ...
In the final stretch…just a week to go. While I continue to try, day-by-day my will power grows weaker and weaker. Passing a Dairy Queen yesterday after lunch an almost hypnotic spell came over me. Before I even realized what was happening my car stood at the ordering machine where I blurted, "one hot fudge sundae with whipped cream." When asked what size, I did moderate ordering a medium. Sitting in the parking lot savoring each bite I thought this must be what heaven feels like … a freshly processed, sugar packed ice-cream-like food flowing through my body. This delicious concoction represents everything I have been trying to fast from these past weeks. No guilt though, just sheer enjoyment, and perhaps a good lesson. In the past I indulging in these types of foods were automatic, eventually having little enjoyment, just habit. Now I really enjoy the treat, focusing on each bite. Somewhere I read that if you wean yourself off sugar, you will your lose your taste for sweetness. I am unsure if this will ever happen with me. In some ways the fast has only heightened my taste for all sweets, although when I go without for a while, I do really appreciate the moment when I break the fast. I am not sure where I am going with this thought, just a reflection on a bust-fast moment. I got right back on our fast with a delicious-sweet memory.
Last night for dinner I made a fish bowl. I am beginning to enjoy fish bowls with rice mixed with vegetable and yummy tuna, halibut or other white fish. In last night's bowl I added wilted baby kale to the rice and fresh parsley. Using soy sauce and other spices the final result were flavorful and even Steve lapped it up. I did enhance the meal with a fruit salad side. The problem I have with eating fresh fruit is that when you buy it you have to eat it up quickly, same with fresh veggies. I am doing my best to stay on the fruit and vegetable path to good health. I am thinking of shopping more often for fresh food ingredients but I hate to go shopping and the store temptations, oh goodness, what 1st world problems I have! And maybe someday I will enjoy fruits and vegetable more than hot fudge sundaes (NOT! Ha-Ha).
I continue to listen to binaural. The link below is a really good one. I am still tapping too but driving hampers my tapping when I see Dairy Queens, McDonalds and the like. I continue to wish I could move to Italy for a year, out of temptations way. There are no Dairy Queens in my family's hometown of Gromignana, there may not even be very many fruits and vegetables.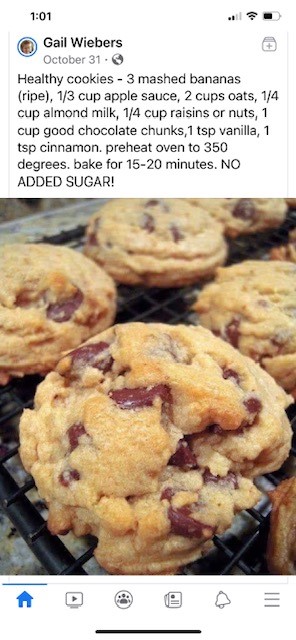 Sweet recipe from KarenKG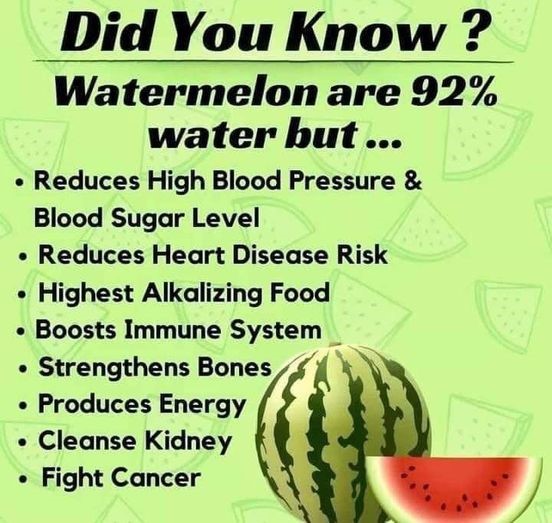 Day 33 ...
We are getting so, so close to the end. With each day comes a deep desire to be done! I must admit though that I have learned a lot these past weeks. Surprisingly, I am developing tricks that are keeping a lid on my cravings. I found another one just this week, see below. First, just want you to know that last night we had fried apples with pork and sauerkraut, yummy! Also, I have to share that while shopping yesterday for some greens and fruits I found a container of baby kale. Even from the grocery store baby kale is so much better than the mature plants; they are not anywhere near as bitter. I also found this fantastic recipe mixing greens with fruits. I believe I may really be getting the hang of fresh, whole foods. This brings great excitement for the summer and using my garden fresh vegetables and herbs in more creative ways.
Anyway, the Green Goodness recipe is as follows…
In a bowl, whisk together 2 TBSP lime juice, 1 TBSP Olive Oil, small pack of stevia, ½ tsp salt (and 1 slice of jalapeño which I omitted because I am not a spicy gay).
On a plate spread a cup of baby kale, slices of granny apple (I used only ½), ½ kiwi, peeled sliced, ½ small avocado (sliced). Sprinkle all with scallions (I love 'um),
Then drizzle ½ the dressing. I still have to figure out what to do with the remaining kale and fruit but may just fix another salad tomorrow.
On the meditation front, my new find is BINAURAL BEAT THERAPY. I just have to wonder…who thinks of all this crazy stuff? I thought it couldn't get any nuttier than TAPPING but binaural beats is up there! Youtube is brimming with audio tracks for this therapy. You can probably "hear" me laughing as I write this piece. I took a listen and I am following through with the suggestion to listen to a favorite for 20-30 minutes a day for two weeks. I am rounding day mark five and I must admit the audio track I listen and watch "Serotonin, Dopamine, Endorphin Release Music, Binaural Beats Dinlendirici Müzik" brings smiles to my face. Click Here to watch and listen.
Click Here to read "What are binaural beats, and how do they work?"
Life is full of surprises and just when I think there is nothing new in the universe, something totally unknown pops up. Now, really, have any of you ever heard of BINAURAL THERAPY? Have a wonderful day and only today and tomorrow to traverse until Palm Sunday. Do people eat palms? I wonder.
Day 32 ...
I have some great fruit news today. Yesterday I made the decision to buy a fruit I rarely eat but do like … the lowly fussy green KIWI. I have never had much interest in eating KIWIs but now I know the nutritional value and WOW, the KIWI really packs a punch. If you are interested you can click the link for all the benefits of eating a KIWI.
CLICK HERE to read about benefits of Kiwi
I did buy some apples today and I plan to bake them, maybe with pork at Sharon's suggestion. Steve wants me to bake an apple crisp but since I am not eating sugar or white flour this may be too tall an order. I will certainly bake one after our FAST. Even my mother's recipe for stuffed baked apples calls for brown sugar. I am going shopping today at Central Market which is a grocer featuring fresh vegetables and fruits. I plan to pick out one or two exotic fruits to try. Do you regularly eat exotic or unusual fruits? Let us know which ones you like to eat.
Thank goodness Easter is almost here. I am really getting tired of this fast! Cutting out sugar, white flour and processed foods is really, really difficult. While I have cheated pretty much every weekend, I find, even the five days of the week I am good is exhausting. Our environment is so permeated with these items that it becomes a real chore to try to root them out of my daily diet. I suppose this is what American food companies count on; the overwhelming effort it takes to avoid these food ingredients. At the store, the enormous amount of temptation at every turn is incredible. Even when I successfully run the grocery-store gauntlet of goodies, when I arrive back at my condo there is a stocked full candy and snack machine right next to the elevator with inexpensive sugar laden goodies. People waiting with me for the elevator give me odd looks as I begin tapping my hand, face, chest and head to ward off the temptations. I am not sure the tapping helps reduce the cravings but it sure makes me laugh and my fellow condo dwellers laugh when I tell them "I am warding off evil."
So that's about all for today … just two days to go until Sunday when I may have a full scale breakdown. Something to look forward to! Hope you have a fruity-fun day.
Day 31 ...>
Fruit week should be more fun! I am trying to eat at least two fruits a day but it has been a challenge. Yesterday's fruit-lunch treat, mixed fruit, left me full which is always nice. And last night I made banana pudding (with stevia). While the end product had a very promising look, the actual experience left a little desire for a better tasting pudding! Today I need to finish the mixed fruit and the excitement is missing to be sure. Tomorrow I will work on adding apples. They are always a nice treat.
I continue my daily meditations and continue to wonder why life is so boring. This is wash day and I simply hate to do the wash. Steve helps with folding, so that is pleasant now that I have let go of my dislike of his folding technique. My mother taught me an exact fold for all types of clothes (you know, the right way), if I want Steve's help I just have to restrain from criticizing how he folds. I use to find that really difficult but the older I get the less I care and the more I enjoy the assistance. So funny how life works!
Day 30 ...
We are really getting close to the end! Only ten days to go, so stay with me! I am getting bored with this routine, as I am sure are as well (see below for a video of why we start out and adventure so excited and then the enthusiasm begins to wane over time.
Karen, made a great point that we are so used to eating fruit in the morning versus other times of the day. I suppose this is just habitual as we learned to add fruit to our breakfast cereals and orange juice is a breakfast staple. My mother had a wonderful way of including fruits at dinner. Last night for the first time, probably since I was a child, I made baked pears for desert. My mother would cut up the pears brush with butter and sprinkle a mixture of cinnamon, nutmeg and sugar (I used stevia) then bake at 375 degree until the pears were baked through and crispy. She would finish off with whipped cream, which I left off. Both Steve and I really enjoyed the treat. My mother also loved to bake apples whole stuffed with nuts and other delicious ingredients. I may bale those later in the week. So eating a banana with cereal and a pear in the evening I got my two servings of fruit yesterday. No use what today will bring but I will let you know tomorrow.
On the subject of losing enthusiasm…I watched a very interesting video yesterday on "My Life Is Awesome, so Why Can't I Enjoy It?" I continually have this issue as I do have this amazing life and I am bored so often. I start a FAST enthusiastically, quickly I lose interest and I have to force myself to stay the course. I began to wonder why I am prone to getting bored with everything so quickly. Why am I always wanting to move on? Why is it that when I meditate that I am still dissatisfied with where I am right now? I am told I will be happy if I just live in the now and have gratitude for the great affluence I experience every day. After a few weeks of research, I found this video by Laurie Santos. Looks like my mind has terrible mind glitches which are likely genetic. My daughter has the genes too, we both get bored very quickly with most everything, we love change. The video is about an hour so if you plan to watch, set aside that amount of time. For me it provides a lot of "food" for thought."
Day 30...Follow-Up MarySueDM...
I love fruit! We have a specialty store that specializes in fresh fruit. The tastes are wonderful. Totally different then your Kroger type stores.
Day 30...Follow-Up SharonS...
I like to add fruit to my salads. I have used grapes, strawberries, and apples chunks. I also like baked apples which are great by themselves or my mother would slice apples to line the bottom of a baking dish, sprinkle with brown sugar and cinnamon and bake pork chops on top letting the juices from meat cook the apples as well. Haven't tried other meats.
Day 29 ...
While last week had its ups and downs, I did eat a lot of greens. Yesterday I finally used up the dreaded KALE in a concoction that resembled PESTO but tasted like anything BUT! I used a typical PESTO recipe substituting KALE for BASIL. In place of high calorie pine nuts I used roasted chickpeas, which are really rather good as a snack. To compensate for the KALE bitterness I added a packet of Stevia which at least brought the flavor to an eatable state. Since we are not eating pasta made with flour I decided to try Edamame noodles. I served the Kale-noodle concoction with halibut and fresh strawberries (see photo). The meal actually looks really good. Steve best summed up the Kale noodles as "not horrible." Well, I wouldn't recommend the edamame noodles; I threw the rest of the box away. There is still a portion of the Kale Pesto in the 'frig and it will soon follow the noodles in the trash.
While we need to continue experimenting with greens and vegetables as much as possible, our focus this week will be FRUITS! Along with increase our veggie intake, we need to add whole fruits to our daily menus. According to a new CDC study, "Just 1 in 10 adults meet the federal fruit or vegetable recommendations." We really need to get with the program! See recommended plate. I love fruits but I find it difficult to eat the daily requirements. Adding a fruit side to dinners is unusual for me but I did add the strawberries to the fish-kale noodle dinner and we enjoyed it as a side. Steve thought it an odd addition but then it may be just a new experience that we need to grow to like. Connie mentioned that she adds strawberries to spinach salads which must have been something I did at one time. What salads and/or other recipes do you enjoy that incorporate a daily requirements of fruit? Apparently we should be eating 2 to 3 servings of fruit a day which seems a lot to me. A serving is one whole piece of fruit, an apple or banana, or 1 cup of berries. Back to leafy greens for a second … a serving is 3 cups of raw greens, Ugh!!!! See the 1-2-3 method from the Mayo Clinic to incorporate fruits and veggies into your day.
CLICK HERE for Link to May Clinic
Enjoy this week focused on sweet and juicy fruits. Do you eat any unusual types of fruits that fly under the radar? Share your fruit adventures.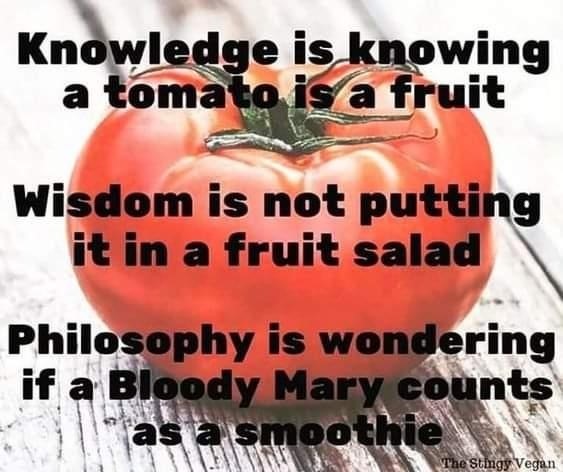 Day 29 Follow-Up KarenKG
I wish I was more of a fruit person - other than grapes! I can do them early in the day but rarely in the evening. I've been enjoying my yogurt and granola with blueberries and banana. And when weather is warm, an apple is my water bottle. Doing my best... And I forgot that tomato is a fruit!
Fifth Sunday in Lent
Wishing you a very pleasant day. Back to our FAST tomorrow!
Day 28 ... (somehow missed 27)
Today is Saturday and we are on the 28th day of Lent (no Sundays included). Anyway, I think that gets us back on track as I lost a day somewhere! Oh well. Yesterday, while I had my greens for lunch, I totally blew dinner. My brother asked if I would like to go along with them to GolfWorld which is a fun place to do everything golf. Since it was my niece and nephew's last day of Spring Break I cheerfully went along for the fun and exercise. Bad idea!!!
The place was really more like a bar and restaurant with a little golf on the side. I fall to temptations so easily. A plate of bean nachos, pretzel bites and two Manhattans were a wonderful treat but there were NO GREENS in sight … they didn't even have a salad on the menu. Of course, I sampled all the other goodies brought to our little booth where we hit golf balls between bites of scrumptious treats (Kathleen's deep fried mac & cheese squares were over the top but delicious). I did see a hint of green parsley in the mac & cheese coating. Egad!!!
So today I start again, although we are going to my brother's house for dinner for one last hurrah for the kids. He is grilling steaks and will have baked potatoes and a salad. As long as I stay away from the booze I should have an OK day. No dessert tonight but I will likely succumb to the temptation if it is served. You would think that by my age my will power would be more substantial. I am finding, however, that the older I get, the easier it is to give into all the temptations that surround me. Living in this country and trying to maintain a normal BMI feels simply impossible. My BMI is 27.5 and I am desperately trying to get it under the magic 25. I often get close just to see it slip away. I will never give up trying because if I do no tellin' how high it could go.
This morning I did my mediation and my intention for the day is just to be a little better than yesterday, which should be easy! Hoping you have a pleasant weekend. We are rounding the corner on this fast and hopefully we will take away a few new good habits from the adventure. Take care now.
Day 28 Follow-Up MarySueMD
My mother's doctor told me to let mom eat her dessert first!
I have tried this many times. It works well😉
Day 26 ...
I am so delighted to share I had a delicious dinner last night with collard greens … I made sweet and sour and chicken and in place of rice I made a veggie dish composing collard green fried in a small amount of olive oil with onions and carrots. I then added steamed cauliflower and served with the sweet and sour chicken. I used stevia as a sweetener and used whole wheat flout in the batter coating for the chicken. I am so surprised the taste combination turned out to be great! I believe the pineapple and green pepper helped a lot. Today is KALE and I finally found a recipe for kale pesto … I will let you know how that pans out.
On the meditation front … I believe I am finally getting the hang of living in the present, just enjoying life from moment to moment. I have been working on this for two years now and I am feeling like I get it…finally! I am finding my mind wandering off less and less. I have always had an issue with ruminating on the past or anticipating the future. Maybe before I die I will be like St. Mary and find peace.
Off to grocery shop and have an outing with my brother and niece this afternoon…golf! Should be fun.
Day 26 Follow-Up DebDG
Ladies, I just wanted to share my gardening adventure with Kale before "Greens Week" is over.
Last spring I planted A six pack of curly kale in one of my raised vegetable garden beds. I always try to plant something new each year and kale was my choice. It was the trendy green for awhile and I wanted to get on the bandwagon.... I had never ever touched the stuff before.
So I planted all six and boom! It grew like a weed. I started cutting off the new baby growth , chopping it up and putting it in my salad. It was very mild and not too bitter as I had heard. Well, six plants is enough to feed an army and the kale was stating to get tall and big. I yanked 4 plant and left 2. All summer I snipped baby kale leaves for my salad and it was delicious. Never cooked it once or used those big tough leaves like you get at the store.
October comes and the kale plants are going strong. Through November too , still snipping kale. Finally at the end of December I pulled them up but they were still green and growing. I tossed them on the ground nearby to die.
Last week I was cleaning up around my garden bed and there lays the kale. I Looked closer and leaves we're starting to pop out on the stalk of the uprooted kale. I thought to myself ... wow this is powerful life giving stuff.
Today while shopping at Meijer I checked out their veggie packs and there it was Curly
Kale.. this year going to see if it will last all winter, even if it does look like a Dr Suess plant. I might even try cooking some this year knowing how healthy it is. Already tempted to start snipping some leaves. 😉
Day 26 Follow-Up SharonS
I too am dealing with osteopenia. Years ago I was told to take calcium supplements to build up my calcium levels and had an appointment a few months later for another matter. Doc asked how I was doing on the pills and I told him I wasn't sure I wanted to take these as I was fearful of getting kidney stones as my mother suffered terribly with them and sibs, son, niece and nephew also have had them. He told me to not take them as I was a walking time bomb for kidney stones as well. On my medical history forms, there isn't a check off for kidney stones and no doctor ever asked about this. Just giving a heads up in case you have kidney stones in your family history. Glad to say that although I had subsequent decreases in my bone density especially hips, last screening showed an increase. I walk each day 20 minutes even if it is just around my house although outside is much better and I have tried to incorporate calcium rich food and even processed food with added calcium. Off the " greens" subject a bit, but was triggered by the osteopenia issue.
Day 26 Follow-Up KarenKG
Due to the toe break, which the ortho called a stress fracture, he suggested I get a new dexa scan (tomorrow morning) and start taking calcium. The brand he suggested is not good — includes corn syrup and other gunk. Also the form of calcium is less easily metabolized by the body. I started doing some research and did find a form that seems better absorbed (calcium-hydroxyapatite) and some sources; however, I also found info on good sites that indicate supplements don't really change outcomes re: fractures or healing, and only dietary sources are metabolized well. If of interest, see
https://www.ncbi.nlm.nih.gov/pmc/articles/PMC4809188/ (includes a list of good dietary sources)
https://www.hopkinsmedicine.org/health/wellness-and-prevention/calcium-supplements-should-you-take-them
https://www.hopkinsmedicine.org/news/media/releases/calcium_supplements_may_damage_the_heart
Looking at the evidence, I think I'll work on increasing dietary calcium, e.g. changing my Greek plain yogurt (higher in protein) to regular plain yogurt (higher in calcium), making more smoothies with unsweetened almond milk and spinach; reaching for almonds instead of pistachios! I'll probably be eating more dill pickles too!
Day 25 ...
Well, I had the beets and green dinner last night and it was OKAY (see attached). Steve ate only the pork and I had to fix him potato and broccoli sides. So this is why I eat less greens. While I like different greens, beets, turnips and all, I just like them enough. Meaning, I don't like them enough to fix two dinners since Steve won't eat these foods. This presents a real problem since this is the type of foods we should be eating on a weekly basis. I am not sure there is any answer for this issue. Plus, Steve's dinner look so much better! Hum…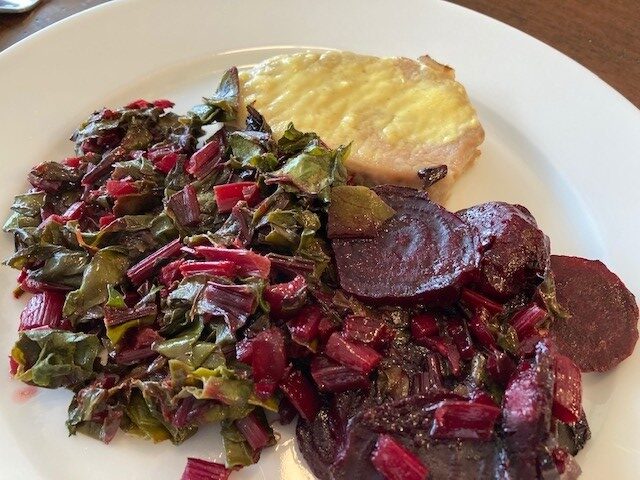 In other news, the last two days I tried to fast for longer periods of time between meals. While I was successful I had a terrible break down both Monday and Tuesday night, eating a bowl of ice cream. Maybe it is just a mid-fast break…I plan to get back on the straight and narrow today. I am still marking more Xs than Os but I see a pattern of marking more Os as the days run on. Fasting from sugar, white flour and processed foods is so, so hard for me. Yesterday, I had a trifecta day … I ate sugar and processed with the ice cream and had three small bagels (white flour); my niece and I made a batch a bagels for fun. I did eats my beets and greens though so I suppose I felt like I could blow the day. How we negotiate/rationalize with ourselves!
On the prayer/meditation front I am attempting to become the person I want to be which continues to be very difficult. I have this ugly, revengeful/mean streak in me that flares up from time to time. I have no idea where it comes from but I wrestle with it. Sometimes it is about my kids and their partners, sometimes past slights by those I have known. I am back to reading a practice guide by Eckhart Tolle called The Power of Now. I am almost 71 years old and I still harbor resentments and petty thoughts about even those I love. You would think by this time in my life all those issues would have disappeared. How is that we hang on to such useless thoughts? It all involves making the shift from selfish to selfless. While it should be simple, it is so hard for me. Any thoughts on this?
Take care now and thanks for joining me on this Lenten journey.
Day 24 ...
First day of my LEAFY-GREENS focus was tolerable. I attached a photo of my lunch and the sushi is delicious, as usual. The seaweed salad is a mix of crunchy sea weed with oil and sesame seeds. While it will never be a favorite, I may purchase again in the future. I have always been curious. I have started a long food fast on Mondays and Thursdays … I did great last week and had success today, although I cheated a little since we lost an hour last night. I am stocked up with greens and had a light greens dinner last evening.
Today I am planning to roast some fresh beets and serve them with the greens and pork. Steve won't eat the beets but I really love them. My Dad grew them every year in his garden along with a lot of other greens. My mother prepared them in ways that were simply wonderful, I either have never had the touch or using fresh from the garden greens makes a big difference. I have a feeling the later is the key to delicious greens. Click the link below to view the recipe I have selected to try. The recipe is close to my mother's recipe but she didn't use Dijon mustard which sounds really good to me.
CLICK HERE for link
The beets are in the oven currently roasting. I will let you know tomorrow how it all plays out. Tough afternoon as I am going over to my nieces house to show her how to make bagels. YUM! I will likely have to test one. Have a great day.
Day 24 Follow-Up SharonS...
I like beets as well. My mother used to pickle them. Have also had them in slivers in an orange sauce. This latter dish probably wouldn't make our sugar-fast list.
Day 23 ...
This week we need to focus on experimenting with greens. Certainly not my favorite food but I really need to figure out how to include more of them in my weekly menus going forward. Everyone knows that greens are healthy foods but they are difficult to work into a daily diet because, frankly, they just don't taste that great. I know there are ways to make greens more palatable so let's experiment on a few this week.
The first green I will eat today is an unlikely candidate … seaweed. Kroger has a preprepared seaweed salad in their sushi section, so I will buy some sushi and a seaweed salad for my lunch today. I have never had this salad but always see it when I buy a pack of sushi rolls now and again. I have attached a link to the health benefits of seaweed and my, oh my … they appear to be very healthy.
CLICK HERE to follow link
I shop on Mondays, so today I will purchase the following greens (frozen if I can find them) and try to figure out how to incorporate them into lunches or dinners this week. Do you have a favorite green? How do you prepare them? Let us know.
Kale (this is a tough one as Steve hates it. I will try again to figure out how to prepare it so we enjoy a few bites. It is so good for you, I know.)
Collard Green (I will likely add to soup)
Spinach (remember when spinach salads were the hot menu item?)
Beet greens (my mother used to prepare these from my Dad's garden with pork so I will try that recipe. I recall liking the dinner as a kid.)
Swiss Chard (I have never tried but I found a recommendation to add them to Tacos. Hum, doesn't sound that good but will try on Friday or Saturday with a our Taco dinner. Steve will say "what the hell is that?")
What greens will you try this week? If any…
Have a great week as GREENS are the perfect food this week in celebration of St Patrick's Day. GO GREEN!
Day 23 Follow-Up ConnieVM
I got a kick out of envisioning Steve finding Swiss chard in his taco!
Anyway, I incorporate greens by having a spinach salad almost every day for lunch. They're still my hot menu item! Back in Madeira you served us a spinach salad with strawberries, and I still love them that way. I'll include some mixture of the following depending on what's in the house: strawberries, garden tomatoes, apples, pears, salmon, turkey, tuna, sunflower seeds, pecans, walnuts, asiago cheese, goat cheese, avocado, red onion, broccoli, cauliflower, mushrooms. I put a drizzle of Kirkland balsamic vinegar on top and I'm good to go. It can take awhile to make, but well worth it. David loves spring mix, and if it comes from the farmers market or a good organic brand, the flavor and aroma is delicious when you chop it up.
Fourth Sunday in Lent ...
I hope you are enjoying your day off from fasting. I am trying to fast today because I took a day off yesterday. I am not sure that is kosher but what the hell. So my first challenge of the morning is that Steve brough home a bag of donut holes with his Apple Fritter. Yes, I am terribly tempted and told myself I would eat JUST ONE! I know where that "just one" leads as the taste of sugar just triggers my sugar cravings. I looked up the nutritional value of a yeast donut hole (see below) and I thought, "well, just one isn't so bad" but I know myself so well now that even with this information justifying just one, I know I won't stop. The day will somehow spiral out of control. I have avoided the temptation for the moment but the bag is still sitting on the kitchen counter. Once I have a healthy lunch, though, the temptation will pass. I am tapping too! And while I am tapping that a donut hole is basically empty calories, I must admit I am surprised that it has some nutritional qualities. What are your tricks to avoid the "just one" pit fall?
Tomorrow begins another week. Guess what we will be focused on this coming week? It is a somewhat unlikely food focus … Ugh! The dreaded HEALTHY GREENS! More coming tomorrow on this topic. Stay tuned and stay with me. Just 18 fast days to go.
Day 22 ...
We are now heading done hill to the finish line. I had lunch to day with Bess, Kathleen and Bess' Mom, Dorothy at RISE (a French Souffle Restaurant). It is, by far, my favorite place to eat. I had their steamed artichoke (to be sure I got in a vegetable, then the Crab Souffle and for dessert, their violet souffle. Eating at RISE is like dying and going to heaven, just so perfect in all ways. Now that I have a big fat O for lunch, I will try to moderate for dinner with a bowl of soup.
Last week we experimented with bread-like foods low in sugar and minimally processed without white flour. Of all the items I tried, I liked Deb's suggestion of Sprout bread the best. The ThinSlim bread and bagels arrived Thursday and Steve and I tried yesterday. Steve's comment on the bagel is spot on … "tastes OK but like a diet bagel." The bread is OK too but not worth the $7.99 a loaf. I spoke with Deb this morning and she sent along some more recommendations for low sugar treats from Costco. She shares, "I only eat 3 pieces a day of the chocolate (bar) if I eat them at all. And only 1 oz of the clusters, weigh them. I also use the clusters with nuts in a bowl for my granola with almond milk. Enjoy! Costco also has a great nut bar that is low in sugar also."
I had two Champaign-violet cocktails for lunch and I woke up very early this morning, so off I go now for a long afternoon nap. At east if I am sleeping I am not craving my favorite foods. Have a great weekend. Enjoy your Sunday off. Back on the horse after a wonderfully delightful lunch.
Day 21 ...
I waited until after lunch so I could share my attempt at Deb's Chaffle recipe with you. Now my lunch may sound very odd, even awful, but let me assure you it is delicious! I made the Chaffle and it turned out fairly well. As is my habit with waffles and pancakes, I covered the Chaffle with stewed Bing Cherries (I use frozen and just heat a serving in the microwave for 2 minutes, then add a pack of stevia). I love sardines and use the fully cleaned and skinless variety. Now again this may sound odd but it is really, really good. You can skip the sardines, of course, if you don't like them! I have attached a photo of my lunch and the recipe that Deb sent. It did satisfy my need for a bread. Thanks Deb for sharing!
Not much happening on the meditation front. Still trying to cross the veil with no success. I continue to TAP from time to time to ward off cravings and it does work sometimes. I feel good we are all experimenting. Maybe something healthy will stick long term. You just never know until you try. The weekend ins upon us and again the challenge of choosing healthy foods. ARGH!!! Going out to a ladies lunch tomorrow so there will be a few Os to mark over the weekend.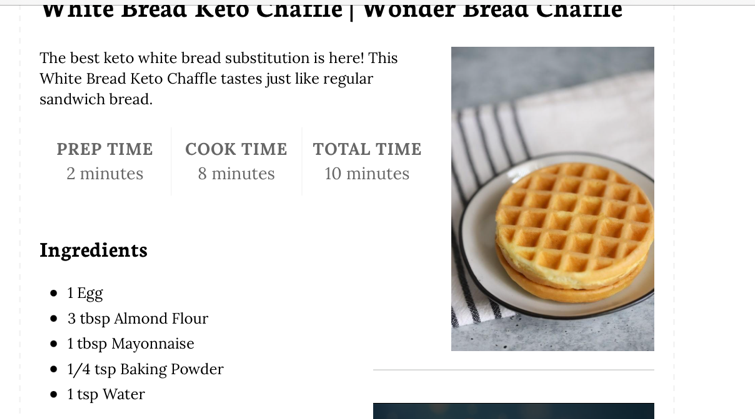 Day 20 ...
Today we pass the ½ way point in our fast. I am still logging more Xs than Os but I am a little disappointed that my weight has remained exactly the same as when we started. I guess I am always hoping to lose a few pounds whenever I deny myself fun foods, even when I am not expecting any weight loss. Dah!
Anyway, I continue to experiment with different food options for breads. A few days ago I ordered a loaf of bread and a bag of bagels from ThinSlim Foods (in New Jersey). Their products are expensive but are sugar free and white flour free. They are, of course, processed but not in the traditional sense. The reviews are mixed on the product, so it will be interesting to see if I give the bread a thumbs up or down, I will let you know. I just have a hankering for a sandwich and a bagel.
I guess I find it fascinating that every year during lent I experiment with different fasts. The fast always revolves around food. I like to experiment in an attempt to find foods that are healthier and as satisfying as the sugar-laden, white-flour glutted and over processed foods I just so dearly love. I always hold out hope that I will find foods to replace empty calorie food-like substances with yummy replacements. After many, many years I still haven't found any foods that satisfy me like a Snickers bar or a bag of M&M Peanuts.
On the meditation/prayer front, I am still trying to contact those who have passed through the veil. I feel like I get right up the divide but just can't seem to cross over. I may lack faith that there is actually another side. I hope everyone is getting out and enjoying the warmer weather. There have been a few really nice days here for walking and biking. Stay with me, now. Only 20 more days to go!
Day 19 ...
How are you all doing? While I am not focused on losing weight during this fast, I did hope to lose a few pounds but no luck to date. We are almost at the ½ way point and I am still tracking more Xs than Os but the weekends seem to be getting worse as time goes by. Even though I am retired and all the days are really very similar, the weekend just seems like a time I can splurge. I am wondering how I can change this old habit of indulging on the weekends. Any ideas, thoughts? Let me know.
Anyway, I am still experimenting on bread items that contain NO SUGAR or WHITE FLOUR. I bought (from Amazon) some chickpea flour. I made a funky chickpea and oat bran recipe (see attached). I made up the recipe and it is still to be further tested. Steve and I both thought the final result was OK and I have made them twice, trying to refine the recipe a little. The second time I used whole wheat flour in place of the oat bran. Anyway, just messing around looking for new alternatives to white flour. I am starting to understand why white flour is so darn popular.
On the meditation front I am again toying with the trick of changing our normal default setting of "I am" to "There is" … This is a mind trick that helps change your point of view from yourself to a wider reality. I have been practicing this little trick on and off throughout the last year. It is very easy … just become mindful of what you are doing at any moment (like right now I am typing and I say, I am typing), then just change the phrase to "there is typing," and repeat a few times. It feels funny at first but there are many moments where the feeling of being in the flow of the world becomes more real when I switch from "I am" to "there is." This occurs especially when dealing with emotions … instead of "I am sad," I think, "there is sadness." Or today, "I am tired of doing the wash." If I switch it to "There is dirty wash and it must be done today," by some turn of phrase doing the wash becomes a little easier to do. I suppose I still hate to do the wash but knowing there is always wash and millions do it every day, well, somehow the wash becomes a shared burden. At least I have clothes to wash, washers and dryers to make the labor easier, etc. I do think from time to time, when I am doing a repetitive chore, the definition of insanity … "doing the same thing over and over and expecting different results." I finally realized lately that I am not insane, as while I continue to do the same things over and over (like the wash), I have finally accepted the fact that "there is wash" it must be done and I am not going mad because I have no expectation for a different result. The result is always the same … clean clothes. Now, no matter what repetitive chore I do, I know it just is there to do each day, each week, each month, each year. This is life and the moments between the chores is wonderful! There is this day, filled with non-chore moments, enjoy the peaceful interludes.
Day 18 ...
I continue to recover from a tough weekend. I do notice that when I go hog wild it is always hard to reset. Does anyone else have this issue? I am always surprised how much easier it is to gain weight than to lose it. Seems like I can just look at sugary, salty and processed foods and gain weight. I am grateful that each day is a new beginning.
Today, I plan to make chicken cacciatore and polenta for dinner. When I fast from white flour I have cravings for bread. Polenta is a good way to satisfy bread cravings without a white flour component. Polenta is simply cornmeal, water and little olive oil and asiago cheese. There is nothing more satisfying. I now use instant polenta as it is easy to use and I can make just a small portion so I don't over indulge. If I do have leftovers, I fry with eggs for breakfast. So good. Click link for the DM recipe (scroll the end of page for simple microwave polenta)…
CLICK HERE for DM Polenta Recipes
This weeks meditations revolve around gratitude. Feeling a sense of gratitude, I am told, has all kinds of proven benefits. Today I am grateful for all of you, my FAST partners. When I wander, I feel like I have to begin again since we are all in this together. Click the link to read a little bit more about the benefits of gratitude.
I hope you all have a wonderful day. Keep focused, we are almost at the half-way point.
Day 18 Follow-Up SharonS...
(I too am trying to recover from a bad weekend plus. Had been doing really well or at least eating better if not marking a total X. Had lost 10 lbs on Wednesday (Had put on winter
weight that had me weighing more than I had ever weighed ) and was feeling great. Knew weekend would be hard with a granddaughter's birthday but I blew the whole weekend. Today had put 1 1/2 back on. I tend to pile on if I know I've lost my X for that time. (Like ate horribly so may as well have dessert or a drink.) Going to try to be better about that. Though I am not rocking the x count, I am glad I joined in as I have certainly become aware of what I am eating both good and bad. It is harder starting again, but I want that "feeling better" vibe again.
Day 17 ...
This week we are going to focus on foods to replace the breads we typical eat containing a lot of white flour, sugar an that are highly processed. This is really hard! Just this past weekend I finally indulged in a hamburger on a soft white bun. We have been so conditioned to eat and enjoy totally empty calories from white breads of all types and sizes. Changing our preference for empty calorie white breads will help us decrease our sugar and white flour intake. I am going to try different bread products that are low in sugar and white flour BUT all purchased breads tend to be processed. Any small long-term changes can be helpful though.
My first try will be Thomas' Light Multi-Grain English Muffins, 1 muffin
CALORIES 100
CARBS 26 G
FIBER 8 G
SUGAR LESS THAN 1 G
PROTEIN 5 G
"Outside of green vegetables, you'll find very few foods that pack 8 grams of fiber into 100 calories. The best part? These lightened-up English Muffins taste nearly identical to the original, higher-cal variety, making them an unbeatable foundation for breakfast sandwiches."
Let us know your favorite low sugar, no white flour and low processed bread products. Let's keep making little changes so we are able to enjoy the BAD foods once in a while. Good luck this week as each week it gets harder and harder to avoid our favorite tasting foods.
Third Sunday in Lent...
Took only about an hour to secure a new iPhone so the black-screen terror is over…
After a stellar M-F of no sugar, white flour or processed foods, I fell miserably on Saturday and Sunday, enjoying all forbidden food groups. What a yummy weekend. Never say die though, I will be back to GO on Monday, actually tonight. I am thinking about this next weeks theme and will announce tomorrow. Until then, have a pleasant day.
Day 16 ...
This will be short today as my iPhone is dead and I have to be off to get it fixed or get a new one. ARGH!!!
Okay, here's the last tip for short circuiting your food cravings…Keep Your Body Warm
When your body is cold, it wants to eat to stay warm. You may experience this in the winter time when the weather is cold and the blues are high. You're stuck inside with nothing to do but to eat your feelings. The other time this might occur is during the summer when you're inside in the air conditioning. Here are some tips for keeping your body warm. Bottom line: stay in temperature controlled rooms or get moving to raise body temperature.
Off to the phone store. Will check back tomorrow. Stay the course!
Day 15 ...
Slow but sure wins the race! While technically this isn't a race, there is a goal to eliminate poor food choices from our diet. I have been fairly successful this week with marking Xs versus Os. The strategy of keeping added sugars, white flour and processed foods to minimal levels hopefully will become a habit long after Lent has passed. Being aware of what we are eating helps us to make better choices. I read yesterday that after menopause, on average, woman gain 1.6 pounds a year. If you live 30 year past menopause, that adds up to a lot of weight. Cutting out empty calories is a good way to avoid weight gain as we age.
So today's craving tip is SPINACH EXTRACT! After a little research I discovered that "Spinach extract may suppress your brain's food reward system, reducing cravings. When overweight women consumed 5 grams of spinach extract per day, cravings for sweets and chocolate decreased by 95% and 87%, respectively." I ordered a bag of extract from Amazon and plan to try it next week. I will let you know if I notice any effect. Click on the links below to read about the extract…
CLICK HERE for article #1
CLICK HERE for article #2
Friday is always a difficult day for me, especially in the evening. The old habit of feeling like a treat is in order on Friday, after a long week, still persists even though I am retired and all days are really about the same. I am unsure why I feel like I should treat myself on the weekend but, I do, even though I haven't done anything exceptional during the week. So hang in there with me. Keep up the effort, only 25 days to go. Almost half way there!
Day 14 ...
Today's tip to stop sugar cravings may seem like an odd choice, but fermented foods, such as sauerkraut, kefir and kombucha, are an excellent way to offset sugar cravings. Check out the link for five more unlikely foods to stop cravings…
Also, here's an idea for that bunch of parsley you bought for garnish and had bunch left over. I made a cold potato chowder last night (no corn as Steve doesn't eat corn) but with potatoes and vegetables. I had a bunch of parsley in the 'frig so I chopped it up as a base for the soup. Very yummy! Parsley is low in calories and is high in vitamin K, A and C.
CLICK HERE for more info.
Still meditating and practicing TAPPING. It may all be in my head but the tapping helps a little. Still haven't reached anyone across the veil yet but I continue to reach out to my Mom, my friend, Marcia, and a few others I would like to talk with again. Wouldn't it really be wonderful if we could see or experience another dimension? I started thinking about other dimensions and came across a video that explains the theory of other dimensions.
CLICK HERE to read more about other dimensions.
Have a great day, Eat a pickle instead of a sweet.
Day 13 ...
Man of Man!! 40 days is a long time and we are just on Day 13. No matter, we will continue to plod along.
Did you know that if you tap your toes during a food craving that it may disappear? Well, science has proved that next to tapping your forehead (yesterday's tip), it is the second most effective way. Why, just thinking and/or engaging your brain can help in curbing food cravings. In a Brown University study they found that "Focus on the negative long-term consequences eating those goodies" could, in fact, lessen cravings. My first thought, of course, is why is a prestigious university studying food cravings instead of cancer, or something more important but then I think, well, eating too much sugar is a real health problem in this country. Anyway, maybe today we can learn to engage our minds when temptation strikes. Tap your foot or think of the consequences. Engage your mind, a tip worth trying. CLICK HERE to read the article.
This got me thinking…how much sugar do we eat in a life time? Well, the answer did surprise me. According to this report, in a lifetime we eat "an industrial dumpster full of sugar." Watchingthe video also illustrates how much sugar an average American eats in a week, it is an eye opener. I am actually surprised by the weekly sugar intake and believe we are doing much better, even before this fast. The lesson is … even if we don't eliminate all added sugars from our diet, cutting back is a really good idea. CLICK HERE for video.
So the tips today work well with meditation and/or prayer. Engage your brain. Have a wonderful day and tap those toes!
Day 13 Follow-Up Tips from Karen GK:
Thanks for your post on foot tapping re: food cravings. It made me think of "tapping," also called "emotional freedom techniques" or EFT, which can be used for food cravings and/or to lose weight. Tapping can also be useful to decrease anxiety, depressed mood, low self-esteem - pretty much anything. CLICK HERE to read about EFT.
However, back to the lenten fast and foot tapping — I'm wondering if that tapping also hits acupressure points for its effect.
For anyone interested in trying "tapping" for any reason, I'm linking to a couple of food cravings tapping scenarios…
CLICK HERE #1 (this one includes links to intro tapping info and anti-inflammatory foods)
CLICK HERE #2 (a biggie in the tapping world with research background on it and demo)
CLICK HERE #3 (actually demo and one can tap along)
Going to try the foot tapping later this afternoon!
Day 13 Follow Up from Julie to Karen:
Oh WOW!!! This tapping is really fun! I am not sure it will work long term but I really enjoyed going through the videos. Even if you don't sample all the links Karen shared, I would recommend you watch number 3 for the basics in chasing away food cravings.
This is one that really relates to banishing food cravings with tapping. I enjoyed them all and I think in place of tapping my forehead and counting backward (which I did find helpful), I think I will switch to tapping, at least during our Lenten fast. I have to say that I am really amazed at all the stuff available to help us to stop eating foods that make us fat. This is so American ... creating profitable systems from our failings.
Thanks so much, Karen, for introducing us to TAPPING. Off to eat a good and nutritious lunch.
Final Day 13 Follow-Up from KarenGK...
For anyone who may not like all the traditional tapping points, this page offers some alternatives - even ones just on the hand if in public somewhere and need to tap… https://www.thetappingsolution.com/blog/traditional-and-alternative-eft-tapping-points/! For instance, I hate the underarm point - hard to reach and too much boob still in the way. (It's a little better if I don't reach across my body and do right underarm with right fingertips or vice versa, but I'm still not a fan.) Iyanla Vanzant presented a session for the tapping summit the other day and it was dynamite - 1. she taps on the ribs point (or as she said "under the boob" point) rather than under the arms. 2. in addition to tapping away cravings, anxiety, etc., she likes to do a session a day to tap in joy, gratitude, etc. I REALLY like that one! There are a number of links to her leading a tapping session if one searches "Iyanla Vanzant tapping." I've also listened to sessions where the hand points re: gamut or wrist point were suggested as an alternative. Can also tap without a script — just sort of determine the intention of the session, scale 0 (not a concern at all) - 10 (concern couldn't be higher) before re: how the issue is on the scale, hit the tapping points - several times over karate chop spot and then rotate through the others as per videos, rescale on 0-10 once finished. Generally helps even without saying all the words.
There's a fair amount of research now on the value of tapping.
Day 12 ...
The AVOID-CRAVING TIP for the day is to drink tea when we are feeling the urge to eat. Most of you are likely aware of this trick but I have been reading up on the best teas to ward off sugar cravings and it appears that MINT TEA is a good choice.
CLICK HERE to read about TEAS
I continue to meditate and I have a new one minute meditation that simply suggests setting an intention for the day. The meditation is again led by Oren Jay Safer (I just love this guys name). Anyway, it goes as follows:
"Taking some time in the morning to quiet your mind and get clear about your intentions can have a powerful effect on the trajectory of your day, go ahead and find a comfortable position, sitting or lying down, take a few deep breathes and as you exhale see if you can give all of your attention to the sensations of the air leaving your body (5 second pause). When you are ready let your breathing return to normal. I invite you to set a clear intention for your day today. How do you want to use your time? How do you want to live? (10 second pause) When you are ready open your eyes. Thanks for joining me."
My intention today is to drink a cup of tea each time I have a craving to eat something off our Lenten fast.
Still trying to reach out to those I love who have passed on. I am making a little progress as I have turned my attention to searching for them in my heart versus my head. Maybe something will come of this journey, I will let you know. Let me know how your day is going. I thank you for being with me on this Lenten journey.
Day 11 ...
Yesterday, I spend a great deal of the day reading about the Science of Craving. There is a lot out there. One of the tricks found is as follows. I thought this might be something we could all try this week as sugar and food cravings occur…
"… researchers have uncovered (a) trick for avoiding or tamping down the dopamine fire that rages when triggers strike. … One that Roberts says is weirdly successful is to tap your forehead and count backwards from 100 when you're hit by an urge to eat. 'Cravings tend to happen in shorter-term memory,' she explains. 'You can push them out by focusing on a task.' A walk around the block can work, too, she says."
To read the full article CLICK HERE
I will follow up each day with a trick to try to fight cravings. Let me know if you try the "head tap" trick. Does it worked? I have been using 1 minute morning meditations to set my intention for the day. This really helps me. Still trying to contact ancestors, still no luck. Have a wonderful, crave free day.
Second Sunday ...
I hope you all have a relaxing day as we anticipate our next week of fasting. I actually plan to fast today to make up for yesterday where I had an afternoon and evening O. Morning was an X but then I went to lunch with my daughter, Laura, to my favorite restaurant. We blew the fast to the max, and boy did we enjoy our day. When we finished lunch we met Steve for a drink and pizza. So today I will fast to make up for yesterday. I am sure that is not the way fasts are suppose to work BUT what the hell!
I have passed on Sunday Mass since the pandemic began. I am not much of a Catholic these days but I had continued to go to Sunday Mass with Steve since it is so important to him. I may return at some point but I do enjoy the very quiet time on Sunday morning I now use to meditate. The older I get the more I seek quiet and peaceful moments. If heaven is just sitting in peace, I am really going to enjoy that state of being. Now I just have to live my life well enough to get past the veil to that peace. Or am I there already during my morning meditations? Hum!
Day 10 ...
Finally in the double digits! After today we are 25% through our fast. I continue to log more Xs than Os but I am finding all my Os are in the evening. Somehow I seem to be able to get through the day BUT my cravings intensify at night. Last night I went to bed after marking the evening an X. Then I tossed and turned, thinking about food, about eating something, anything. Eventually, around midnight, I wandered into the kitchen and fixed myself a cup of decaf tea. Just needing a little something sweet, I cut up a fresh peach. Satisfied, I went back to bed and slept fitfully. Usually, if I make it through the evening and to bed I am OK. I am having a hard time understanding why this late night urge happened. Does this happen to any of you?
I continue to try to meditate to help me along through this journey. I haven't had much luck conversing with those beyond the veil but I will continue to try, at least, through Lent. I think of so many of those I love who have departed, especially my mother. I wonder if she is at peace and if she misses my father. I always thought that once she died that my Dad would follow soon after. Like she would come for him or something. That didn't happen and I guess I just wonder about how it all works. Since my mother passed almost two years ago now, my Dad seems better than ever. Go figure! The ways of the universe are a real mystery. I think next week's focus will be on the science of cravings. I will read up on the issue and report back.
Day 9 - second Friday in Lent
Getting close to double-digit days. As the days go I get better at resisting temptation. Tomorrow, however, I plan to go to lunch with my daughter so that will be a challenge. Today is a day of fast and abstinence, so it will be a meatless lunch and fish for dinner. One way Steve and I have been able to control our weight in retirement is to set up a loose weekly meal schedule. This helps us even if we decide to go out for dinner. The schedule is as follows:
Monday – I always make or buy a salad with meat or tuna. We have some small carb with the salad, like homemade biscuits or bread. I make a batch of biscuits and freeze them for Monday dinners.
Tuesday – Chicken or pork day, with a carb and vegetable. Chicken stir fry is a favorite and easy to throw together.
Wednesday – Soup or stew day with cornbread and applesauce. Again I make a batch of cornbread ever few weeks. It is so easy to thaw the cornbread in the microwave for 30 seconds and serve.
Thursday - Beef day, with a carb and vegetables. Meat loaf is a favorite, as are hamburgers, steaks and any form of beef.
Friday – Fish, carb and veggies. We have a fish shop in walking distance and I can always buy fresh fish. We favor halibut and mild white fish. As a real treat every other month I will fry cod.
Saturday – pizza, tacos or other fun foods.
Sunday – We like to have a large brunch with eggs, bacon or sausage, waffles and/or pancakes. Dinner then is a bowl of soup, usually chicken broth with pastina and grated cheese. If we skip a large brunch we will have a pasta dinner i.e. spaghetti and meatballs and garlic bread. YUM!!!
We started this regiment when Steve retired a few years back. Somehow we pretty much stick to the program. Steve is so much better than me (he's German flavored, and more disciplined). M-F we don't eat between meals, don't eat sugar and snacks. Saturday and Sunday no rules. I am trying so hard to be more disciplined and this is what this Lent is all about, trying to stop eating so much sugar and eating snacks on the weekdays. Even trying helps. I have lost 18 pounds over the last year, Steve has lost 25-30 pounds.
This Lenten fast though is not about losing weight but just trying to get the sugar cravings under control. I continue to mark my calendar with Xs and Os. I still have more Xs but I find it difficult to avoid all sugars, white-flour foods and processed foods. For example, I decided to have some brown rice crisps with a banana yesterday knowing that the crisps I bought at Whole Foods has no sugar. What I failed to remember is that it is highly processed. Oh well! Each day I start fresh with the intention to eat right and exercise. I recently read a book called Atomic Habits by James Cleary. He makes the point that if we do just a little bit every day to improve, eventually we will have a new habit. Slow and steady wins the race, or so they say.
Day 8 ...
First off, the Barley Risotto is a bust! I served it for dinner to test it out with Steve, hoping he'd give the thumbs up, but he kindly shared that it tasted like a breakfast cereal (i.e. hot oatmeal or the likes). The resulting dish is somewhat bland even with all those wonderful vegetables. Just too much barley. A better dish would be roasted veggies mixed with a small amount of barley. Oh well, we just have to try new stuff. I have made it a habit to try one new whole-food recipe every month for the last few years. What is so interesting about that is the fact that very, very few of the new recipes I try ever make it into my normal menu rotation. I continue to fall back on all the regular dishes I have made through my life. I find it exceedingly difficult to switch from using some processed foods to using mainly whole foods. I suppose it is a matter of taste and convenience.
Staying with the vegetable-bean theme of the week. Today and tomorrow I am having Italian Minestrone soup for lunch. This soup is a family favorite and I make a batch every month in the winter. I store in freezer for lunches and Wednesday-night dinners. When I serve as a dinner, I serve with cornbread and applesauce. This is a hardy and filling dinner, one both Steve and I love. The recipe takes time but the results are a wonderful blend of vegetable, beans, barley, potatoes and spaghetti, flavored with basil and salt. Click on the link below for the recipe, including photos…
On the meditation front, I am practicing the new skill of BLESS ME that I learned from watching a video Karen recommended. I am trying to learn how to "talk" with those who have departed to another dimension. I haven't yet made contact with anyone but, like trying different recipes, I will continue to practice this new meditation. I will let you know what I discover. As a curious aside, I have discovered that I share a birthday with a distance cousin who died in Libya in WW1. For some reason I have become interested in this man. I discovered a picture of him in a book I am reading on my family history. I thought I might try to make contact with him through meditation. Not sure how that will go but I will give it a try today. Being retired gives me a lot of time to adventure into the unknown.
Day 7 (2/24/2021) ...
Continuing with this weeks theme of adding more vegetable to our daily diet, I made a batch of Barley Rissoto. I made as directed and added a ½ green pepper, ½ carrot and some celery. The recipe made WAY, WAY too much. The entire Crockpot was full. If I ever make it again, I will cut the recipe in ½ or more. While I haven't eaten it yet I plan to have a serving for dinner. As I do with all risotto (even though the recipe doesn't call for), I will add ½ tablespoon of butter and ½ tablespoon of olive oil as a sauce. Maybe I will use some of the risotto for a side dish. I am praying Steve likes it or I will grow sick of it quickly.
Well, I had my cherry-almond Overnight oats this morning. The taste is better but the texture is the same. I like them OK and do feel I am benefiting from the concoction. I have a leaky gut and other gut issues and I am seeing the benefit of resistant starches in my diet. I haven't lost any weight but my skin is clearing. My face, in particular gets lots of red bumps when I consume sugary stuff and too much processed foods. All those bumps simply disappear when I am on a whole food diet. My homemade granola is too much of a temptation, so I finished it yesterday and I will stop making it until the FAST is over.
I hope you all are having a little fun on this FAST, trying new things. Yesterday I signed up for the Ancestral Healing Summit that Karen suggested (it is free for just this summit). Normally I might ignore this as it is a little far out for me BUT I promised myself to be open to new ideas and I am enjoying the sessions. One I listened to last evening involved Chinese medicine. The speaker is Jean Haner on how to receive the blessings of your ancestors so you no longer have to go it alone in life. Well, it is all a little hooky for me BUT then there is a part of me that so much wants to believe that our love ones, who have left us, may be in a different place rooting us on, helping us to make the world they left a better place. The older I get, the more I hope there is something after this life experience.
KKG comment on Day 7...
Julie, I can't wait to hear your verdict on the taste of the barley risotto, because it sounds like something even I can make! (Cooking is not my forte!) I did put the GS Thin Mints I got from a friend's granddaughter in the downstairs freezer and didn't even eat one.
I am feeling uplifted by the balmy temperatures here in Cincinnati - 45-55F feels tropical after temps in the teens. The snow melt allowed me to park and walk to the labyrinth in Smale Park. I had such a purposeful walk. Before and after I listened to speakers on the Shift Network's ancestral healing seminar. Earlier I'd listened to a speaker on the free Tapping Summit. This morning I listened to the Tapping Summit presentation with Iyanla Vanzant - it was an amazingly powerful presentation.
In addition to mostly listening vs. watching (even the tapping), I visited Suzanne Giesemann's web site, and out of curiosity, ended up watching her documentary Messages of Hope on Amazon Prime. Her path to the work she's doing now is so interesting! Talk about someone who really was not into what seems to Julie as "far out"…

CVM Comment Day 7...
Our loved ones who have left us are definitely in a different place, rooting us on and interceding for us! And we can root them on and pray for them if they haven't yet attained their heavenly reward. I imagine Aunt Della constantly looking over her children and relatives, making sure to ask God to shower them with blessings! She was a caregiver in this life, and that part of her is still busy caring for all of us.
DAY 6 ...
OMG, still 35 days to go! Deb shared her wonderful coleslaw recipe and this would go well with the recipe I will attempt today. I am going to try Barley Risotto from my new Clean Eating Slow Cooker cookbook by Linda Larsen. Using a Crockpot to make a hardy portion of to serve 8. I will freeze the 8 servings in single portions so I will have for lunches through the FAST. Using a slow cooker is one way to cook up healthy, sugar-free, process free foods. Please share your favorite slow cooker recipes.
Also, this morning I finished off my Overnight Oats with the apples and cinnamon. While they were tolerable, I can't say I am loving them. I am not giving up on the idea though because I am feeling so much better this week. I am going to make them with a different flavor combination of cherries, almond flavoring and then I plan to add sliced almonds when I eat them. Using a small amount of Stevia helps too. I will let you know tomorrow how both the oats and the Barley Risotto turn out. Until then good luck with sugar busting.
Day 5 Lunch...
I just finished lunch and I am amazed how easy it is to construct a simple veggie bowl. I used a frozen southwest style bean and quinoa mix (dumping about ¾ of a cup in a bowl and microwaving for two minutes), then I added and microwaved 1 minute some cocktail shrimp that Bess gave me yesterday and some green beans left over from Friday night's dinner. Lunch is very, very tasty…lots of veggies and little calories. For dessert I had ½ cup plain yogurt with a little stevia and almond slivers. I feel satisfied…see photos of an easy veggie bowl.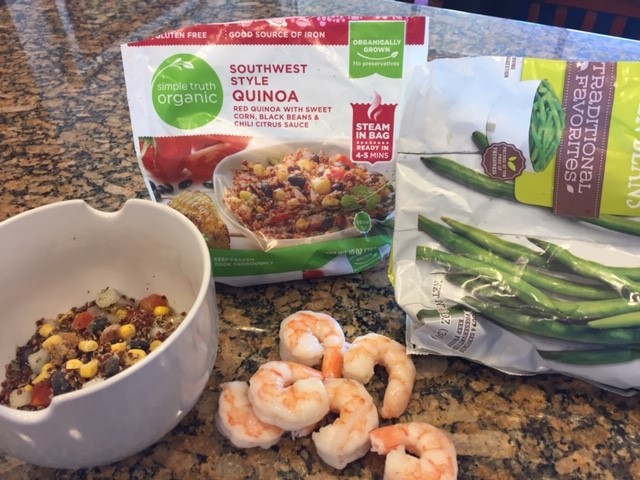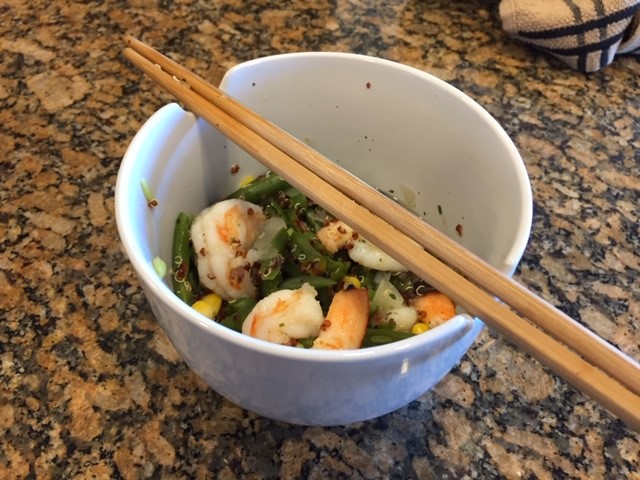 Day 5...
Now starts the difficult string of fast days. This week let's discuss two topics, meditation and/or prayer, and opportunities to eat more vegetable and/or fiber. First of all, I use a mediation APP called 10% Happier. I am trying to meditate at least once a day and this APP does help. While the APP has a whole host of wonderful meditations, there is one that is just ONE MINUTE long. I am such an antsy person that even one minute of meditating seems like an eternity. The one-minute med is called "Fresh Start" and each morning I listen to it before I get out of bed. Since I started this APP I do pay attention a little more to my overactive mind chatter, and now, after a year of meditating I am able to recognize my thoughts and stop from immediately acting on them. Sort of like Saint Mary in the Desert, she would have the thought of returning to her old life but would recognize how bad that life had been and would lay on the ground for days until the urge passed. Eating all manner of unhealthy stuff is like that for me. There are these constant signals in our environment (like 10 candy bars for $10 at Kroger!) luring me back to poor eating choices. I have to really catch those urges and let them run their course without acting on them. This is incredibly hard!
Anyway, below is the simple meditation by Oren Jay Sofer. If you would like me to share the 10% Happier APP with you just let me know. You could sample it and then subscribe if you'd like.
A Fresh Start Meditation:
"Hey this is Oran…waking up in the morning is a perfect time to let go and start fresh you don't have to sit in any special poster, you can do this while you are still lying in bed. Your eyes can be open or closed, whatever feels more comfortable. Take a moment to just feel your body. RIGHT NOW YOU ARE AWAKE, YOU'RE ALIVE (quiet for a few seconds). Pay attention to any sense of vitality and aliveness (another few second pause). See if you can bring some sense of freshness or possibility into your day. GOOD LUCK OUT THERE TODAY!"
After listening, I say a prayer to Saint Mary asking for her intercession in any temptation I have during the day (AGAIN! 10 for $10).
Now for adding more vegetables…this week I thought we might try to eat vegetables for lunch. I have purchased a few bags of frozen veggies (see photo below) and will attempt to create veggie bowls for lunch. Let me know if you make veggie bowls and if you have any suggestions or recipes. I will be researching the benefits of adding more fiber to our diets and veggie bowls this week and I will share what I learn as the week progresses. Good luck out there today!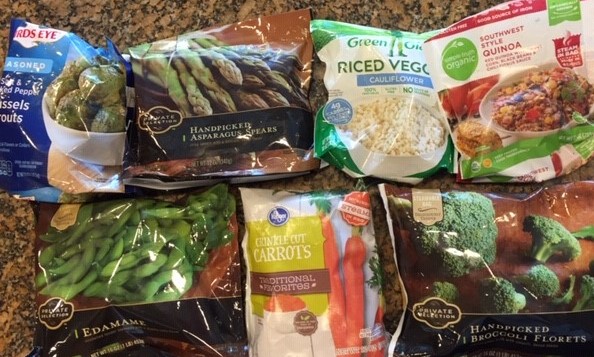 First Sunday in Lent, 2021
Luckily, there are really 46 days in Lent but the Church did wisely include six Sundays for us to use as a break. While I am chalking up more Xs than Os these past few days, I hope to keep as much as possible to my sugar busting on Sundays. I will permit myself some white-flour products (like pasta) and perhaps one homemade sweet. I made homemade granola for this weekend's treat. I love this recipe and I enjoy eating a ¼ cup of this treat with plain, whole-milk yogurt. If you make it though, WATCH OUT, it has loads of calories (about 350 for each ¼ cup). I mistakenly assembled a patch on Friday and the temptation was too great so I had an evening Friday HUG (O), and two Hugs (OO) on Saturday. While the recipe, as you will see, does contain maple syrup which is a refined sugar, it helps to take the edge off the fast without raising blood sugars to craving levels.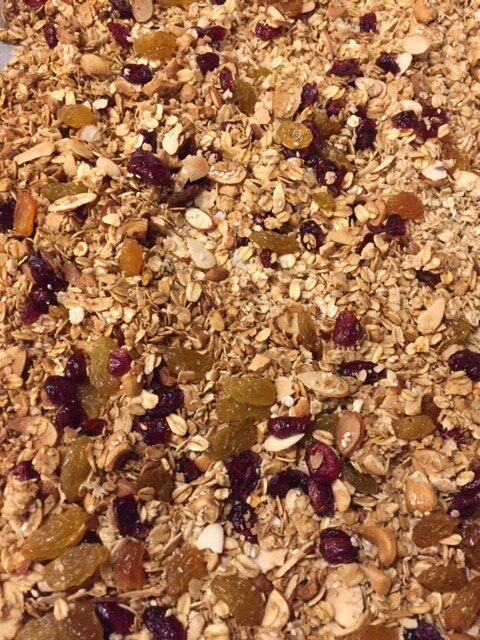 YUMMY GRANOLA
3 cups whole oats
¼ cup each chopped cashews and sliced almonds
(or your favorite nut combination)
¼ cup sesame seeds
¼ cup maple syrup
¼ cup canola oil
¼ teaspoon each almond flavoring and vanilla
(if you prefer you can use just one or the other, I like both)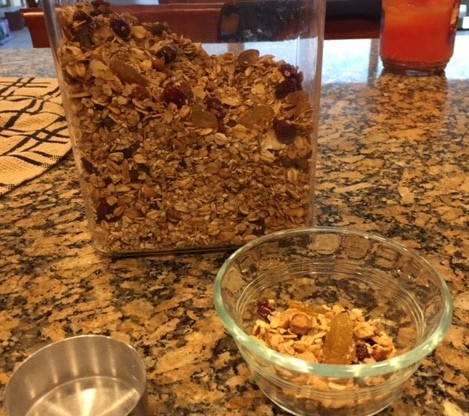 In a large bowl combine oats, nuts and sesame seeds. Heat together syrup, oil and flavorings (DO NOT BOIL). Pour liquid over oat mixture, and mix well until all dry ingredients are covered. On a parchment-lined cookie sheet spread the granola. Bake in preheated 350 degree oven for 15 to 20 minutes until lightly browned. Stir ½ way through baking so ingredients at bottom have a chance to brown. At the end of baking, turn off oven and remove pan. With a spatula mix into the granola ½ cup Muscat raisins and ½ cup dried cranberries (or favorite dried fruits). Return pan to cooling oven. Once oven has cooled completely about 15 minutes, remove pan. Mix all again. Let granola cool completely and store in tightly covered container.
BTW…I made that Zucchini Taco recipe that is featured on the Inflammation info from Karen. I left out the corn (since Steve doesn't eat corn) and we liked it.
OMG!!! Just Day 4…so, so many days to go. Luckily, Sunday is tomorrow and I will treat myself to a little amount of healthy sugars but that's a subject for tomorrow.
For today, I would like to stay on the theme of resistant starches. In an attempt to continue eating resistant starches I am trying "Overnight Oatmeal" for breakfast this morning. Apparently if you eat soaked oats, versus cooking them, they are much better for you. I just finished a small bowl and while I like the cooked better, the soaked are OK. I added apples, cinnamon and nutmeg to my mix and soaked the oats in coconut milk. I could get use to the concoction, I suppose. If you are interested in further information a link is below…
Check it out by clicking the link at Bob's Red Mill…
Today is Day 3 of our FAST and it's Friday which means I will be serving a meatless dinner as Steve is still UBER Catholic. This is fine though as there are many wonderful meatless dishes to enjoy during Lent. One of my favorite, which my mother would cook up during Lent, is POTATO & EGGS. This is what we will have for dinner this evening. Potatoes fit well into attempts to incorporate more resistant starches in our diet. The trick with converting potatoes into a resistant starch is as follows…
"When potatoes are roasted and then cooled in the refrigerator, their digestible starches convert into resistant starch through a process called retrogradation, which results in one of the highest resistant starch contents out of all the starchy foods. In fact, one American Journal of Clinical Nutrition study reported an almost three-fold increase in resistant starch after refrigerating the spuds for 24 hours!"
So you just need to think ahead and roast a few potatoes to store in the 'frig. I normally would boil the potatoes for my Mom's recipe but baking and storing the potatoes for 24 hours works just as well. Reheating the potatoes apparently doesn't effect the resistant starch content either. So bake and chill away. I have attached my mother's potato and egg recipe…just bake the number of potatoes and boil eggs needed (one potato and 2 eggs per person). For each serving use 1 tablespoon of olive oil or favorite good-fat oil. I like to use garlic salt and a little hot pepper. Serve with a green vegetable (green beans tonight).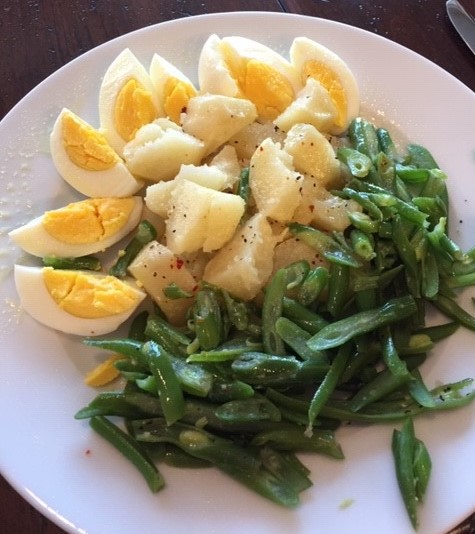 DAY 3 - Sugar Blopper!
Just thought I would share some late breaking news. I did very well today and made my planned dinner (see photo). In preparation for Sunday, when I can eat a small amount of sugar, I made a pan of homemade granola with raisins and cranberries. The smell of the cooling granola was just too tempting so I fell this evening and had a ¼ a cup with a ½ cup of plain yogurt. Oh, how, how yummy!!!. While there is little sugar from the dried fruits and a ¼ cup of maple syrup, I will still give myself an O for tonight. This granola recipe is so delicious.
DAY 2...
Thursday, February 18, 2021
Good Luck on Day 2…remember to mark your calendar. The one I emailed is interactive so it is easy to mark. Day 1 is easy, going forward will be tough, especially as we head into the weekend. Thanks to Karen for sending the link below. If you have any thoughts or suggestions, please share them.
Today's thought is about RESISTENT STARCHES. I have found it difficult to stay on this sugar-free fast because I get to a point where I crave carbs. There are good carbs that can help us to avoid eating empty calories. These carbs contain resistant starches. This year I am going to try to include more "resistant starches" in my daily eating pattern. Over the next few days I will share some more ideas on what I try and a recipe or two. If you get a chance, read the link below about these starches.
FYI…bananas are a good food for resistant starches. Eat one today when you feel a sweet craving coming on. Remember Saint Mary and to drink plenty of water.
KarenKG shares in response to reducing inflammation...
"In the spirit of today's post, these articles about anti-inflammatory diet, which popped up in another email today, may be of interest... "
Deb shares ... "Hi All, This works for me to satisfy sweet craving, half of my favorite apple sliced ever so thin and sprinkled with cinnamon... having it for part of lunch today."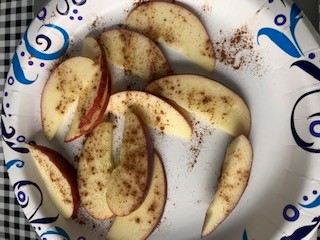 DAY 1...
Wednesday, February 17, 2021
Good luck on day 1. The encouraging thought for the day is that if you eliminate most added sugars, et al from your daily diet you will significantly reduce inflammation. Reach for Whole Foods today and drink plenty of water.
2021 RULE:
This is a Lenten FAST to eliminate EMPTY CALORIES FOR 40 DAYS. We are attempting to eliminate any foods that have a high percentage of salt, refined/added sugar and HIGHLY processed foods. You are encouraged to eat proteins, carbs and good fats. The goal is to eat a healthy diet of about 1200 -2000 calories a day. This is a FAST NOT A DIET!
This year's goal is to become mindful of eating empty calories. So even if you succumb to eating all manner of sugars, flours and processed foods, you just need to observe the empty calories you are consuming. With awareness we have the opportunity to say YES or NO in a mindful manner. Let's divide each day into three periods: morning afternoon & night. Try to avoid consuming empty calories from refined sugar products (i.e. candy, cakes, cookies, etc.) OR an item mostly made of refined white flour (i.e. baked goods, pancakes, gravies, etc.), highly processed food stuff (i.e. chips, salted snacks, yada-yada) AND, of course, any alcohol (highly refined sugar) for each of the time periods. Make an X on a CALENDAR for each period you succeed with an X, mark an O if you fail. You can use your own calendar or the one attached to this email. This is the only RULE. Each day during Lent (excluding Sunday) you should have three marks, ideally three XXX for morning, afternoon and night, but any combinations of X and Os are fine too. Don't give up if you have a three OOO for a day, just start each day anew. The real goal of this year's FAST is to be mindful of how often we are consuming empty calories and at what period in the day.
What if for the rest of our lives we make this attempt annually? Maybe after a few years we will be eating less empty calories and feeling better about ourselves. There is a church mystic who I have selected to be our patron saint. She had a real lust, not for sugar but sex. Her lust for sex actually reminds me of mine for empty calories. I first heard of Saint Mary of Egypt reading Way of the Ascetics by Tito Colliander. In Chapter 22, "On Times of Darkness," he writes, "The dark days can best be conquered by following the example of St. Mary of Egypt. For forty-eight years she dwelt in the desert beyond the Jordan, and when temptation befell her and memories of former sinful life in Alexandria beckoned her to leave her voluntary sojourn in the desert, she lay on the ground, cried to God for help and did not get up until her heart was humbled. The first years were hard; she sometimes had to lie there for days; but after seventeen years came a time of rest." So, you see, the first 17 years will be the hardest!
Saint Mary's feast day is April 1st. Maybe we can think about her each time we are tempted to eat foods with empty calories. If we save our calendars year after year we can see how our junk food cravings may lessen as the years pass. Again, remember, the first 17 years will be the hardest!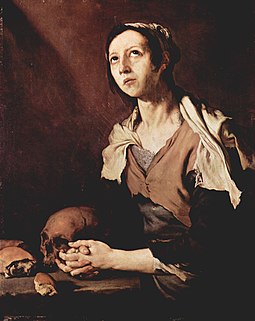 Saint Mary of Eygpt
by Jusepe de Ribera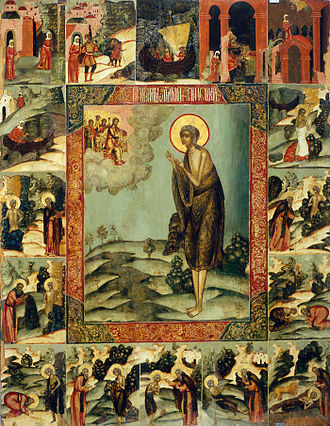 2021 Lenten FAST Calendar
February 17, 18, 19, 20, 21, 22, 23, 24, 25, 26, 27, 28
March 1, 2, 3, 4, 5, 6, 7, 8, 9, 10, 11, 12, 13, 14, 15, 16, 17, 18, 19, 20, 21, 22, 23, 24, 25, 26, 27, 28, 29, 30, 31
April 1, 2, 3, 4 EASTER SUNDAY