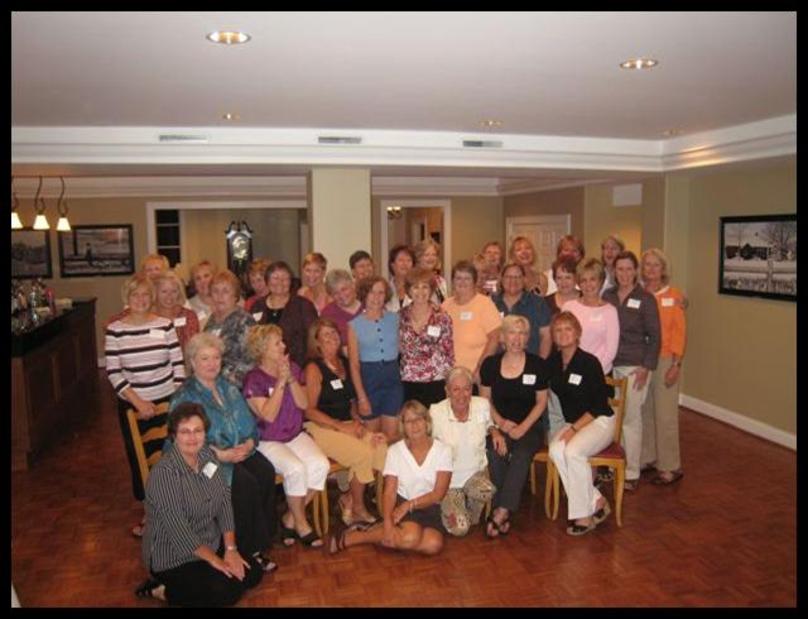 Front on floor: DebD, SueA, AnnH.
Front seated on Chairs: BridgetC., SueT.,MarieD.,  GAP, JanetE., BarbH.
2nd row/standing: KarenM., KatieB., CeciliaR, RosemaryY., KathyW., MaryW., KarenD., MaryLouB., AnnW., JudyW.,                                                            MaryAnnS., LynnG.
3rd/Back Row: PattyVH., JoanK., KarenF., KarenK., JanetG., MaryAnnH., ChrisM., PattyD.,TerryN.,  CarolS., ChrisB., JulieM., BarbBr.
The MND Class of '68 40th reunion was held at the Wyoming Country Club; thanks to MarieD for finding a perfect spot to celebrate. AnnH sold beverage tickets and sales were brisk for the  "get-to-know-you-again" cocktail hour. During a light supper JulieM felt compelled to wander from table to table interviewing each attendee about life since high school and/or any fond memories of those days gone by.  MND Cougar MaryW demonstrated that she still fits into her freshman gym uniform, making the rest of us jealous. Everyone enjoyed a trip back in time via Mary AnnH's sixties-themed table decorations.  And a few still snuck out back to light up when they thought no one was watching.  Some things never change!!!