Bourbon-Pecan Cake Tradition
My cousin, MikeD, Mary Sue's son, asks about our family's holiday Bourbon-Pecan Cakes ... " Any history behind the recipe? Where di it come from and when did they (the cake baking) start?" So, I began to wonder, how long does it takes to call a practice a "tradition." By definition, "Traditions are often presumed to be ancient, unalterable, and deeply important, though they may sometimes be much less "natural" than is presumed. It is presumed that at least two transmissions over three generations are required for a practice, belief or object to be seen as traditional."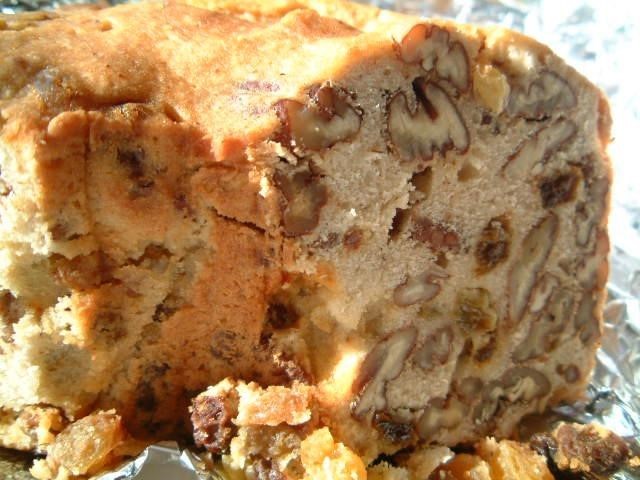 So based on the definition above, since Mike bakes the Bourbon-Pecan cakes, using my mother's recipe, we can now say, since he is third generation he has made the cake a family tradition. The story of this particular cake starts with my mother, Della. While holiday cakes have always been part of our family baking traditions, my mother made the Bourbon-Pecan cake for our family to enjoy, always making one for her her brother and sister's family as a holiday gift.
The recipe came from a Cincinnati newspaper circa 1960. Although, as I recall my mother sharing, the original recipe is a little different than the one my mother developed. To adapt the recipe to our family's taste, she omitted the candied cherries, replaced the liquid with bourbon and used a whole ground nutmeg in place of a variety of others spices. The cake with simply the pecans, plump muscat raisins and a nutmeg flavored batter. The cake became a family favorite. In years following, family members, Gina and Mary Sue to name a few, started using the recipe to create small cupcake size delights for parties and showers. Second generation family members, including me, began making two loaf cakes in place of the one round. Then others began baking all different size loaf cakes to give as holiday gifts.
So what a delight to know the Bourbon-Pecan Cake is now a family tradition. Thanks so much to Mike and all the family who love to bake and carry on...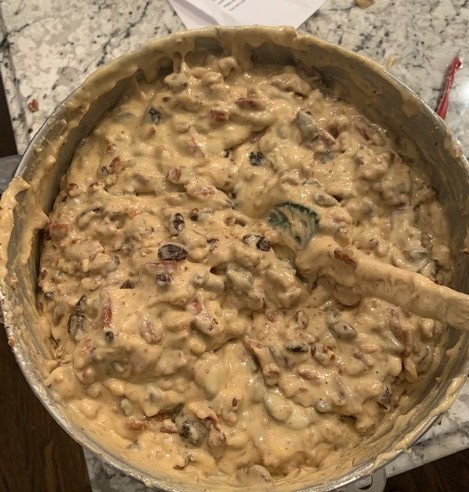 Mike's Bourbon-Pecan Cake Batter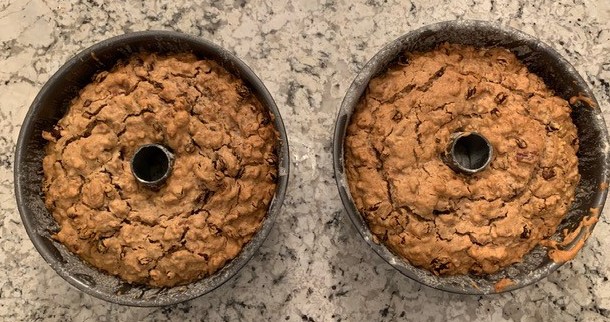 Above: Mike's Bourbon-Pecan Cakes cooling
Covid Xmas 2020
YUM!!!!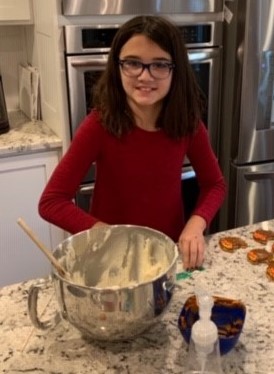 Above: 4h generation baker.
The traditions continues...