Bourbon Balls
5 cups of vanilla wafers (crush in food processor)
Add to the crushed wafers:
2 cups confectionary sugar
¼ cup baking cocoa
2 cups finely chopped pecans
6 tablespoons light corn syrup
1 cup bourbon

Add more Karo if consistency is not right. Roll dough into one-inch balls. Roll balls in confectioners sugar.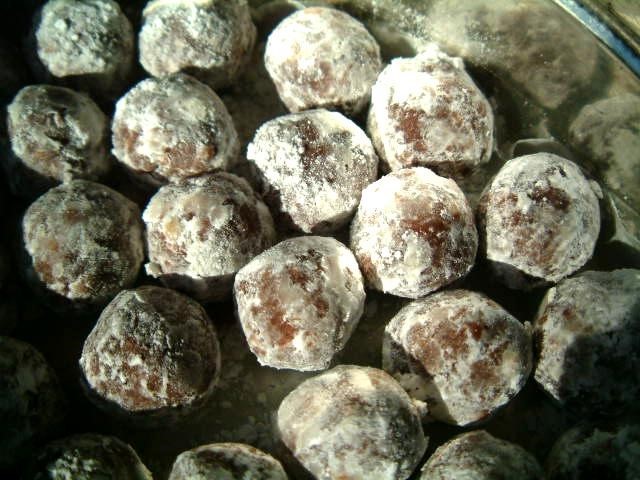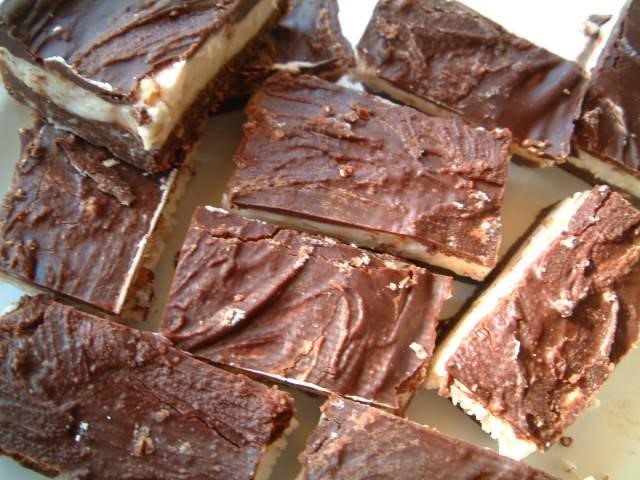 Bottom Layer:
½ cup butter
¼ cup granulated sugar
¼ cup cocoa powder
1 egg beaten
1 teaspoon vanilla
2 cups vanilla wafer crumbles
In small bowl beat 1 egg with vanilla and set aside.
In a medium sized sauce pan melt the butter (over medium heat) and then stir in sugar and cocoa powder.  Cook mixture until the sugar dissolves.  Remove from heat and slowly stir about ¼ cup of this mixture into the beaten egg, blend and return this mix to the sauce pan.  Place pan back on heat and continue cooking until mixture thickens.  Remove mix from heat, stir in vanilla wafer crumbs then firmly press mixture into the bottom of a 9" square pan.  Chill this layer while making the cream layer.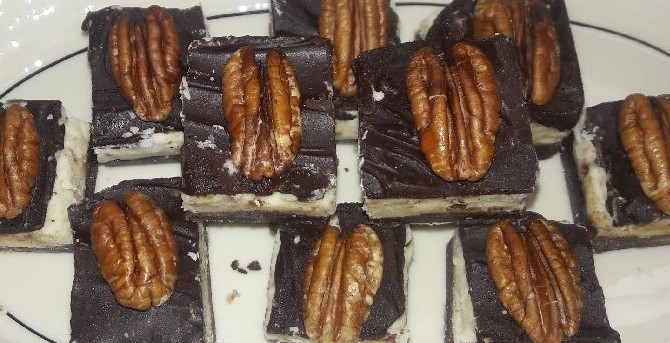 My sister's square cuts with pecan flourish
Cream Layer:
½ cup butter softened
1 pound confectioners sugar
¼ cup bourbon (Forester or Woodford Reserve)
½ cup finely chopped pecans
In a large bowl cream together the butter and sugar, once mixed beat in bourbon 1 tablespoon at a time.  Stir in nuts then pour mix over chilled base return to refrigerator.
Top Layer:
6 ounces of semi-sweet chocolate chips
3 tablespoon butter
In a small sauce pan melt chocolate chips with butter over low heat.  Once melted and thoroughly mixed spread over chilled cream layer.  Chill candy until set and then cut into squares.
Marzipan Candy
Mix well and form into a ball:
12 ounces almond paste
3 tablespoons corn syrup
½ cup marshmallow cream
½ teaspoon almond extract
3 cups confectioners sugar
Assorted food coloring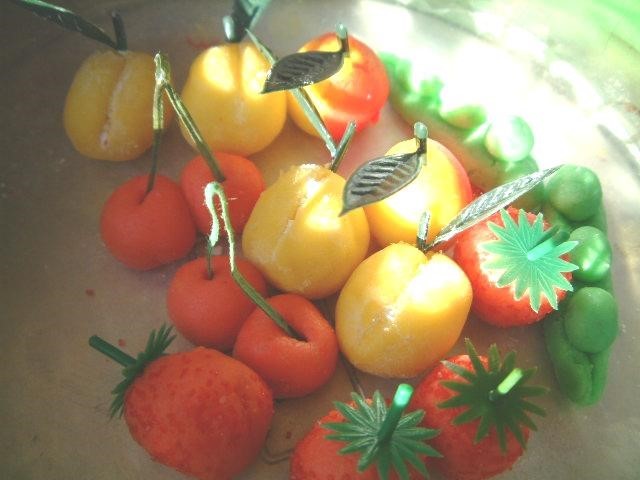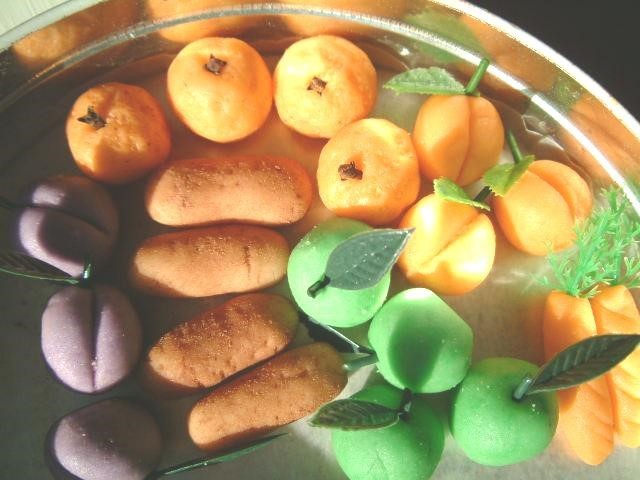 MARZIPAN TIPS
COMING SOON
If dough is not stiff, add more confectioners sugar. Dough should be soft and easy to handle, not sticky. Divide the dough into the number of shapes you wish to create. Color each ball by working in a drop or two of food coloring.  Work into desired shapes, or wrap and store dough in air-tight containers until needed.

Dough can be shaped into fruits and vegetables.  These candies make colorful, edible garnishes for cookie trays, and unique gifts when arranged in small baskets. Cover baskets with plastic wrap and top with bows.

Leafs and stems can be purchased at specialty shops or Amazon.  They are also easy to make out of construction paper. Use whole clove and other spices for stem spots, but be sure to remind guests to remove decorative pieces before eating.