Corona Crisis Thoughts & Comments & a Mix of Humor
Listed from newest to oldest.
Text & email received during the Coronavirus crisis beginning week of March 21, 2020.
Most of the humor is from Steve's colleague, Barry. Thanks Barry for sharing.
PLEASE SEND YOUR THOUGHTS & COMMENTS TO share@deliciousmemories.com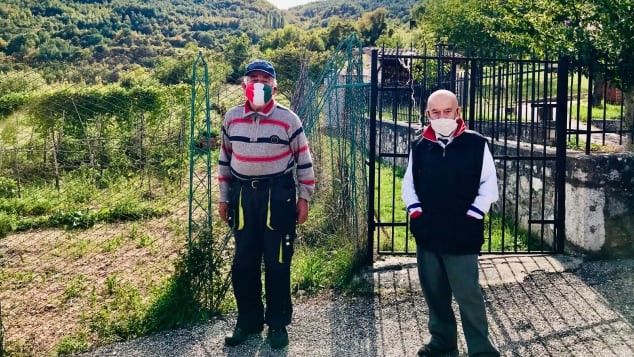 Mary Sue sends this heart warming story...I hope to be like these guys someday!
Above: Giovanni Carilli and Giampiero Nobili are the sole residents of Nortosce.

This Italian town has just two residents, but they still insist on wearing masks
Silvia Marchetti, CNN • Published 16th October 2020
(CNN) — They're the sole inhabitants of a tiny Italian hamlet, but these elderly retirees aren't taking any chances when it comes to upholding the country's strict Covid-19 rules. Giovanni Carilli and Giampiero Nobili wear masks every time they meet and insist on standing one meter apart, despite the fact that they have no neighbors and rarely leave the secluded town of Nortosce.
Located in the province of Perugia in Umbria, popular with tourists, Nortosce sits above a rocky gorge in the Nerina Valley at an altitude of 900 meters, making it extremely hard to reach.
But despite their remote position, neither Carilli, 82, or Nobili, 74, feel protected from the virus, which has claimed the lives of nearly 37,000 people in Italy. "I'm dead scared of the virus," Carilli tells CNN Travel. "If I get sick, I'm on my own, who would look after me? "I'm old, but I want to keep living here looking after my sheep, vines, beehives and orchard. Hunting truffles and mushrooms. I enjoy my life."
'A matter of principle'
At present, Italians are required to observe a social distance of one meter, while masks are mandatory in all public spaces, both outdoors and indoors, except in private homes.
While local police have been handing out fines ranging from €400 to €1,000 (about $470 to $1,170) to those refusing to wear masks in some of the country's most crowded cities, for Carilli and Nobili, face coverings are a sacred rule.
Nobili feels it would be disrespectful for either of them to ignore the strict measures put in place during the pandemic, despite their rather exceptional circumstances.
"Wearing a mask and respecting social distancing is not just for health reasons," he says.
"It's not something 'bad' or 'good'. If there are rules you need to abide by them for your own sake and other people's. It's a matter of principle." When the pair meet for an espresso at Carilli's house, they sit at a two-meter-long table, one at each end. They also make sure to maintain social distancing during their regular walks to an ancient Roman stone fountain to collect fresh spring water.
Carilli was born in the village, but spent much of his life making cured meats in Rome, before returning to live in his childhood home after his retirement. Nobili, the brother of Carilli's brother-in-law, also chose to reside here during his twilight years. However, he still makes artisan jewelry, explaining that the abundance of nature in the town, which is surrounded by beautiful forests, helps to inspire his art. As many former residents escaped to Rome and other cities to find work following a series of earthquakes in Italy during the late '90s, Carilli and Nobili have the town to themselves most of the time.
Apart from each other, their only other companions are Carilli's truffle dog and the five sheep he keeps in his backyard -- although they still occasionally meet up with family outside of the hamlet.
To read the entire article CLICK HERE.
A few more October Covid Shares...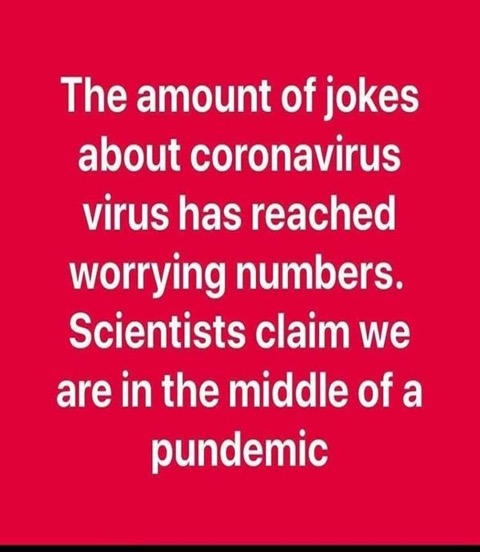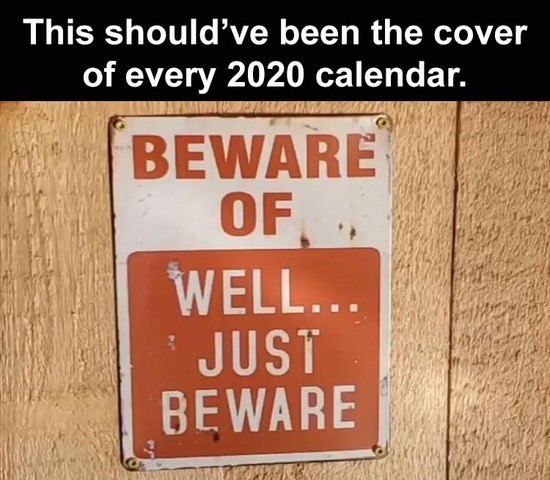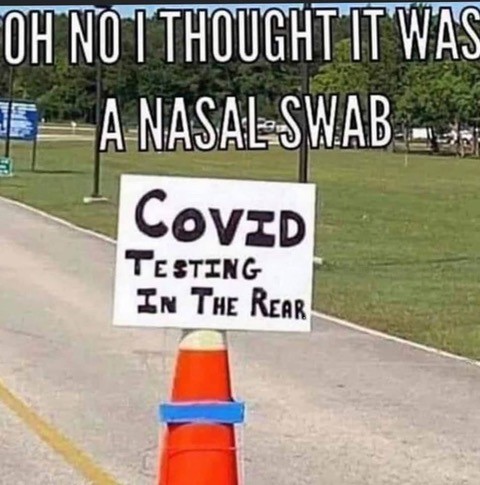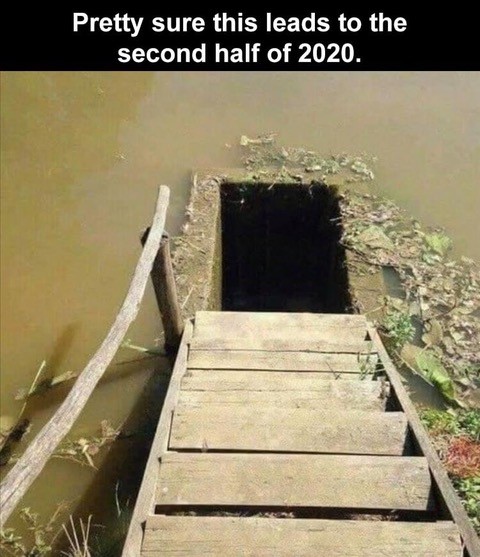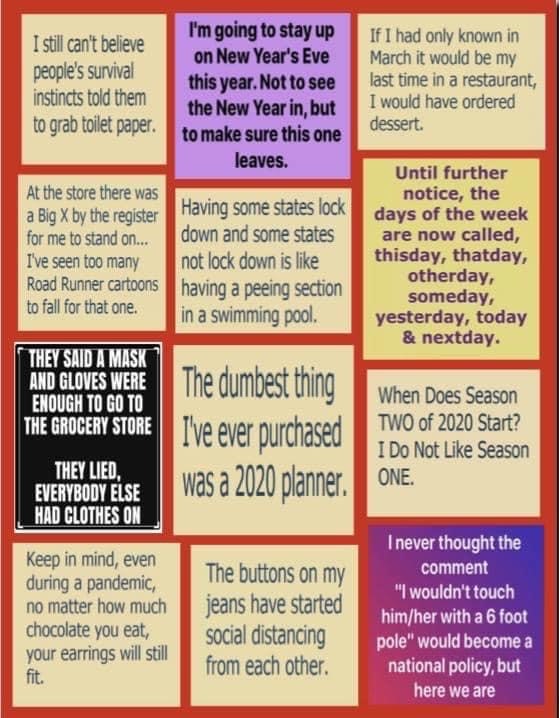 Some of us are (probably) the last generation that will remember what a clothesline was. And in lots of places they are now illegal (as some suburban communities consider them "unsightly"!) It's the poem at the end that's the best!!!
Remembering Mom's Clothesline
THE BASIC RULES FOR CLOTHESLINES
(If you don't even know what clotheslines are, better skip this, or better yet, read on.  You might learn something.) SEE BELOW
#1 A man went to church one day and afterward he stopped to shake the preacher's hand. He said, 'Preacher, I'll tell you, that was a damned fine sermon. Damned good!' The preacher said, 'Thank you sir, but I'd rather you didn't use profanity.' The man said, 'I was so damned impressed with that sermon I put five thousand dollars in the offering plate!' The preacher said, 'No shit?'
#2 Brenda and Steve took their six-year-old son to the doctor. With some hesitation, they explained that although their little angel appeared to be in good health, they were concerned about his rather small penis. After examining the child, the doctor confidently declared, 'Just feed him pancakes. That should solve the problem.' The next morning when the boy arrived at breakfast, there was a large stack of warm pancakes in the middle of the table. 'Gee, Mom,' he exclaimed. 'For me?' 'Just take two,' Brenda replied. 'The rest are for your father.'
#3 One night, an 87-year-old woman came home from Bingo to find her 92-year-old husband in bed with another woman. She became violent and ended up pushing him off the balcony of their 20th floor apartment, killing him instantly. Brought before the court, on the charge of murder, she was asked if she had anything to say in her defense. 'Your Honor,' she began coolly, 'I figured that at 92, if he could screw, he could fly.'
#4 A Doctor was addressing a large audience in Tampa. The material we put into our stomachs is enough to have killed most of us sitting here, years ago. Red meat is awful. Soft drinks corrode your stomach lining. Chinese food is loaded with MSG. High fat diets can be disastrous, and none of us realizes the long-term harm caused by the germs in our drinking water. However, there is one thing that is the most dangerous of all and we all have eaten, or will eat it. Can anyone here tell me what food it is that causes the most grief and suffering for years after eating it?' After several seconds of quiet, a 75-year-old man in the front row raised his hand, and softly said, 'Wedding Cake.'
#5 Bob, a 70-year-old, extremely wealthy widower, shows up at the Country Club with a breathtakingly beautiful and very sexy 25-year-old blonde-haired woman who knocks everyone's socks off with her youthful sex appeal and charm and who hangs over Bob's arm and listens intently to his every word. His buddies at the club are all aghast. At the very first chance, they corner him and ask, 'Bob, how'd you get the trophy girlfriend?' Bob replies, 'Girlfriend? She's my wife!' They are knocked over, but continue to ask.'So, how'd you persuade her to marry you?' 'I lied about my age', Bob replies. 'What, did you tell her you were only 50?' Bob smiles and says, 'No, I told her I was 90.'
#6 Groups of Americans were traveling by tour bus through Holland. As they stopped at a cheese farm, a young guide led them through the process of cheese making, explaining that goat's milk was used. She showed the group a lovely hillside where many goats were grazing. 'These' she explained, 'Are the older goats put out to pasture when they no longer produce.' She then asked, 'What do you do in America with your old goats?' A spry old gentleman answered, 'They send us on bus tours!
You had to hang the clothes in a certain order, and always hang "whites" with "whites," and hang them first.
You NEVER hung a shirt by the shoulders – always by the tail!  What would the neighbors think?
Wash day was Monday!  NEVER hang clothes on the weekend, especially on Sunday, for Heaven's sake!
Hang the sheets and towels on the OUTSIDE lines so you could hide your "unmentionables" in the middle (perverts & busybodies, you know!)
It didn't matter if it was sub-zero weather... clothes would "freeze-dry."
ALWAYS gather the clothes pins when taking down dry clothes!  Pins left on the lines were seen as "tacky".
If you were efficient, you would line the clothes up so that each item did not need two clothes pins but shared one of the clothes pins with the next washed item.
Clothes off of the line and neatly folded in the clothes basket before supper time, and ready to be ironed ... IRONED??!!  Well, that's a whole OTHER subject!
Long wooden pole (clothes pole) that was used to push the clotheslines up so that longer items (sheets/pants/etc.) didn't brush the ground and get dirty.
There's not much new humor concerning Covid19. As a matter of fact, the pandemic really isn't very funny at all. These two items I thought were kind of cute, especially the prediction! Can you believe we've been in this  pickle for five months! How much longer can this go on?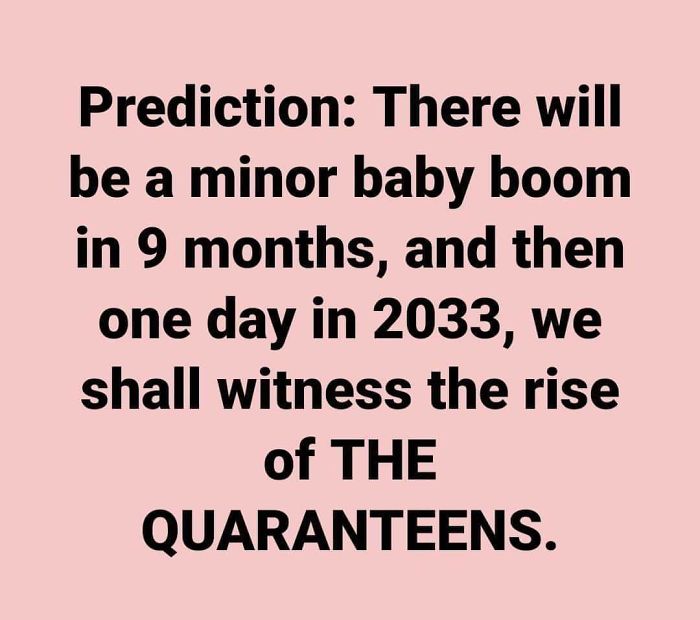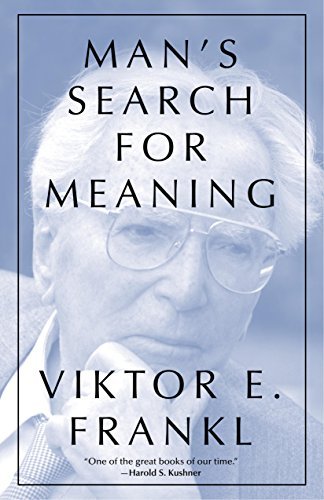 What is the connection between Man's Search for Meaning and Breath? Turns out quite a lot!  Frankl makes clear in a most dramatic way that during times of uncertainty that our best hope of surviving is to employ our most basic fundamental freedom. In his words, he shares that, "Everything can be taken from a man but one thing: the last of the human freedoms—to choose one's attitude in any given set of circumstances, to choose one's own way." This truth sustains me through my many moments of uncertainty. What Breath helps me understand is that my ability to meditate at the crossroads of choice has been my enabling factor. In reading the Breath: The New Science of a Lost Art, informs me that my ability to control my breathing has been the enabling factor in my long struggle with choosing a hopeful attitude versus one of despair during times of uncertainty. I knew that breathing purposefully in meditation is an art, yet meditating always leaves me feeling a little weird, uncomfortable with the deep philosophical and/or religious over tones. I now just revel in the knowledge that the effects are scientifically valid, not just in my head. Now I practice breathing divorced from all the mumbo-jumbo. I love the fact that controlling my breathing, clears my head and is a practice which is just down right goods for what ails me mentally and physically. I would highly recommend this book and others like it.
P.S. Learning to stop mouth breathing and clearing my sinuses without mediation has been a life changer! See nasal flushing following...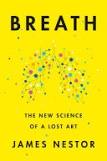 Another suggestion for preventing the Coronavirus which I have been testing is the practice of NASAL FLUSHING. While a friend has suggested I flush twice a day, once in the morning and once before bed, I have opted to start with just a morning rinse before brushing my teeth. The practice is a hard habit to learn but it is becoming easier as the days progress. Following are a few links to the practice. Be sure to purchase bottles and saline from a reputable company and follow the guidelines for using filtered water and replacing applicators every three months. I purchase NeilMed products through Amazon. For an old lady with chronic sinus issues, both learning to breathe right and nasal flush has been a real health improvement.
Gosh! Why am I learning all this stuff so late in life? 
CLICK HERE for FDA Statement on safety of NetiPots
A Touch of Humor Always Surfacing!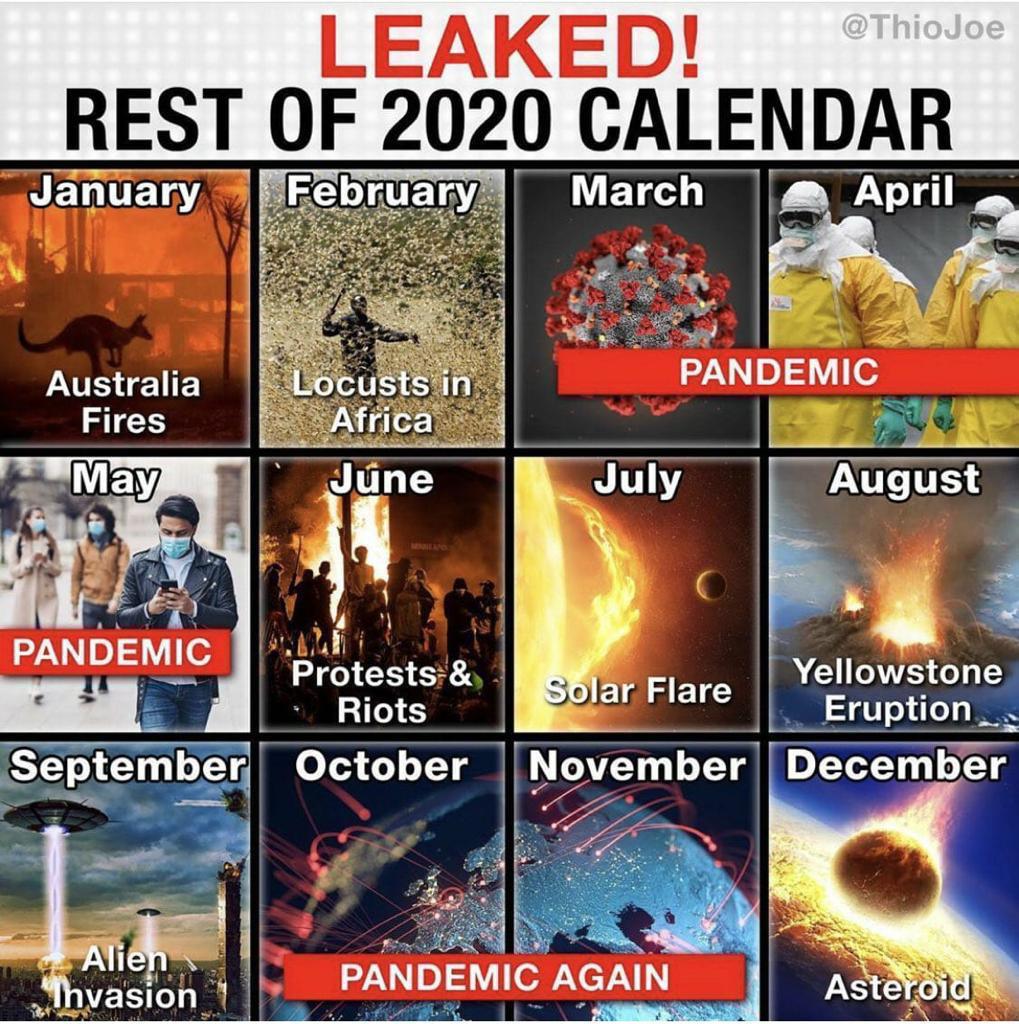 AnnW sends a picture of RHUBARD getting us into a summer mood. Who likes rhubard? I used to make strawberry-rhubard pie. Anyone have any other ways to use up this lovely colored veggie? Share your recipes.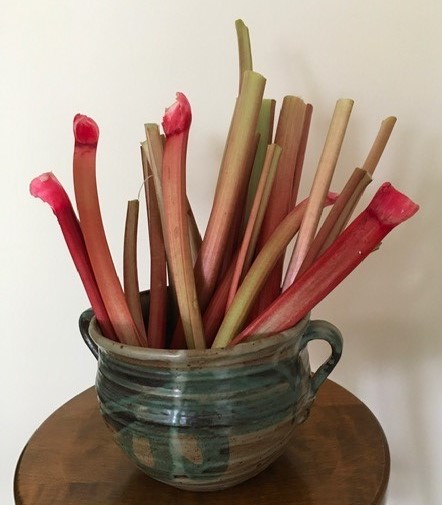 From BarbB...sharing interesting article from MD son...
Here is a link to piece in which Barb's son was interviewed from Street Sense Media, a local news outlet benefiting homeless people: https://www.streetsensemedia.org/article/dc-health-clinics-adjust-operations-in-face-of-covid-19-pandemic/#.XqMyishKjRY.
As we've not been able to articulate very well how life has changed for Ryan since the onset of the COVID-19 pandemic, I'm sending a link to an article he sent us recently, as it gives us a glimpse of how his life has been impacted by this pandemic.  As the doctor in charge of COVID-19 for over two dozen Unity Healthcare centers scattered around the D.C., N. Virginia, Maryland region, Ryan has been working 7 days/week (Sat. and Sun. from home, thankfully) and is on call 24/7, so he is a busy guy, to say the least.
Many of the patients in all of these healthcare systems are homeless people, presenting various unique challenges...some of the empty hotels in the area are being used for homeless patients to be safely quarantined, which is extremely helpful.  Ingenuity and generosity seem to be surfacing on many fronts during this historical period of time, and that is a true blessing.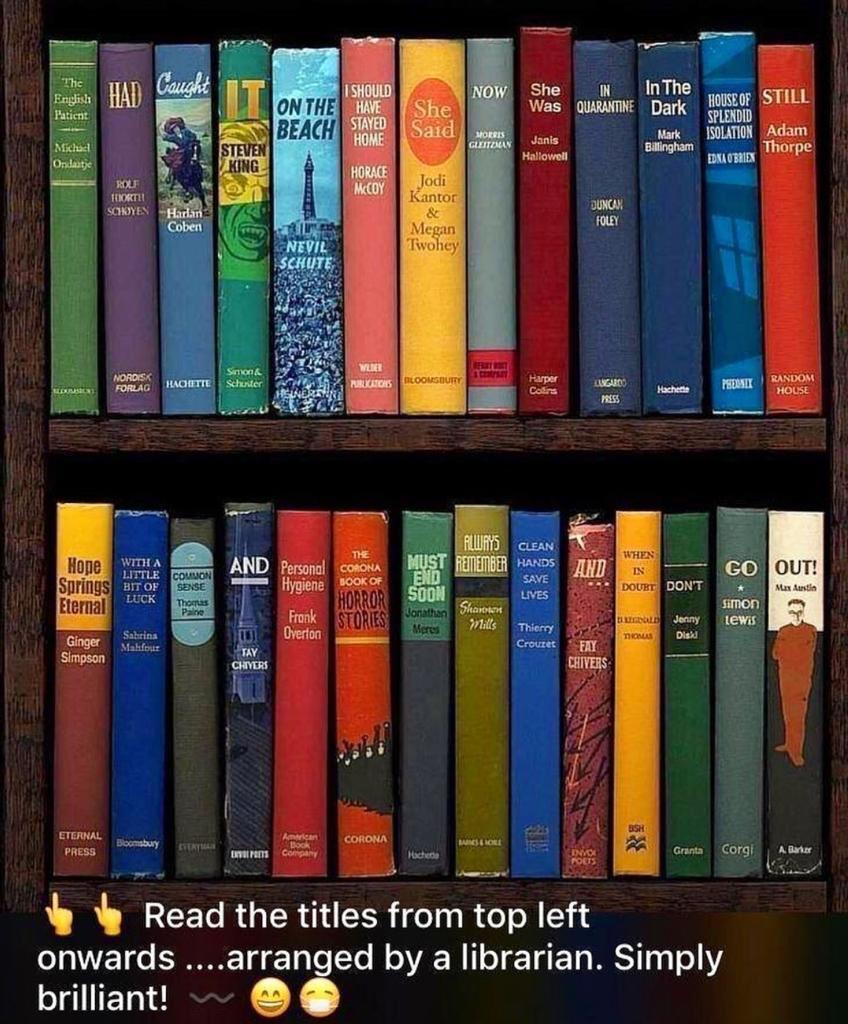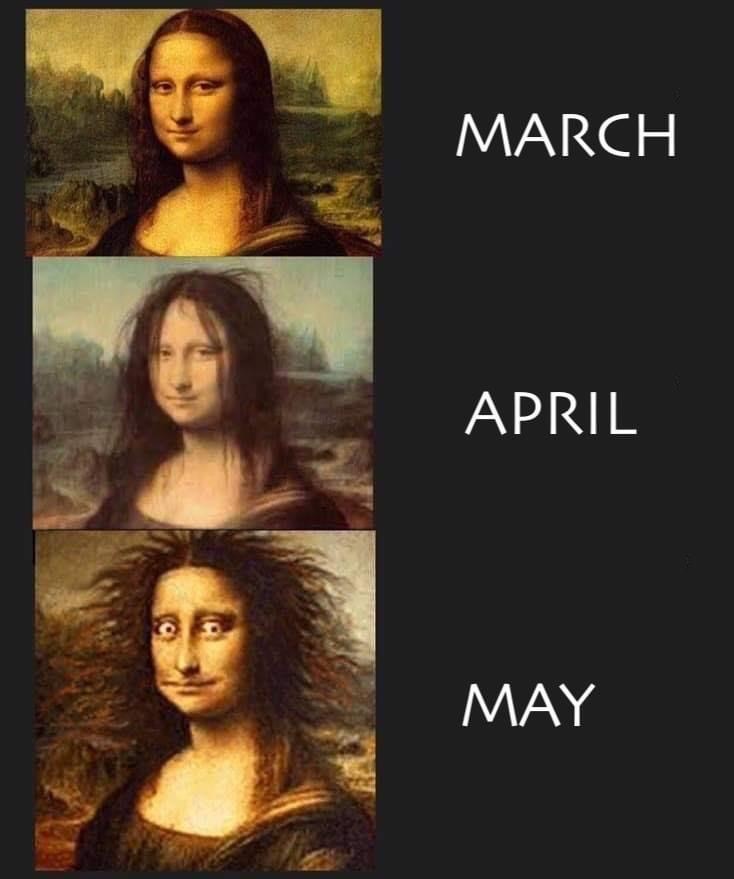 WEEK OF 4/13/2020
A FEW FUNNY THINGS RECEIVED THIS WEEK
From AnnW: Museum Asks People To Recreate Paintings With Stuff They Can Find at Home, Here Are The Results.
https://www.sadanduseless.com/recreated-art/
I just loved the results! Take a look, smile & laugh!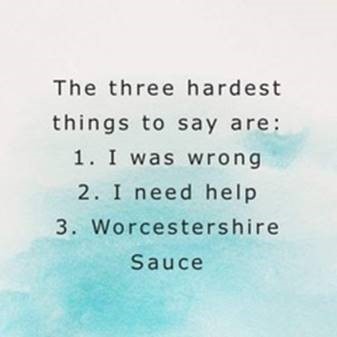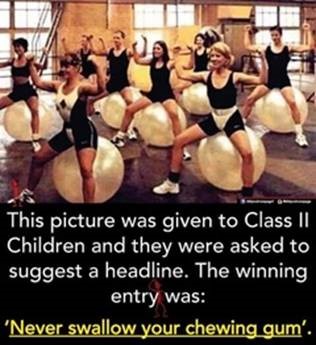 Below observation from my daughter, Laura.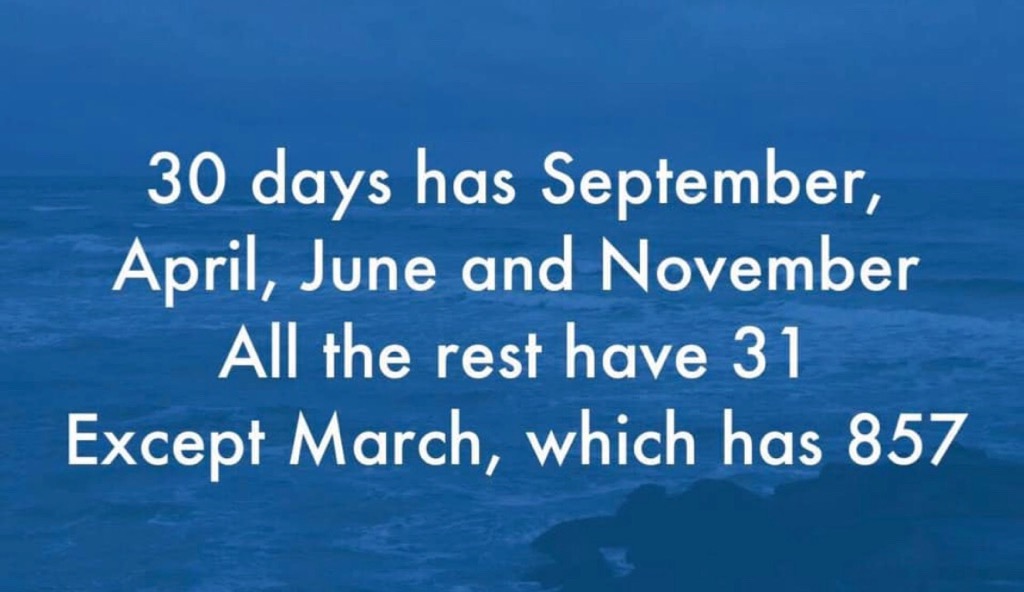 April is now joining the ranks of a month that feels like years. Shelter in place has been wearing on most everyone. The front-line workers, however, are taking the brunt of the crisis, as are many of graduates. The following emails are between me and my niece Sarah. They are revealing as to the extent of the pain this pandemic is causing so many.
4/6/2020
"Life has become so strange.  I'm working at least 3 times harder now than I did in the classroom - LOL!  So much information I could infuse when in person with my students and now I have to try to do it all virtually.  Then, there is all the Legal stuff...document, document, document.  It is TRULY exhausting!
My brother-in-law (a doctor) was moved to a testing tent several weeks ago and yesterday got his positive COVID -19 test result.  Luckily, he seems to be doing well and seems to be on the downside of the virus.  Now, the rest of the family is waiting with bated breath for possible symptoms.
My niece and her husband who are resident ER doctors are being worked like crazy (she worked 96 hours a few weeks ago).  Vested doctors are being let go in droves.  Last Friday they finally got masks.  Yup - each one in a brown bag with their name on the bag.  Initially they were told to sanitize them in the oven but then it was discovered that causes the elastic to disintegrate - so now they wear the mask, drop it in the brown bag and wait until the next shift.
I wrote back and asked Sarah..."What did you mean when you said "vested doctors are being let go in droves?" Does this mean experienced doctors are being fired? Why would that be?"
Her reply...
Yes, experienced doctors are being let go.  Doesn't make much sense but if they do not have ER credentials to cross over and work that dept. from a business/monetary sense they are being fired.  Apparently pediatricians are being hit especially hard.
And then there's poor Matthew (her son).  No baseball season.  No senior banquet, Prom and likely no graduation.  They left one day to never return.  Lockers filled, classes not finished....
We hear and talk about the obvious but the class of 2020 will be forever defined by a virus!!
THIS IS ALL VERY HEART BREAKING STUFF!!!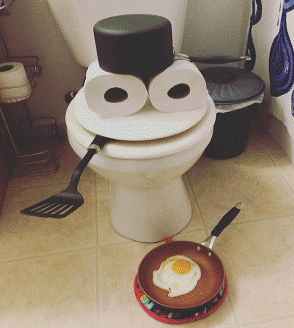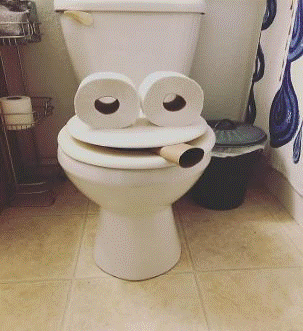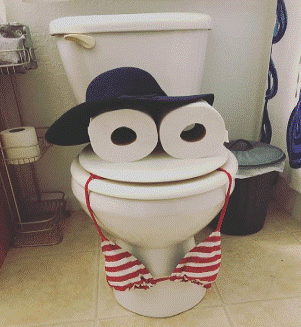 4/5/2020 From Kathy W (H.S. Friend)
One line from the song ("Old Friends") says they sat on the park bench like bookends. Social distancing? Could they have known? I'm now going to look at my fabric scraps to see if I can make a mask (or more). There are directions on the CDC website to make them from t-shirts and it's no sew!
Link to CDC Mask Making Directions:
https://wwwnc.cdc.gov/eid/article/12/6/05-1468_article

 This is what the CDC mask looks like! Egad...
Please send pictures of yourself if you make one!
We'll all get a good belly laugh!!!
RIGHT: Shopper skips mask and goes full body!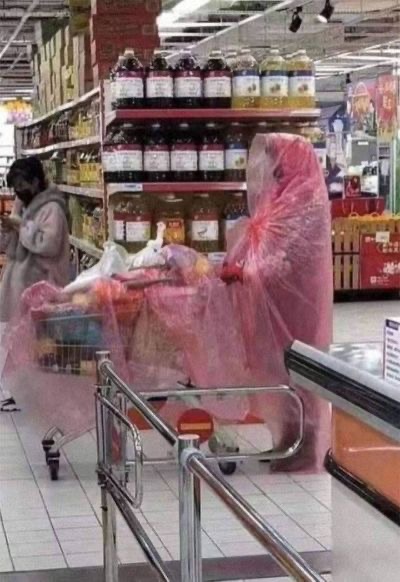 RESPONSES AND IDEAS TO MY "OLD FRIEND" EMAIL BELOW 4/3/2020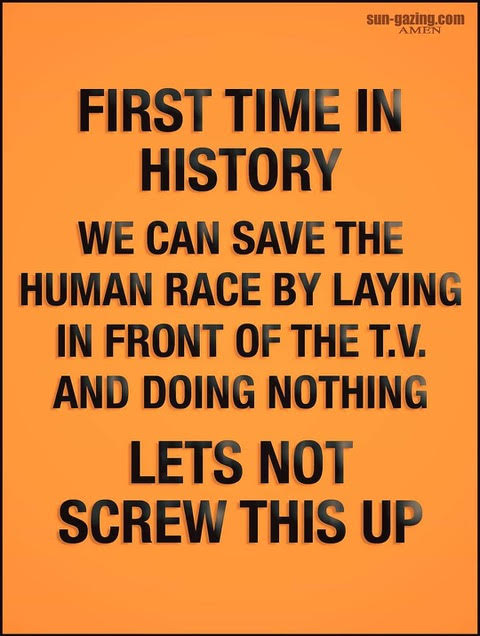 FROM BARBLM (H.S. Friend)
It is truly a strange time. I never dreamed growing old together would mean sooo much time together😂.
Here in Kentucky our governor really jumped quick to enforce measures to keep us all safe and it is working fairly well. The big question is whether our citizens can do all this as long as needed. Both my kids and my son-in-law have jobs that are essential. That is a blessing and a curse. My daughter and son-in-law are both RNs. I try not to dwell on the risks they are taking every day. My son is a truck driver. They are all trying to stay healthy. The two nurses had to isolate for four days because one of them got sick and was tested. Fortunately the test was negative and they are back to work.
I am trying to help by sewing masks for our local hospital. I made 50. Now I am working on 80 more.
We are also signed up to do food delivery for our local food pantry. There are ways to help but it is still scary. The biggest thing we can all do is pray. Of course wash our hands,social distancing etc..
I get out to assist at funerals and get groceries and walk.
We will get through this, but the daily reports are reminding me of the nightly body counts from the Vietnam days. I picture David Brinkley, Chet Huntley and Walter Cronkite.
Keep well, KathyW. (H.S. Friend)
🙏🏼🙏🏼🙏🏼❤️ From KarenFG (H.S. Friend)
👍❤️ From KarenDM (H.S. Friend)
Very well put!!! I turned 70 yesterday & my thoughts are very much the same.
A big thank you 'old friend(s)'. Stay healthy🙏🙏🙏. Wash them🙌
May God bless you. As always, MaryB (H.S. Friend)
Thanks for your email. I'm feeling much the same way. I've talked to my children and told them that should I die, not to feel bad because I have had a good life. Like you, I feel very fortunate.
My 92 year old mother-in-law has been confined to her room in the assisted living. I spoke with her yesterday and she said "we have to take this one day at a time and just wait it out."
In Ohio everyone can join the YMCA on Facebook and do free exercise classes on line. Not the same as talking to people in person but better than nothing. (That's really COOL!)
Jeanette (H.S. Friend)
A MUST TRY...
You must explore Wim Hof breathing method, you know you can always count on me to be researching some new shit. Anyway, watch him on you tube, he is a little wacko always appears half naked and has a unique style. His breathing technique works and you will likely feel a little euphoric without drugs and alcohol. Lay down or sit.  I have done it a few times and quite enjoy it. Especially before you get up in the am. It will definitely take your mind off what is going on which is scary.
❤️DebDG (H.S. Friend)
Click Wim Hof above to link to one of his Youtube sessions...Deb is always exploring out of the box. I did find it relaxing and a little funny!!!
4/3/2020 - FEELING GUILTY & A LITTLE ANXIOUS ... I sent the following email to "Old Friends"...
For some strange reason the lyrics of "Old Friends" played over and over in my head this morning, especially the last few lines…
"Can you imagine us years from today,
Sharing a park bench quietly
How terribly strange to be seventy
Old friends, memory brushes the same years,
Silently sharing the same fears"
"How terribly strange to be seventy" is an understatement in the midst of this coronavirus crisis. The strange things is that I don't feel seventy (which I'll be in a few weeks) and I'm not particularly fearful. I am, of course, afraid for my young family (and yours), and all who are experiencing the worst of this pandemic, but what I am feeling most is a deep sense of guilt. Guilty that the economy may collapse to save all us old buggers who have had a pretty good life. Guilty because I feel normal while so many are dying around me (our Dallas zip code has the highest no. of cases and deaths). I'm having the same feelings we all experienced through 911…although this feels more slow moving and may actually be a more destructive event. I sit here and do nothing and I'm told I am helping the cause by doing so. It all seems crazy! Our generation is supposed to save the world, not place a huge burden on it.
The Lt. Governor of Texas (whose name I can't recall at this moment) said he thought we should quarantine only the old and let the young continue on with their lives, to keep the economy humming (or some such thing). I thought that might be a good idea if sacrificing the old would save the young and their way of life. I'm not sure how that can be accomplished as the bigger issue apparently is that if we permit that to happen the hospitals will be overwhelmed and our entire healthcare system will collapse…which, of course, would be very bad as well. There are just no easy answers.
There's obviously no point to this email, except for me fill a small space of time this morning "thinking" out loud. I have seen and experienced a lot in my life and I have been so fortunate to be untouched by most of what the fates have slung at us. I talk with my father once or twice a day and at 95 he is unfazed with all that is going on around him. He commented the other day that he is glad he's hold up in his little apartment by himself and not on a ship floating in the Pacific constantly under threat (my paraphrase). He always seems to go back to that experience in his life when he was "scared shitless" he may not get a chance to live his life. I've never experienced a moment like his, even after two bouts with cancer, I've never felt like my life would suddenly end. Obviously, that moment will come and I bet I'll be surprised when it does.
Who knows what will come as a result of this event. I feel like we're living in a reality TV show. Maybe it's no coincidence that Donald Trump is our President.  God must have a great sense of humor! What are all of you thinking about this mess? Do you have any suggestions on how to be useful through this crisis outside of doing nothing? I would sew masks for everyone but my sewing machine is in my house in Glencoe. Right now I am living in a condo community with a lot of old people and we're told to shelter in place to keep the building virus free. There is quite a lot of fear all around me. When I went downstairs to do my wash the other day, one of my neighbors was decked out in a hazard suit (and I'm not exaggerating, fully geared!). She had a can of Lysol spraying the inside of the elevator. I entered and started gagging from the spray. She held up the can and sprit a little toward me. She then said, we're safe now." I was speechless. I haven't ventured out much since. So here I am looking out my window at the roof of the Edgemere nursing home where the virus is raging. Chaos and death two blocks away as I write in the calm and silence of the morning. Can you imagine?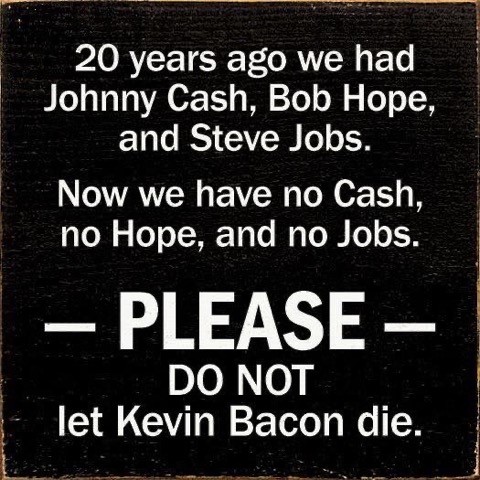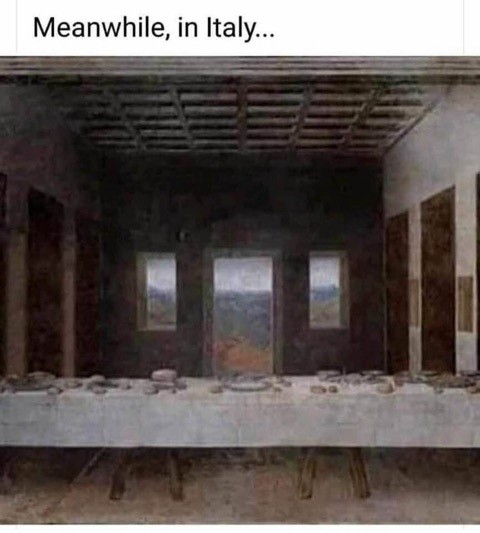 MY ABSOLUTE FAVORITE SO FAR!!!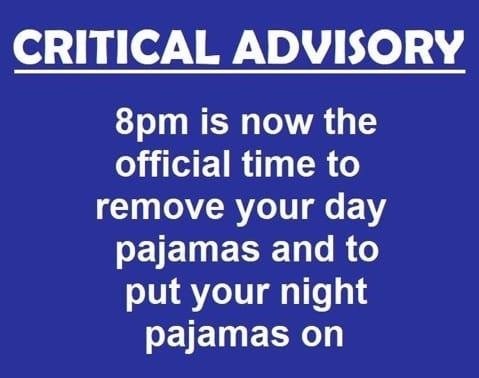 3/27/2020 Betty writes from Florida...
I'm so glad we are in FL.  Weather here has been great over the last 2 weeks.  We float around in our pool every afternoon for a couple of hours.  I've also been playing a lot of golf.  The course we live on is still open and we have our own cart, so we just head out every other day and enjoy some outside time away from other people.  The course took all rakes out of the sand traps and the flagstick hole is filled with Styrofoam so the ball just rolls around the flag and doesn't actually go down in the hole – so no need to touch the flagstick to get your ball out (very ingenious).
I've been cooking a lot (and Bob's been eating a lot) haha.  Instead of us BOTH gaining the quarantine 15, Bob might gain mine as well.  I've run out of furniture to paint and have started painting backgrounds of the beach (sky, water, sand) for my artist friend who then takes the painting and does all the creative stuff to turn it into a masterpiece.  She sells the paintings on Etsy and gives me a cut.  It keeps me busy for a couple hours a day.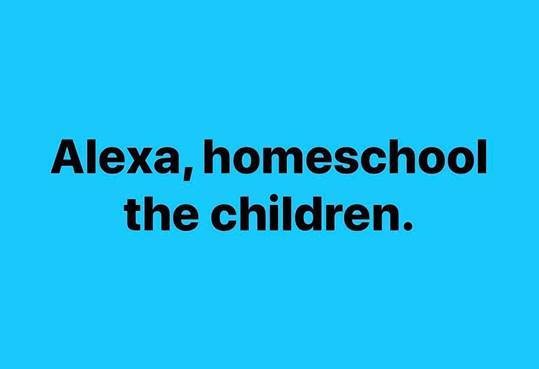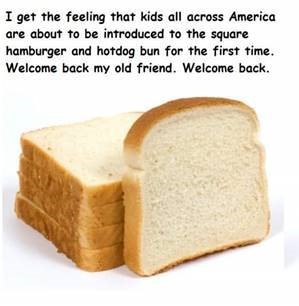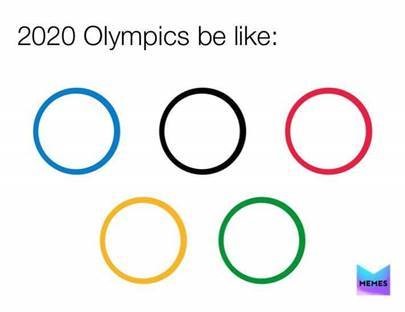 3/24/2020 from Emily at InterVarsity GFM University of Cincinnati
Today I read Psalm 46 which begins: "God is our refuge and strength, an ever-present help in trouble." I'd encourage you to read the whole thing, but I'm praying you feel God's very real physical presence with you, his help and his gladness in the midst of your day today!
3/24/2020 from cousin Teresa
VATICAN GRANTS EMERGENCY PLENARY INDULGENCE
DURING THIS PANDEMIC.
PLEASE PASS TO ALL FRIENDS AND FAMILY!
CLICK HERE to read. Might help!  
Email from cousin Nanette in Wyoming
Glad to know you are all doing as well as we can during these times.  I think Rie is reaching out to have a family Zoom.  Looking forward to seeing your face if even only on a screen.
My reply same day...
Boy, I wish I had bought some of that Zoom stock when my daughter suggested it. Who knew? Hope we can connect at some point. Be safe and we'll.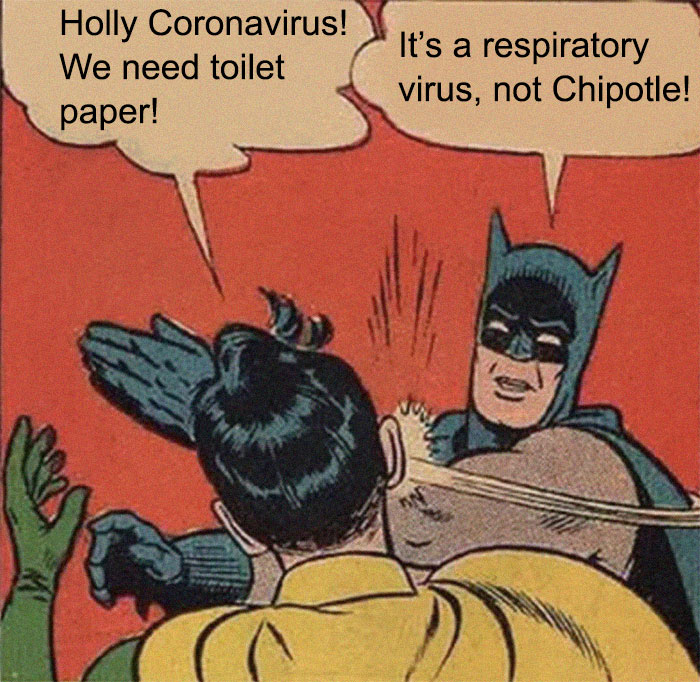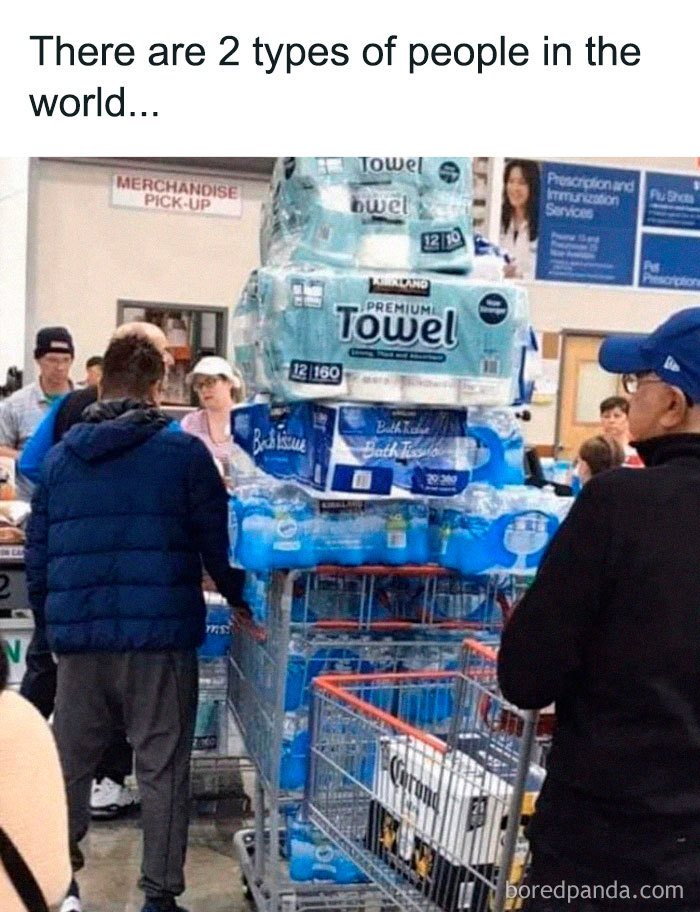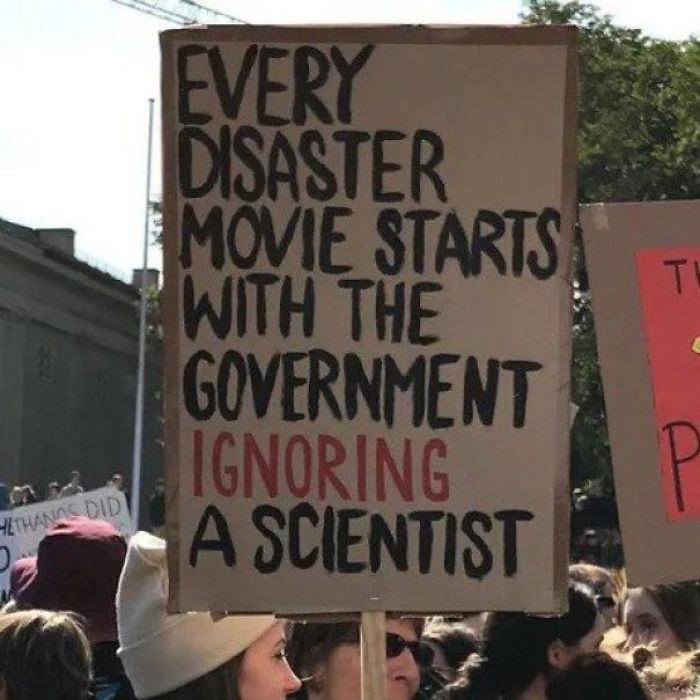 3/22/2020 Rosie, college friend in northern California
Jack and I are fine, a little stir crazy perhaps, but healthy! I've been going out for a daily walk, but not able to do much else. Oh well, this too will pass- that saying has gotten me through many rough patches, and I really believe it!
3/22/2020 Barb, college friend in NKY
Thanks for the update! Van and Barb are doing fine, but really stressed mentally.  We are set to close on a town house in Charleston SC on March 31.  We will close remotely, not sure of anything after that.  I need another back surgery originally scheduled in April, so far, no new date, not an emergency, just a continuation of my "Bad Back".
Still trying to work, although few people want to show their homes now, most buyers do not want to walk thru any either, so quietly twiddling my thumbs, cleaning the garage, basement and my home office!
Had a few good trips in Jan and Feb to Florida and Charleston.  All our kids and grands are well.  Parker is our HS senior, and every celebration, as well as his first love, baseball he plays second base, has been canceled.  So very sorry for him, but I do remember that my dad was drafted into WW II as a HS junior, so he never got a senior year.  Then he got to walk from Le Harve, France to Pilsen CZ, to join Patton's Army. So things could be so much worse.  Also, I think, some of the college guys we knew spent their Senior Year in Vietnam, so praying that does not happen either.
3/22/2020 From Mary, college friend in Massachuttes
Hi to everyone. My husband and I are hunkered down also, going out only for our daily walk. We live in a senior apartment complex, which makes social distancing a bit more challenging! Our neighbor across the hall just came home from the hospital and is awaiting results of her COVID-19 test. She has had pneumonia and is very frail. This certainly raises our fear level a little more.
I have been baking (and eating) my way through this weird, weird time. I'm sure I will gain a lot of corona pounds! Glad to hear all of you are still healthy and that your kids are doing all the right things. My great nephew had been in London for the second semester of his junior year of college, and visited Italy and France. He finally got back, thank God! His mom now has him quarantined at home, but surprisingly no one at the Boston airport even took his temperature or asked any questions when he landed.  My brother's daughter-in-law in Tallahassee, who is expecting twins, has been hospitalized since February 13th because her water broke months early. (Babies weren't due until late May.) She has been on almost total bedrest and thankfully the twins are still in utero and weigh around five pounds each. Doctors say they won't let Erin go past April 11th. Don't know if corona will play any factor in their births.
Reading is another escape for me. Just finished The Giver of Stars by Jojo Moyes and it was wonderful! I highly recommend it as just a good, good read. Takes place in Kentucky during the Depression and centers on four women who run a pack-horse library, delivering books into the hills and hollers. Many twists and turns in the plot.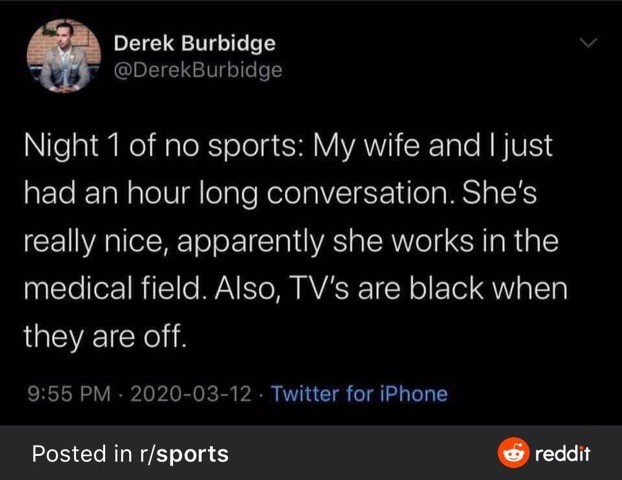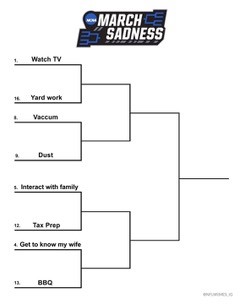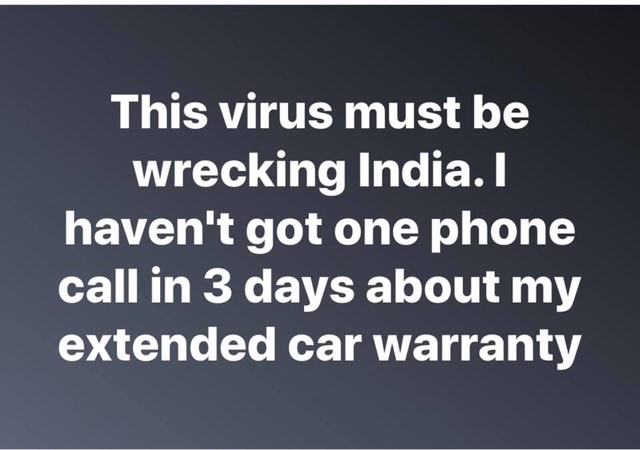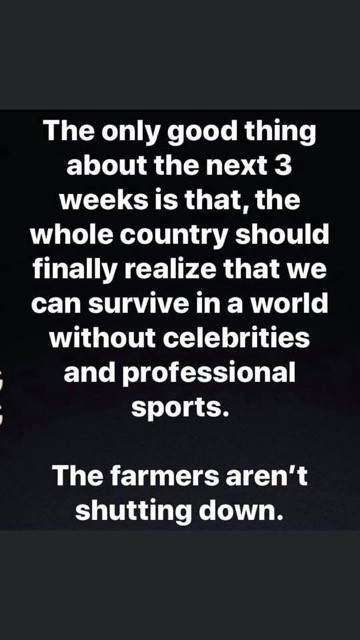 3/22/2020 Email from college friend, Kathy
We are all doing well here in South Florida. I'm still selling real estate but right now it's difficult to keep deals together because of the world situation.  I'm in the process of trying to save a deal that is scheduled to close on Friday.  The buyer, who is an investor, is panicking because of the pandemic, the stock market drop and is threatening to pull out and fight to get their deposit back.  Oh well.....
3/22/2020 Sally college friend in Springfield, OH
Glad to hear everyone is doing well during these unprecedented times.  I am finishing my radiation treatments - only 8 more!  So far, no debilitating problems with radiation, unlike the chemo which took a toll on me temporarily.
Like everyone, I have been staying in, only venturing out for treatments and once a week to the grocery.  Thank heavens I got to the library before it closed down and stocked up on books, although if this goes on too much longer I am sure to run out and be forced to do housework. Yuck.
3/22/2020 another college friend, Sharon, in Northern KY
Hi Julie, Owen and I too are following guidelines and a little unnerved by all this. He is in same cautionary group with a couple underlying conditions.  Our son  (is) at risk with his Crohn's issues and medicine that suppresses immune system. He has been working from home. N.C family working from home. Daughter, manages pharmacy at UK and thus is still working. She is getting work change scenarios daily. Our biggest concern is daughter-in-law. Though working for anesthesia group, she is in hospital settings. She is down to 2 days since non-essential surgeries cancelled, but we worry still about the risk. All grandkids of course at home.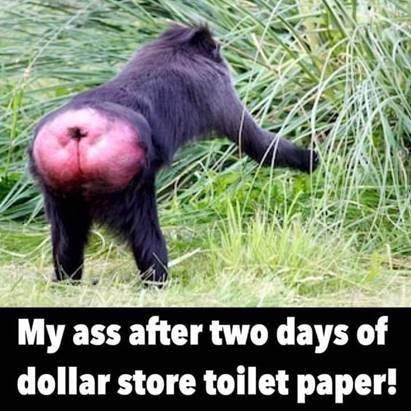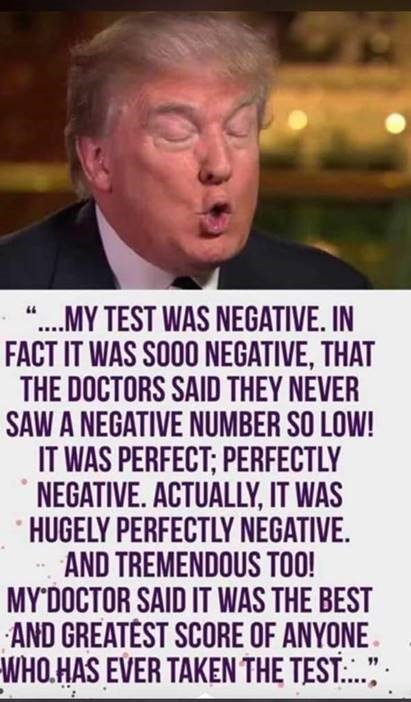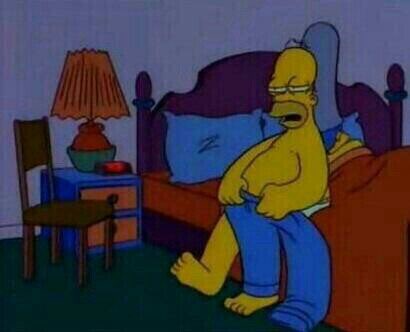 Me getting up at 8:59am for the big commute to work to the spare room and the 9am start
3/23/2020 Email response from Joanie
Thanks for reaching out. I'm glad to see that your dad can have visitors. Tom's dad's (Uncle John) facility will not let you past the front door. We have to drop off what he needs. This is hard, since I basically saw him at least once a week.
3/22/2020 Joanie Follow-up
All our kids are good.  Andy's Megan being a 5th grade teacher is having a hard time with the 'new normal'. Emilie had preschoolers so she just misses them and the school she was at the families have no ability to communicate via computers.
I just keep thinking that my own parents were born in 1916 and 1917 and led pretty wonderful lives without all the technology and medicine we have today.
All we can do is pray for a light at the end of this tunnel.
3/22/2020 Email from BarbBL
Deb told me Tuesday when we golfed-6ft apart* -that you and Laura had gone to the Grand Caymens. She wasn't sure at the time if you were going to get to return.
*We golfed at a par 3 course.  It was just to get away.  The County golf courses are closed but Cinti Recreation courses are open with modifications. My leagues which were to start in April have been put on hold. I'm sure if we get some nice weather we'll have to get out again. Take care.
3/22/2020 Follow-up
Yes, we made it out just as they were closing the island. We had such a great time being the last group of visitors before the shut down. They had previously barred all cruise ships so the island had been free of the virus. While we were there they had one case which had been airlifted from a cruise ship as a heart attack but then they found out the guy had the virus. The day before we left the island announced the shut down. A great once-in-a-life time experience. Glad to be home though.
Email 3/21/2020 from Mike & T directed to our Mattei Family in Europe.
We are reaching out tonight to all of you to check up on your health and safety in France & Belgium and Italy .
Our thoughts and prayers are with everyone, and we hope that no one has come down sick with the Virus!
So far, all of us in KY and Ohio and in Texas are OK.  Many are off school and work.  Everyone is staying home an hoping for the best in these challenging times.
Mike is teaching his classes via ZOOM and our son Eric is working from home.  He & Hope are expecting a baby girl in May and we are praying every day that she arrives safely!
Inno (Matt) seems well, so far.  His meals & mail are being delivered to the apartment each day and he is not going out.
Mary Jo and Mike are checking on him 2 X times a week.
Please send a note to tell us that all of you are safe & well…we see news from Europe and are very very  concerned!
Sending love & hugs to all from USA.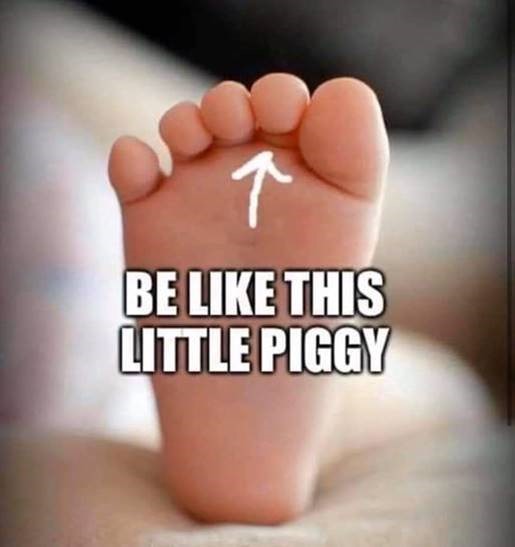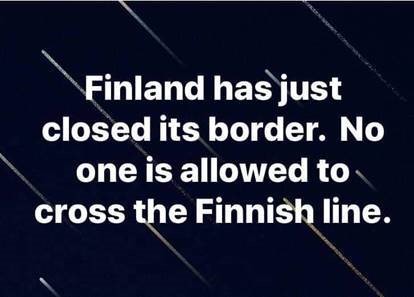 3/22/2020 update from our cousin Alexsandrine, elios daughter
Hello dear cousins from America
Your email touches us a lot and your thoughts go straight to our hearts! It is very nice to receive good news about you.
On our side (Dad, Mom and Mattei / Denet family), no one has yet been infected with the virus. Josette and Elio are doing well. But mom, in addition to her headaches and following an intervention (placement of stents), suffers from an algodystrophy in the right arm and it is painful. There is no cure, it will disappear over time, but the poor person must be patient! Papa has had small bouts of fever for some time and after medical exams, the specialists tend to prefer urinary problems. But given the current situation and as there is no emergency according to their family doctor, a cystography is planned later.
However, being subject to risk, we strongly advise them to go out as little as possible, if at all!
Our children are doing well too.
Justine, the eldest, is confined to Belgium with her companion Yoann. They stay at home and telecommute. The country has closed the borders since this weekend.
Marine, the youngest, who works in Paris, managed to return home before confinement to enjoy the countryside rather than staying in her smaller apartment. She also teleworks.
As for Corentin, the youngest, we are a little less serene because he has been doing a semester (eramus) since mid January in Sweden (Luléä). At the start of the week his school was not closed and he did not wish to return. Since then, the faculty has closed and courses and exams should be done remotely. It is doing well, but the distance and the directives (different from ours) recommended by Sweden, concern us anyway! But, as he keeps telling us, he is young and healthy so it should be fine!
Laurent and I also teach from home. But we are volunteers, with other teachers of course, to welcome in our schools, and according to an established schedule, the children of nursing staff who have no childcare.
Fortunately, wonder of technology, we all succeed in communicating by messages and videos !! Even if virtual contact is not equivalent to physical contact, it is better than nothing and necessary today!
I leave it to Alain to give you news of his family so there will be more exchanges.
Apparently according to the latest news (Monday March 16), in Italy, where the situation is even more serious, all the family members were doing well. They are also all confined to their homes! Dad also has them on the phone regularly.
I do not hide from you that the situation in France (like other European countries) is a source of anxiety. One has the impression of being in a war situation without conflict of course. All schools at all levels, all cultural and non-essential businesses are closed. Only pharmacies and food shops remain open. We must have authorization to go there. And the containment measures are likely to tighten in the coming hours. Some cities have even started to implement a firewall.
But we have no choice to curb this pandemic, we must stop the spread by avoiding any contact. And to help our caregivers, we have a duty to stay at home. Otherwise they will be overwhelmed. This is already the case in certain regions.
However, we remain confident and, all united, we will succeed in overcoming this exceptional situation.
We are happy to learn that you too are confining yourself to the maximum even if others continue to come out. Take care of yourself and each other! But we do not doubt it because you are united in happiness as in difficult circumstances.
We wish Eric and Hope a beautiful baby, hoping that by then the situation will improve! Nevertheless, we are convinced that the little girl will be surrounded by love, tenderness and joy.
Thank you for continuing to give us news.
We all embrace you very much and all our affection is with you.
Take care of yourself especially !!