Research with a Modern Day Image Maker
Between 1892 and today there were approximately 10 statuary businesses established or managed by Gromignana Image Makers and/or their descendants. Of these companies there is only one that is still in business. Fischer & Jirouch is currently operating with a Gromignana Image Maker descendant at the helm. Bob is the son of Corrado (nickname Nicia). Corrado immigrated to the U.S. in 1950 apprenticing under his uncle and mentor, Ben. In 1977 Corrado with another F&J employee purchased controlling interest in the business. Both these men passed control of the company to family.
In August Bob gave us a tour of the facility. He shares that business has been slow since 2008 and the pandemic further complicated operations. Inflation and the ballooning cost of materials were one issue sited. In spite of all, the business carries on. The plant and building tour is so interesting as the company continues to use old-world techniques (with slight alterations in the materials).
The tour revived warm memories of visiting Gromignana Image Makers as they plied the trade in past decades. Smelling the unique waif of plaster brought back recollections of my grandmother, great aunts and a few cousins as they scraped plaster and hand painted  items produced in plaster shops in Louisville circa nineteen-fifties, sixties and seventies.
Hopefully the research and upcoming book on the Gromignana Image Makers will keep this history alive for future generations. Thanks to Bob and his family for supporting this image-makers project!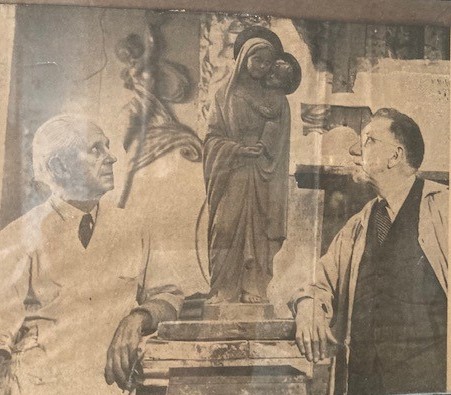 ABOVE: Jirouch & Fischer (date unknown)
Photo courtesy of Bob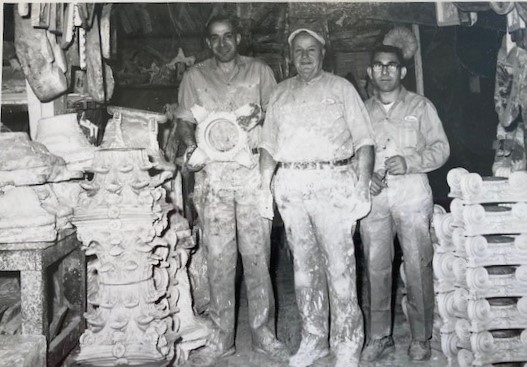 Nicia (Bob's dad), Ben & and a F&J Partner
(date unknown)
Photo courtesy of Bob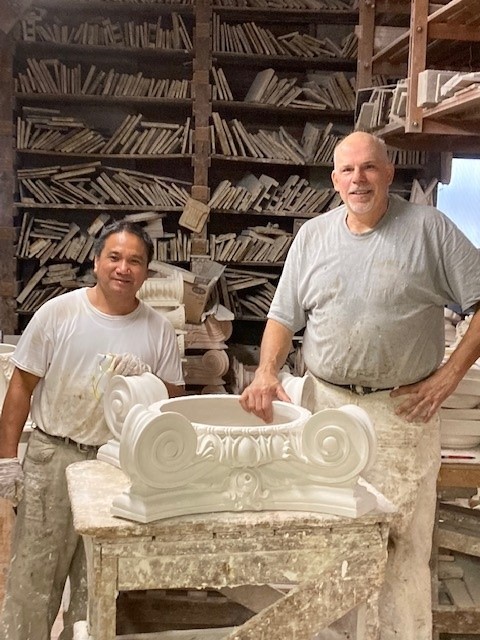 ABOVE: Bob & employee plaster casting with traditional methods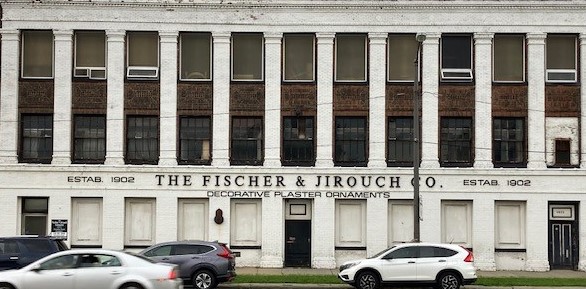 ABOVE: F&J TODAY
Established in 1902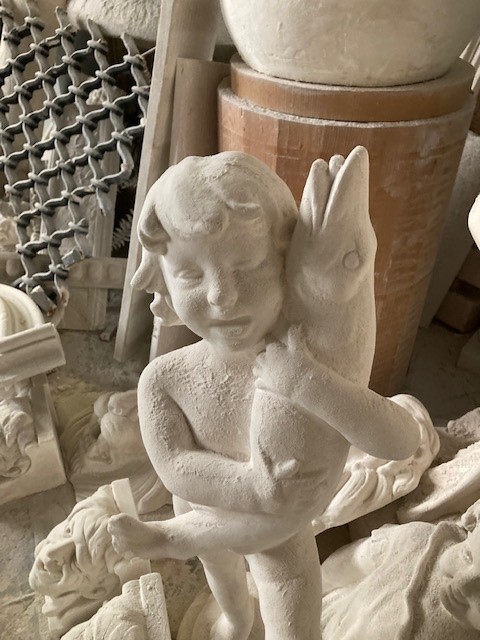 One of my favorite statues when visiting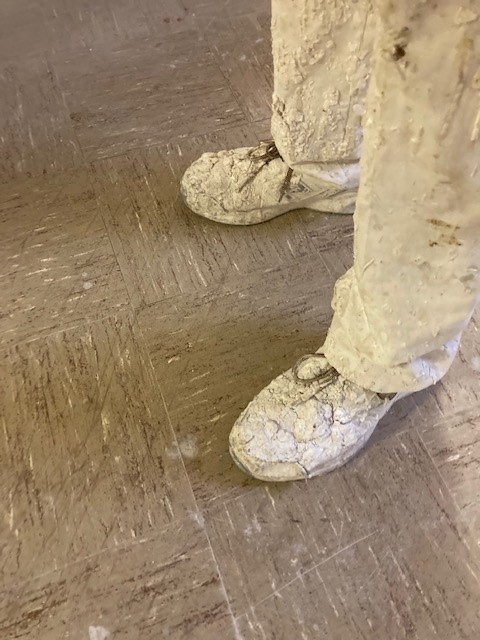 THE SHOES OF A PLASTER CASTER. I TOOK THIS PHOTO AS I REMEMBER SO WELL SEEING MY UNCLE DOMINICS SHOES LOOKING THE SAME!
MORE PHOTOS AND MEMORIES TO COME. THANKS AGAIN, BOB FOR A WONDERFUL TRIP BACK MEMORY LANE!