Cottage Ham & String Beans
RECIPE
Bunch of fresh green beans cleaned and destringed (or a cuple cans of string beans BUT fresh is best!

Put ham into a Dutch oven. or crock pot Arrange potato halves, green beans, and onion slices around the ham. Pour enough water into the pot to cover the vegetables completely.
Cover pot and bring the water to a boil, reduce heat to medium-low, and simmer mixture until potatoes are completely soft, about 55 minutes. (Crock pot set on high and reduce to low if leaving all day).
Remove ham to a cutting board, slice to desired thickness; serve with vegetables.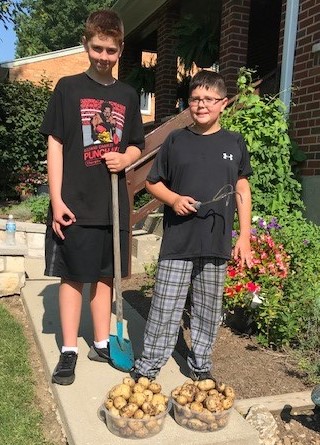 Deb's grandsons harvest the potatoes. Deb also cooks up many other delicious memories with her potatoes. One we had on our Washington Island adventure was simply potatoes, onions and a little water grilled in aluminum foil.
OH MY A WONDERFUL DELICIOUS MEMORY!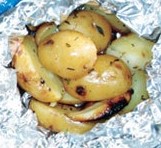 Grilled potatoes with onions, fresh garden herbs and a little water. Easy to fix, easy to bake. I have a Weber gas grill and you can easy assemble these potato packs and grill in center of grill at 400 degrees F.  YUM!