A Trip Down the Memory Lane
(Edited Daily Memories and Menus from original Delicious Memories, Picture  above taken at Louisville Mattei House, Shelbyville Rd, Louisville, KY circa 1960)
Researching my family history has taught me a lot about my ancestors but learning birth, marriage and death dates tell us little about the day-to-day interactions happening in our past. Through shared stories, we can construct a picture of our ancestors lives as they lived them. In my family, as in many families worldwide, memories revolve around food and mealtime. Daily mealtime in my grandparent's home during the early nineteen-hundreds reflected many of the customs and traditions they brought from their small hometowns in northern Italy. While they prepared and served the traditional foods of their youth, eventually, as their families became Americanized these customs would change.
My grandparent's in Louisville opened a plaster and figurine business and they made their home with their four children above "the shop" as we all called it when I was a kid. My grandmother's sister, Dorina, immigrated to Louisville to assist them with their four children, becoming their babysitter and cook. Since there wasn't a place for Dorina to sleep in their apartment, she slept at her Uncle Pacifico's home just around the corner. My grandfather's brother, Uncle Medo also lived and ate with the family until he retired and moved back to Italy with his wife Alice (my grandmother's youngest sister). During this time family relationships were tight. Immigrants relied on each other, especially those coming from small insulated communities where they were leery of strangers. They were cautious and always alert to potential fraudsters.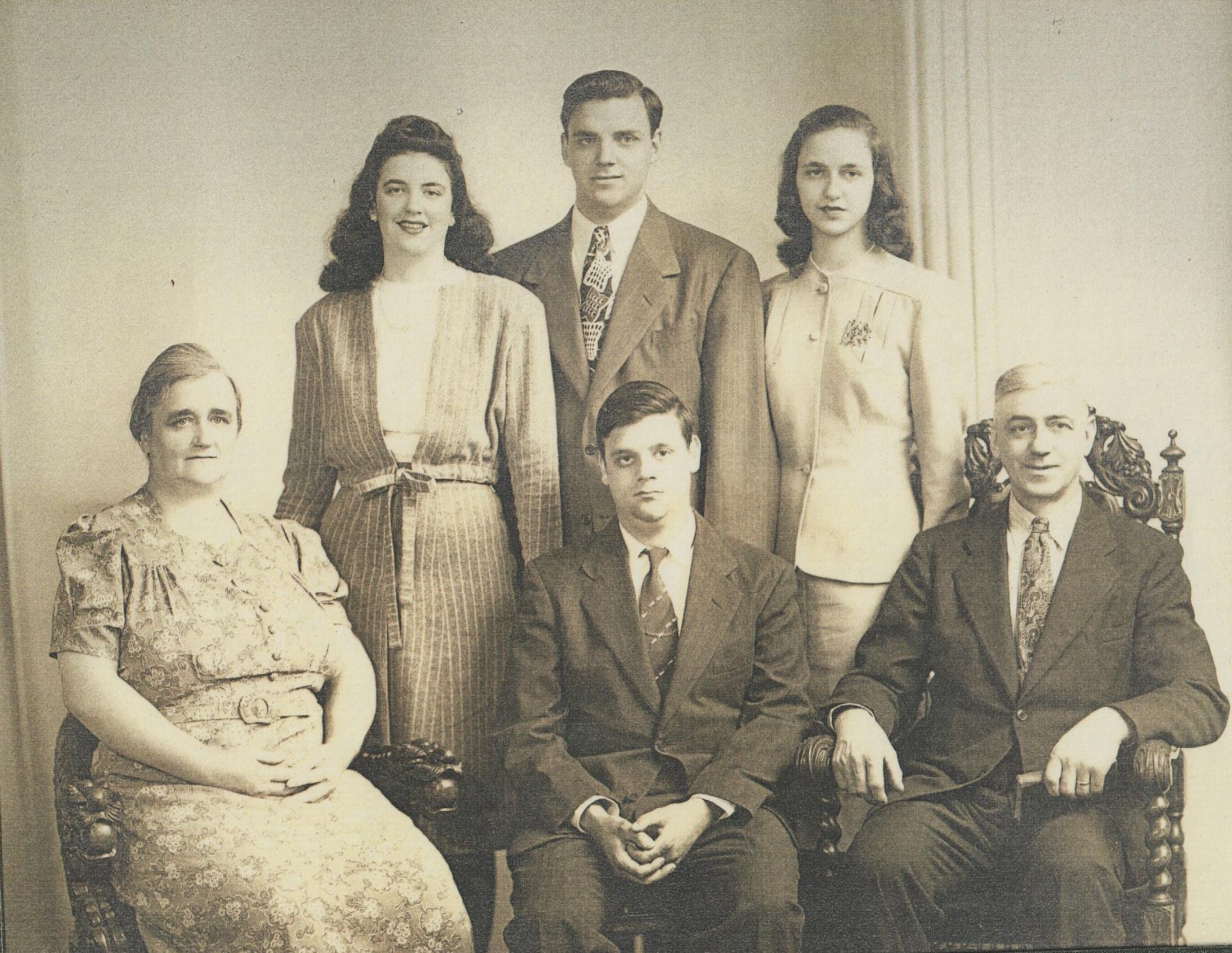 L-R seated: Amerisa, Jack & Pellegrino
Standing: Mary Della, Dominic & Mary Margaret (Babe)
The focus of daily life in both my grandparent's homes was on making a living and putting food on the table. In Louisville everyone woke up around 3:00 AM in order to finish their daily work by 3:00 PM. During the week a meaty soup bone would be placed in a large kettle with a variety of vegetables. Except for Friday, this was the midday meal served with fresh Italian bread. My mother and her siblings would come from school for lunch each day as was common in most of America at that time. On Fridays, since both my Mom and Dad's family were Catholic, meals were meatless. According to my mother, tuna salad was served in the summer and in the winter an omelet, teaming with fresh vegetables. In Norwood OH, where my father grew up with his grandfather, four brothers, aunt, uncle and two cousins, Mary and Teresa, enjoyed more varied daily meals. Both my grandmothers and great aunts cooked daily for their families. Most of their meals revolved around pasta, fresh vegetables, grown seasonally in their gardens, and garnished with meats, cheeses and herbs.  In the nineteen thirties, the Depression and World War II had a huge impact on the daily menus.
During the depression immigrant families, as well as any Americans out of work, became extremely frugal and very creative. My Great Grandfather Liva would visit the butcher and ask for liver for their cat. Not having a cat, they'd prepare and eat the liver themselves. Local grocers, like the butcher, were generous and helped neighborhood families in need. Even though both of my parent's families settled in areas predominately settled by English and German immigrants, they were able to find kind people who assisted them through these difficult years. They also helped themselves by raising rabbits and chickens. They planted backyard gardens to raise fresh vegetables and they canned for the winters. The peppery fragrance of fresh tomatoes boiling down for tomato sauce is a smell that has stayed with me. I resurrect that delicious memory every fall when I put up my holiday sauces in the freezer.
Then on the heels of the Depression, World War II became another daily meal disrupted. While the first rationed item was gasoline, food items soon followed. In January 1940, bacon, butter and sugar were rationed. This was followed by successive ration schemes for meat, tea, jam, biscuits, breakfast cereals, cheese, eggs, lard, milk, canned and dried fruit. Sugar followed in 1943. Everyone in the country was affected and again Americans used their ingenuity to provide meals for their families. Victory gardens sprouted everywhere there was a plot to plant. An odd but advantageous result of rationing is that people ate less meat, dairy and sugar and more vegetables. Individuals were eating better diets and because rationing was universal and each family received equal rations, the wealthy and poor had the same access to food. By 1947 food rationing seized in the United States but lasted until 1954 in the UK.
My fathered served in the Navy for three years. He was drafted on March 27, 1943. The Navy served him a lot of meals aboard the USS Bootes floating in the Pacific with the Navy's 7th fleet. My mom shared that there was one favorite delicious memory that my father wanted to continue…Chicken ala King. This dish served on a flat piece of toasted white bread became a family favorite.  With the war ended the Depression disappeared. There were over 16 million Americans who served in the American Forces; most young men who were just beginning their lives. I'm sure Span made it into many household after the war but I recall only having tried it once. My parents married in September 1947 and took full advantage of the GI Bill. My father finished his education as an apprentice with the Cincinnati Milling Machine Company and after a short while took a transfer to Detroit, Michigan. Our family life, along with millions of other Americans, would change dramatically as millions of veterans moved their large families to the suburbs.
In following two decades of the nineteen fifties and sixties daily meals would morph into menus with "edible-food like substances" that our grandparents and great-grandparents would scarcely recognize as food. The American marketing lure of convenience was embraced by my mother. While she continued to serve balanced and nutritious meals, processed food began to creep into our daily diet. Soda pop and potato chips became a once-a week treat. Even before anyone realized what was happening ... fatty, sweet and salty processed foods made the way into the daily diets of most Americans. Early on, the new trend appeared most visibly at the breakfast table with TV advertised sugar-coated cereals. My mother happily purchased many of the new cereals we clamored for once we saw them advertised during our favorite TV shows.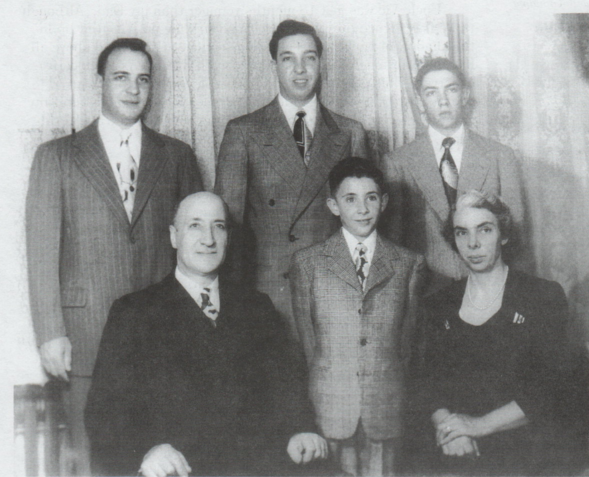 Left to Right sitting: John, Robert & Ida
Standing: Italo Victor (Vic), Innocente (Inno) and John
In the 1950s canned soups, a lunch time favorite, were inspired by Soupy Sales, who would always take the time to recommend the next day soup flavor for moms to run and purchase. Convenience food took over grocery store shelves only to be overwhelmed by the growth of the fast-food industry in the nineteen-seventies.
Yet inspite of all this change, our family continues to prepare and eat homemade meals together. In the last 100 years we have generated many delicious menus and memories. The following are a sampling of our family's favorite daily menus.
Please share your favorites and I will be happy to add to our growing menu.