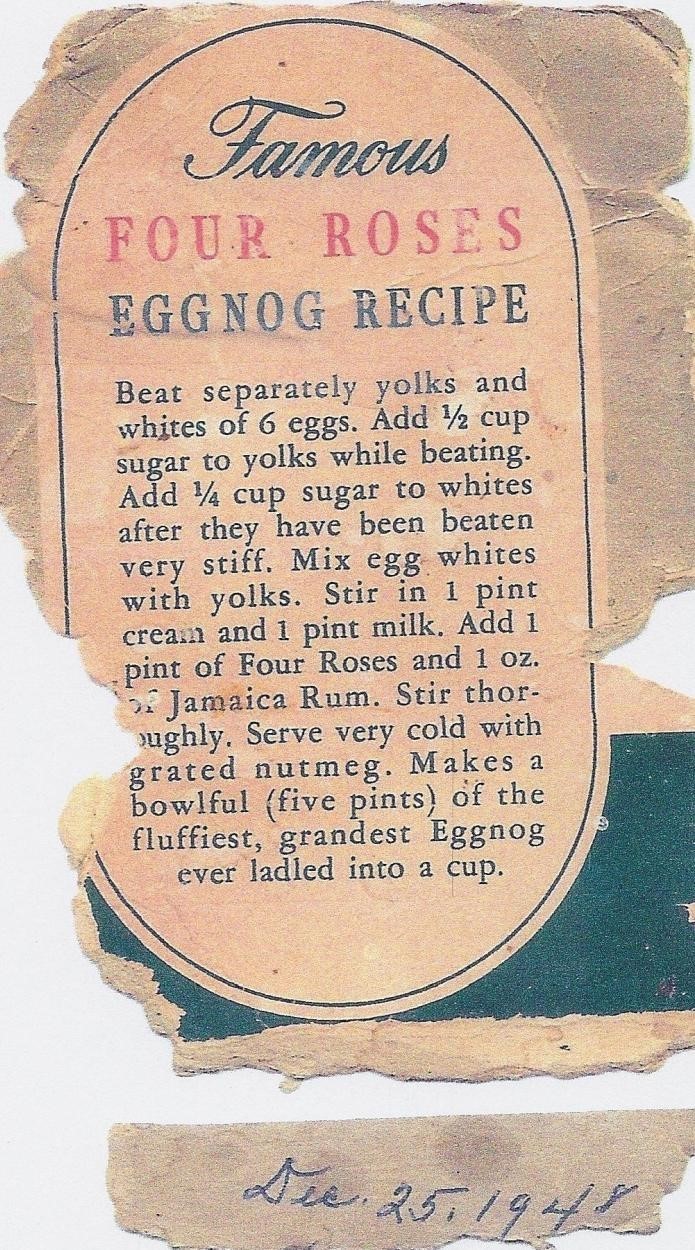 My brother, Joe, emailed this beautiful Christmas memory. Please share your holiday memories! 
A few weeks ago, when I was in Lexington, a guy from Four Roses Bourbon did a presentation/history about KY, bourbon etc.  after I went up and met him and told him about the Four Roses bourbon eggnog recipe that became a tradition in our family.  I also shared the story with a colleague (funny Silent Night is now playing...more on this in a moment).  The colleague, Lew is his name, asked me to send him the eggnog recipe.  I dug out the cookie book and recipe tonight and it brought back some memories.
I remember coming home from Ohio State my freshman year for Christmas break.  I got a ride back from my roommate Chuck, and his dad, they are Jewish.  When we pulled into the driveway the candles mom and dad put in the window were on and the Christmas tree was glowing too.  As I got out of the car Chuck's Dad said to me, "I hope you enjoy your Holiday season." I thought that was a nice thing for him to say and have never forgotten it.  My remembrance of that movement is a separate story.
As I walked into the house all the lights were out except for the Christmas tree and the candles.  Dad was in the back room watching TV and mom was in the kitchen making cookies.  It was a very comforting feeling being back at home  and getting ready for Christmas 1982.   Mom heard me come in and came out to give me a hug and kiss. Hearing Silent Night took me back to Christmas mass at Sacred Heart.  I remember mom always cried when it was played.  When I asked her about it I seem to recall her saying it reminded her of her mother.
The picture above is the recipe cut from a box of Four Roses Bourbon
that Grandpa in Louisville cut off and gave to my Dad Christmas 1948.