There are as many goetta recipes as there are German-American descendants in the Cincinnati-NKY area. This uniquely regional dish continues to be enjoyed and there are many delicious memories to share. The recipe below is from my husband's family. His grandmother, Laura Rombach Hellebusch, learned it from her mother and shared it with her daughter-in-law, Ida, who passed it on to me.  The recipe to the left is how I currently make goetta. Oral history informs us that Laura added the vegetables and stewed tomatoes to the recipe to disguise those good foods from her son, Louis, who rarely would eat anything but plain meat and potatoes. Louis did grow up to enjoy a home-grown tomato in the summer but only peeled. In this vain, I have added a touch of red pepper to my goetta as my husband likes a little zing to his meals. While many serve goetta only for breakfast, our family believed that since our recipe is meater it deserves a main meal status. Goetta sides were generally boiled potato and a vegetables, usually green beans. Occasionally a hardy helping of hot slaw with oddles of bacon bits accompanies a goetta dinner. Goetta as a brunch meal is popular but the first meal from a batch remains a dinner delight!
Oral history informs us that Laura learned to make goetta from her mother, Gertrude Zeirenhorst, who was born in Oldenberg, Germany in 1820. How Gertrude came to live in Covington, KY is a story lost to time. We do know she made a simple goetta recipe, likely very similar to the bare-bones recipe used by many in the Cincinnati area in the early to mid-20th century. The first time I ate goetta was at the home of a friend when I was 13. My friend's mother made it for breakfast using the Dorsel recipe (right). At the time I had no idea I would marry a man whose ancestors were from the same area of Germany as my friends mother. Since there were many German immigrants from Oldenburg in the Cincinnati area it isn't a huge stretch that I married a descendant. Below is the recipe as Laura, her mother and my mother-in-law, Ida, made a batch of goetta.
Original Grandma Gertrude Zeirenhorst recipe is as follows:
Again oral history tells us that Gertrude only used pork in her recipe. She'd cut up a large pork shoulder (bone in) up to 6 pounds. Add a large quartered onion and a bay leaf to the pot and simmer all in water most of the day. When the meat fell easily from the bone she'd separate the bones and chop the meat fine, mix with 6 cups of cooked pinhead oatmeal, salt and pepper to taste. Once cooled the mixture would be formed into rectangular blocks. Interestingly, when Gertrude made a large batch of goetta it would be eaten by the household of within a few days. The dish was made in the winter so it could be stored up to three days in colder temperatures. Often, I'm told, other close relatives and neighbors would participate in the goetta making, each taking a portion home for their family meals.
WATERLESS COOKER & REFRIGERATION
Grandma Laura bought a waterless cooker sometime in the early 20th century. Making goetta became much easier. In the bottom of the cooker she'd combine 4 pounds of pork shoulder, 2 pounds of cubed beef, large quartered onion, 2 stalks of celery and a jar of stewed tomatoes she'd canned in the summer. In the top pan of the cooker she cover 2.5 cups of pinhead oatmeal with water. She'd cook over low gas heat all day until meat flaked between her fingers (she had a round disc she'd place over the flame to keep the pot from burning on the bottom. My mother-in-law still had the disc when I made goetta with her). Every hour throughout the cooking, the cooker would be opened and meat juice would be stirred into the oats.  See a photo of a vintage waterless cooker (right). Grandma Laura's waterless cooker is still around but not sure where. It is much easier to make as I have detailed above and I'm wondering if anyone has tried making goetta in an INSTANT POT? I may try next time I make a batch.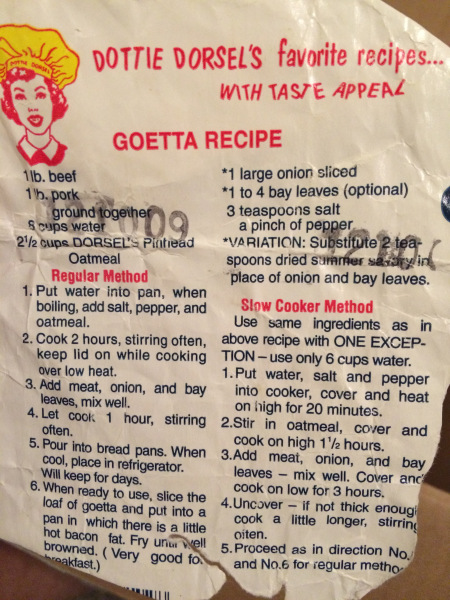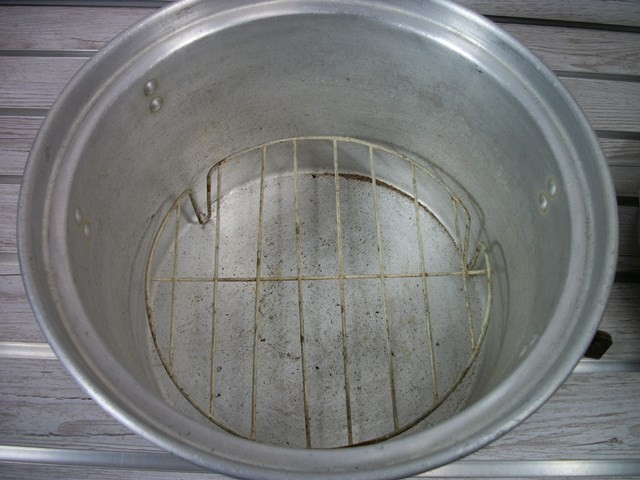 Updated Goetta Recipe Based on Ida and Laura's (see photos below)
In a crock pot mix: 
5 cups water
2 cups pinhead oats
1 teaspoon salt
Cook on low until all the water is absorbed into the oatmeal. Once the water is absorbed you will also be adding juice from the meat pot to flavor the oats.
In a very large pot place the following ingredients:
2 - 3 pounds pork shoulder (there should be a bone in the pork as the bone marrow adds a gel to the goetta which helps it hold together).
1 to 1.5 pounds stewing beef
1 onion chopped
2 stalks of celery
14 oz can stewed tomatoes
Pot should be no more than half full. Add 2 cups water and bring to boil. Place tight lid on pan, lower heat to simmer and cook meat mixture over  for a few hours (it is done when the pork meat falls from the bone and the beef can be shredded between your fingers).
As the meat cooks, occasionally draw some of the meat juice from the pan and stir into the oats in the crock pot. I use up to a cup or two of the meat juice, depending on how much the oats will absorb. You want to be sure that the oats are very, very stiff (soupy oats will cause the final goetta mix to fall apart/break up in frying).
When meat mixture is done, strain the meat mixture from any remaining meat juice (the meat broth left over makes wonderful barley soup). Let the meat mixture cool. Once cooled pass all the meat mixture through a grinder. I grind the meat mixture into a long low baking dish and return the ground meat mixture back into the big pot. Once all the meat is ground add salt and pepper to taste. Then add the STIFF oatmeal to the meal and mix until all is well blended. The mixing should be very difficult and you may need help (I usually have to draft Steve to assist).
Fill loaf pans with goetta and chill over night before frying. I still fry the goetta in bacon fat (use save bacon fat or fry up a batch to serve with hot slaw). I fry in olive oil when preparing with eggs. If the patties break up it is usually because the oats and/or meat mixture was too wet. The trick is to be sure the meat and oatmeal aredred and stiff before stirring together.
Since it takes all day to make goetta this way, sometimes I cook everything on one day, then I refrigerate the strained meat and the cooked oatmeal over night in the refrigerator. The next day I grind the meat mixture and then mix all together (not ideal but it can be done this way). I believe it is better to do it all in one day, like the Grandmas, but sometimes I just run out of gas before I can finish it off.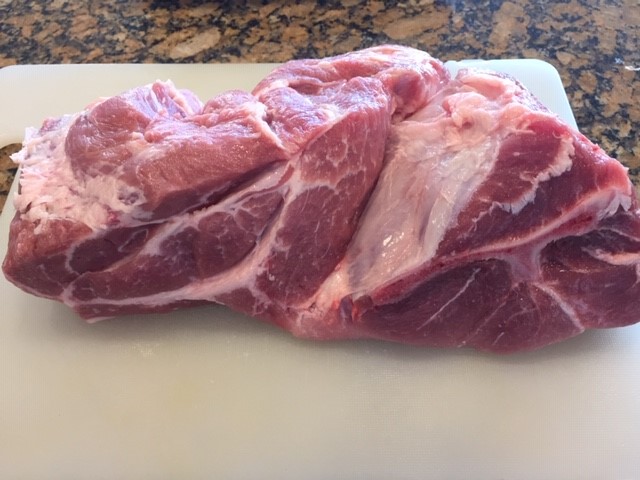 Purchase pork shoulder bone in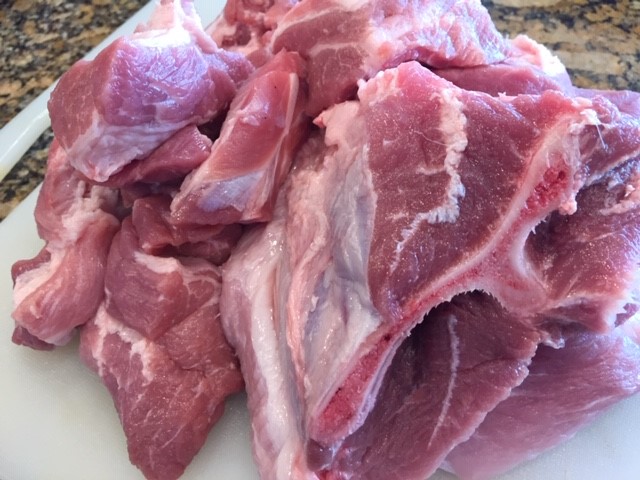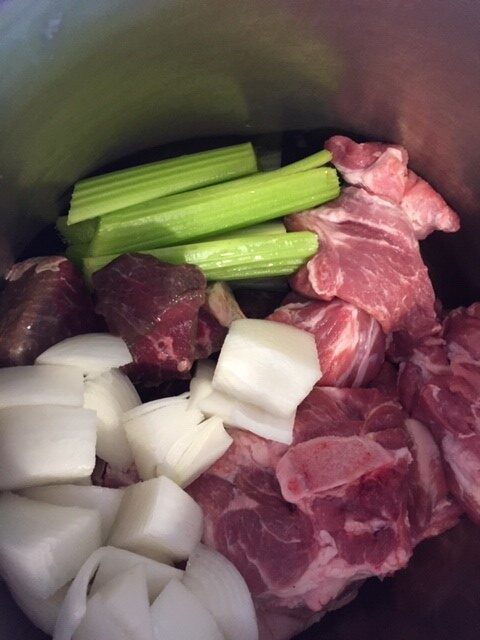 Combine pork, stewing beef, celery and onion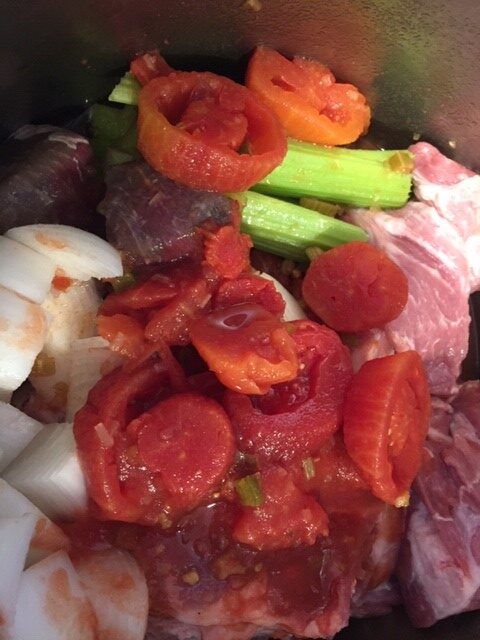 Add to pot stewed tomatoes & water
Bring liquid to boil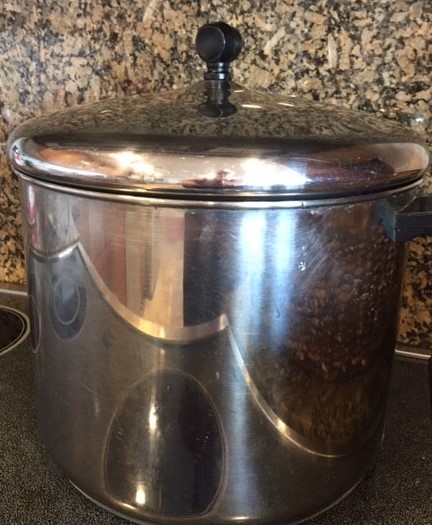 Cover tight and lower to simmer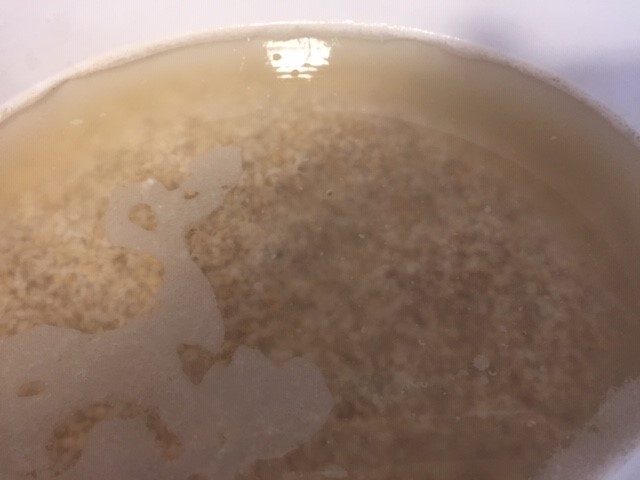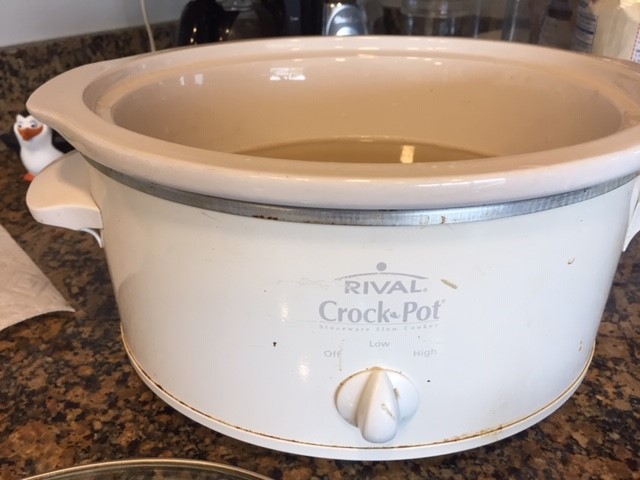 Add water, salt and oatmeal to
crockpot as shown above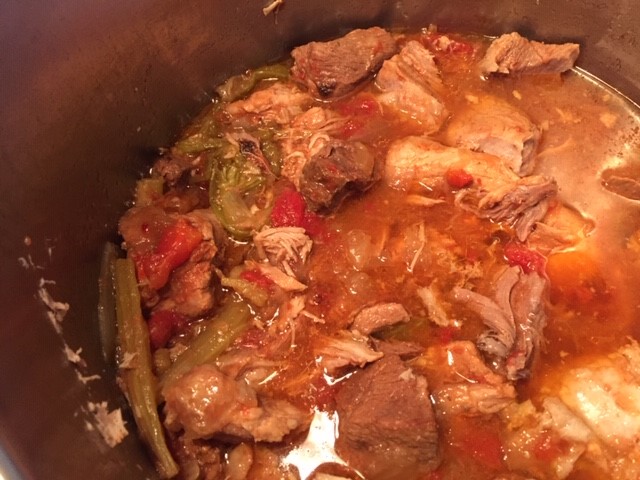 Stir every hour and remove
1/2 cup broth at a time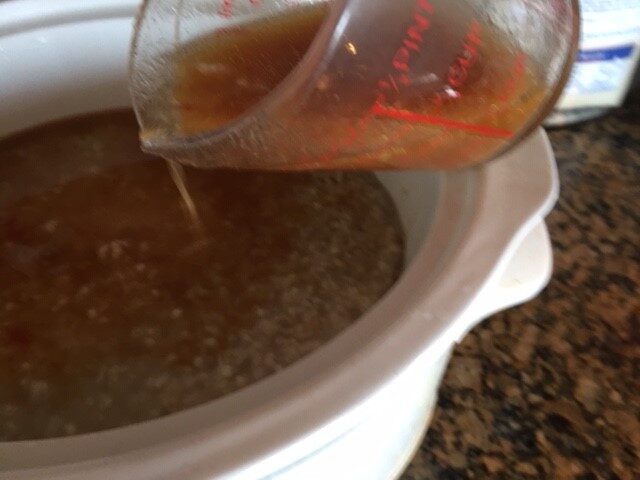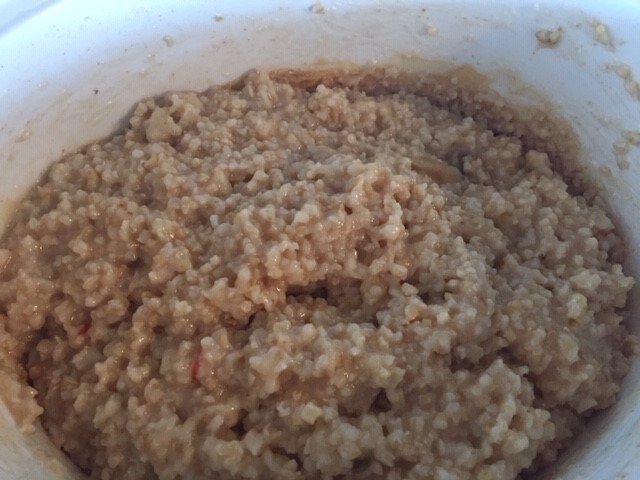 Stir in well, color of oatmeal will brown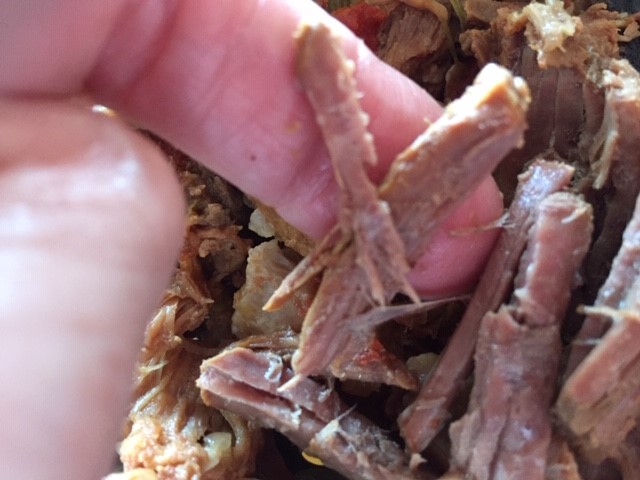 Simmer meat mixture until flakes in fingers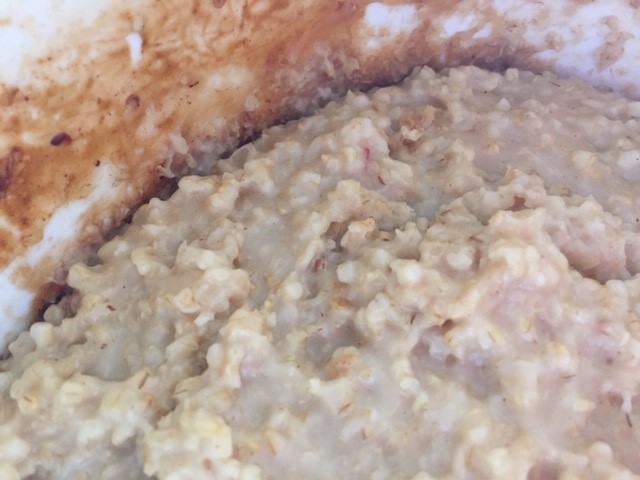 Cook oats until very stiff
and edges browned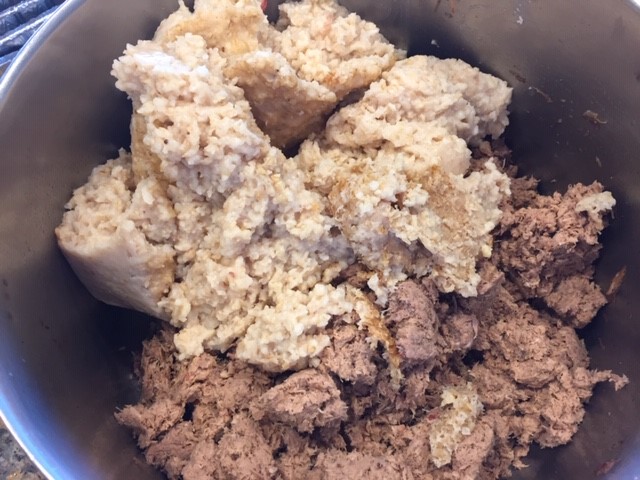 Grind meat mixture and add with oats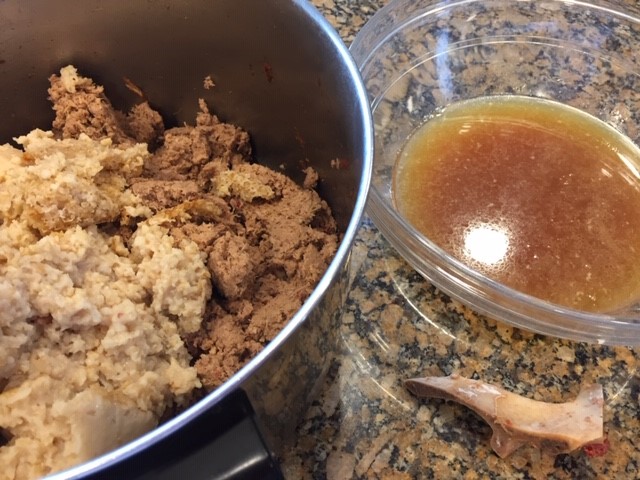 Be sure all bones and
broth are removed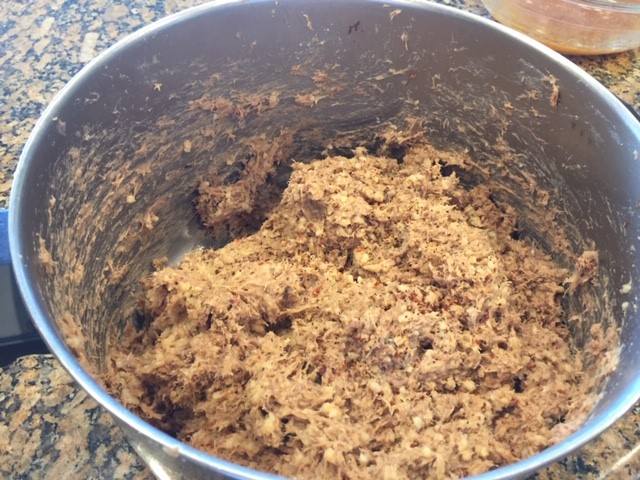 Stir, stir, stir until all is blended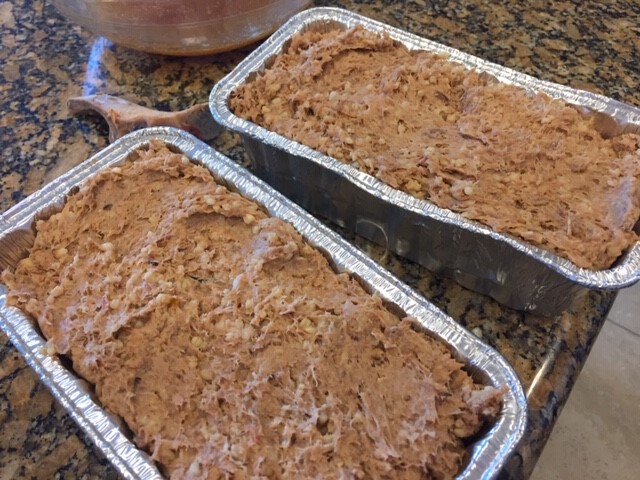 Spread goetta in loaf pans.
Refrigerate up to 3 days,
freeze extras for future use.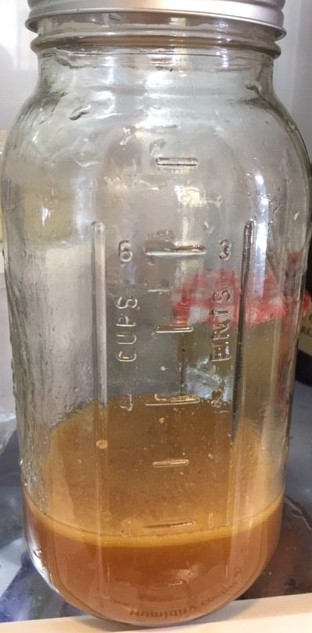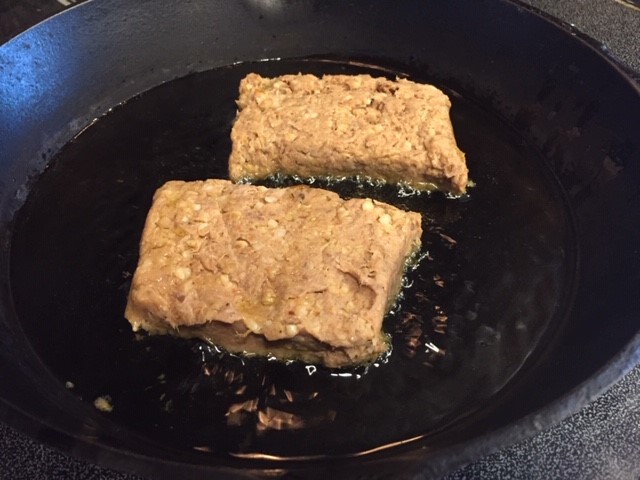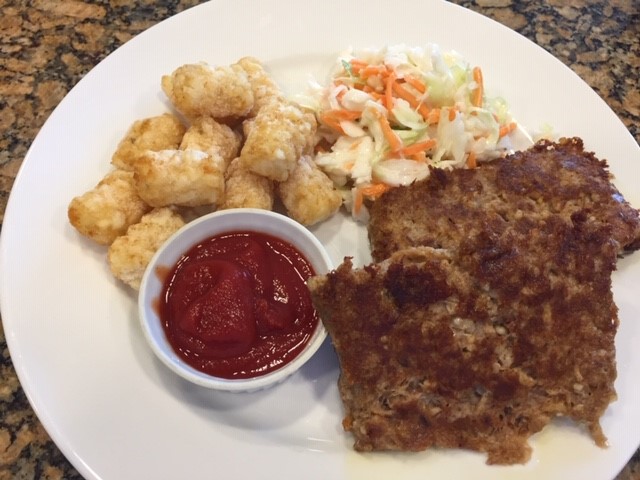 Favorite dinner!
Fried goetta, potato tots and cole slaw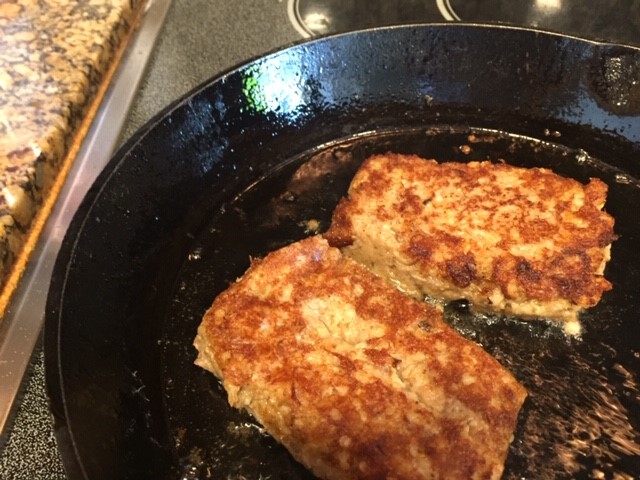 Crispy on outside, soft on the inside