The locality of Gromignana rises 1890 ft. (576 meters) above sea level in the Apuan Alps in the Apenines.
When my grandparents were born in Gromignana in the 1890s there were about 500 to 600 people living in the small village.
Today there are about 70 people in 39 families.

Photo (above) from Italian-American Museum, Australia
View of houses in the village of Gromignana
circa 1929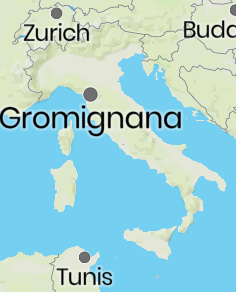 The village of Gromignana belongs to the municipality of Coreglia Antelminelli, in the province of Lucca, region Toscana.
The village of Gromignana is 1,39 kilometers far from the same town of Coreglia Antelminelli to whom it belongs.
Along with Gromignana there are other municipalies belonging to Coreglia Antelminelli. They are as follows: Calavorno, Case sparse,  Colle, Ghivizzano, Ghivizzano Castello, Lucignana, Pian di Biagetto, Piano di Coreglia, Piano di Coreglia - Ghivizzano, Piastroso, Tereglio and Vitiana.
Driving distance from Gromignana to:
Lucca - south 43 min (34.3 km)
Pisa - southwest 1 hr 3 min (52.8 km)
Florence - southeast 1 hr 43 min (107.9 km)
Bologna - northeast 2 hr 21 min (181.0 km)