Recently, on a visit to Cincinnati to celebrate Deb & Bill's 50th wedding anniversary, we ran headlong into some very delicious Hellebusch family memories. The restaurant chosen for the occasion is Snow's Lakeside Tavern (click to view website). One taste of their HOT SLAW carries me back to this Hellebusch favorite, homemade on special occasions with goetta (click for goetta recipe) and always a must order at the Greyhound Grill (click to view website) with an order of onion rings.
Hot slaw is very easy to make at home. Just follow the steps below. The only work is chopping the cabbage which is easily avoidable with the purchase of a pre-packaged finely shredded cabbage.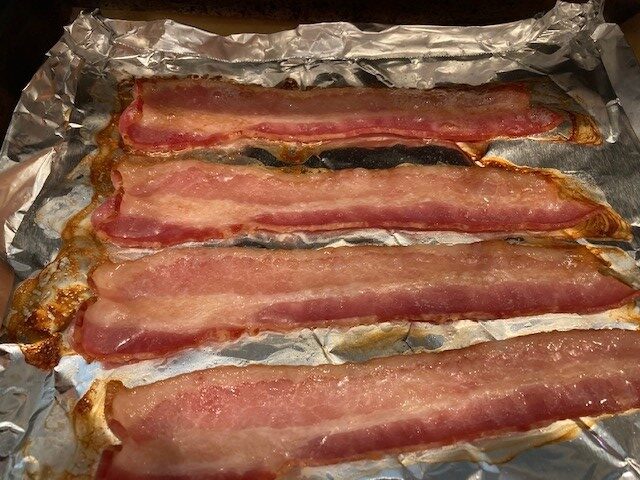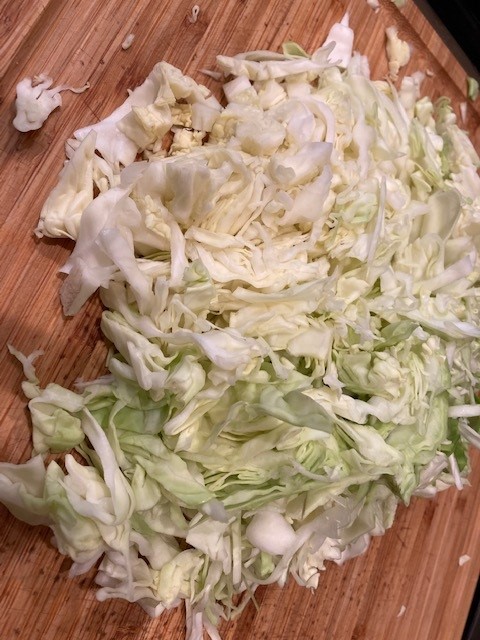 This recipe makes two large servings:
Step#1 - fry four slices of center cut bacon. I bake in toaster over but pan fry is good too. Be sure it is very crisp for an easy bacon crumble. Be careful NOT TO burn!
Step#2 - while bacon is frying shred 1/2 medium head of cabbage (or use prepackaged finely chopped cabbage) and chopped a 1/2 a medium onion.
Step#3 - pour bacon fat into deep frying pan and fry onions until soft.
Step#4 - add 1/2 cut white vinegar, 1/2 cup white sugar & 1/2 cup water. Bring mixture to a rolling boil for 1 to 2 minutes. A good rule of thumb as you enlarge this recipe is to use 1/4 cup vinegar, 1/4 cup sugar and a 1/4 cup water for each serving of cabbage (1/4 of a head).
Step#5 - Pour hot dressing over cabbage and garnish with crumbled bacon bits.