Since our 50th reunion in 2018 we have been living large, as if dying is a far off event. You know the thought, "yeah, we will die but just not now." Then the shock of SueTM's sudden passing has us all wondering ... "how could this be?" As friends and classmates gather to mourn we wonder how a woman so full of life could leave us so unexpectedly. What happen? We have been through this before as we have grieved for classmates taken even younger (see below). This Scrapbook page is in IN MEMORY of all our beloved classmates who have gone before us. I suspect whether at 18, 70, 90 or 100, for those of us who live on, we will continue to be surprised when one of our friends and classmates leaves us. Please share any memories you have of the dearly departed and I'll be happy to post them here IN MEMORY...
In Memory of classmates Post 50th Reunion...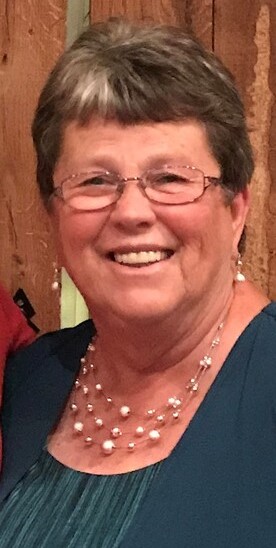 January 20, 1950 - December 24, 2020
Kathy A. Ellison (nee Tensing), loving wife of George R. Ellison. Devoted mother of Rick (Michelle) Ellison, Christy (Scott) Thamann, Amy (Adam) Meyer, and Amanda (Dave) Wilson. Doting grandmother of Samantha, Ricky, Andrew, Adam, Alex, Braelynn, Ella, Glenn, Ava, Lincoln, and great-grandmother of Annabelle and Jameson. Beloved sister of Judy Tensing (Denny Eagan), Maggie Tensing, and Noanie (John) Martin. Passed away Dec. 24, 2020. Visitation Tuesday, Dec. 29th from 5:00 – 7:00PM at Mihovk-Rosenacker Funeral Home 10211 Plainfield Road (45241). Facemasks and social distancing required. Mass of Christian Burial for family only will be held at Sts. Peter & Paul Church (Reading). In lieu of flowers, donations may be made to Sts. Peter & Paul Academy 231 Clark Road (45215) or to the Valley Youth Organization (VYO) 1506 Riesenberg Lane (45215).
PLEASE SHARE ANY MEMORIES OF KATHY AT share@deliciousmemories.com
Sue with her beaming smile (below) at our 50th class reunion June, 2018. No one would have predicted her sudden passing on September 8, 2020. Sue will be sorely missed as she had been a great promoter of our class reunions, having served on every class reunion committee since our 5th reunion at Sharon Woods. She attended many Friend's Nights in the run up to our 50th and helped reconnect many classmates with joy and enthusiasm. Her close CLUB sisters are in deep mourning as the first of their group is gone. Her good friend BarbHC shares ... "(Sue) had such a caring, empathetic heart. She was always reaching out and sharing another's pain in a very quiet way. " AnneHR shared ... previously I had all the firsts (in our group) ... only one to leave home for a long time...only one to not have kids & only one to lose their husband...it seems we have another first😢😢 Anne is right! Sue is the first to leave us since we gathered to celebrate our 50 years of friendship. Let us pray she is the last to leave us for many, many more years to come. Each passing is so diminishing and so shocking to all us who feel forever young!
Susan Marie Mouch was born March 11, 1950 to the late Robert and Claire (Wiseman ) Thornton. After attending Mount Notre Dame for three years, Sue graduated from Bishop Fenwick High School and then attended The University of Cincinnati. Sue and Jerry celebrated their 50th wedding anniversary in June of 2020. She was a retired advisor for PNC Bank, an avid reader, loved attending Xavier Basketball games and her children's sporting events. Nana never missed an opportunity to watch her grandchildren compete and perform. Those moments brought her absolute joy. Sue was preceded in death by her parents, her brother Timothy, and her son-in-law Christopher Federmann. Sue is survived by her husband of 50 years Jerry Mouch, children Angela Edmonds (Timothy), Andrew Mouch (Natalie), Abby Federmann (Christopher), and her grandchildren, Jacob, Joseph, Payton, Drew, Allie, Dominic, and Katie. She also leaves behind loving siblings, nieces, nephews, great nieces and nephews, and extended family and many friends. A memorial mass will be held on Tuesday September 15, 2020 at 11:00 at St. James of the Valley Church in Wyoming,Ohio. A reception will be held after the service at The Century Inn on Springfield Pike. In Sue's memory, donations may be made to The Wounded Warrior Project.
https://www.legacy.com/obituaries/nky/obituary.aspx?n=susan-marie-mouch&pid=196780155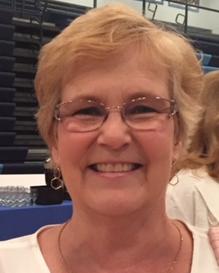 BarbHC emails Sue's mass program and holy card. She had great devotion to Mary. She said Mary was her "go to gal". And guess what today is...the feast day of "Our Lady of Sorrows". Coincidence? I don't think so.
Also the day Sue died is the holy day celebrating the Birth of Mary: September 8. CLICK HERE to read about the Nativity of Mary.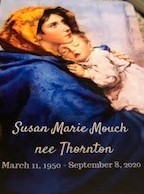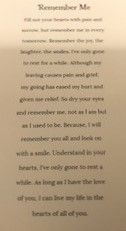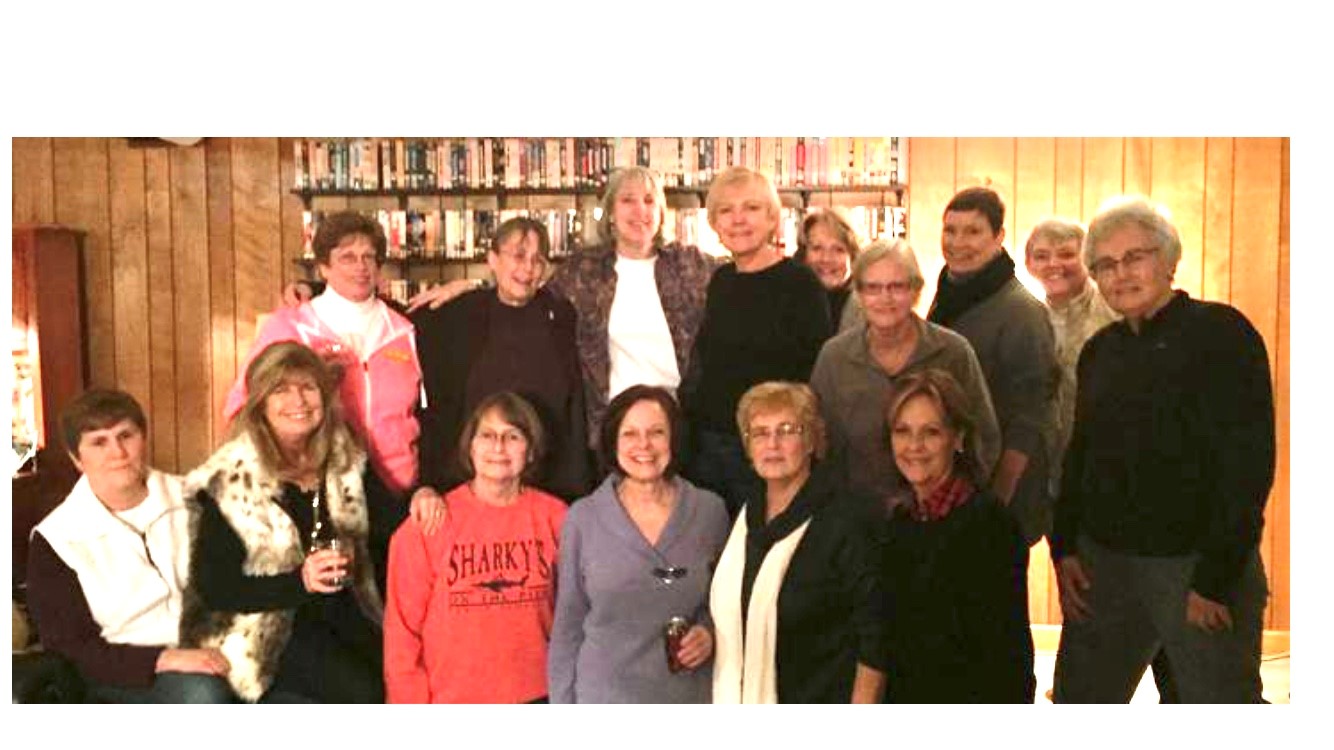 PamHMc emailed, "This is our last get together in February where Sue joined us (bottom). The mass was very nice. Still hard to believe the suddenness of her death. This was a previous get together." (top)
In Memory of classmates pre 50th reunion...