Menus can vary widely depending on time, place and customs. The history of menus is interesting, you can check it out by CLICKING HERE. Growing up, I noticed my grandmothers and mom would often serve specific foods at different times. When I started to write the Delicious Memories cookbook it became clear that the foods my family prepared fell into three main categories: daily, weekly and holiday. Dishes were also quite dependent on the season. The pairing of different foods was also thought out. There were some foods that were always served together (i.e. Veal Birds, polenta, mushrooms and a green vegetable), while other foods were free to be paired with any side dish deemed suitable for the season (i.e. pizza with soup in the winter and in the summer a fresh salad).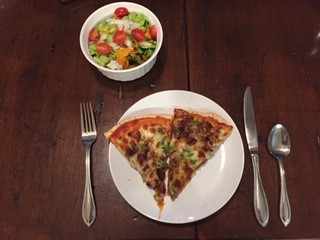 THE TRADITION CONTINUES...
I began to write down the popular menus our family enjoyed. In this way, when I planned meals I always knew what ingredients I needed, including the sides. This made grocery shopping efficient and I avoided having to return to the store for items I'd forgotten. Creating a weekly menu is something I learned from my mother and grandmas. For my mother,on a tight budget, planning helped her control the cost of meals. She prided herself on the fact that she could economize during the week, buying and preparing low-cost daily meals, so she'd have ample funds to splurge on the weekends and during the holidays. I continue to this day to follow this planning pattern.
The menus on this website were developed over the past 100 years by my grandparents, mother and various extended family. You'll see some are very simple and easy to make, while others are elaborate and take days for prep and preparation. Some of the menus even required multiple cooks. So, while menus can vary widely, they general evoke very specific memories. Please review the daily, weekly, holiday menus and memories section on this website and share your thoughts.
Please share your menus and memories with our delicious-memories community.
I would be interested to know what side dishes different families pair together.