Since 2015, MND '68 classmates have gathered to renew and build old friendships. We try to meet twice a year; sometimes at Deb's house and other times at Karen's place. We always have fun and many hardy laughs. This scrapbook page will serve as a reminder of those good times we met. Hopefully, we'll continue the tradition as we approach our 60th in 2028 and finally, if any of us are still kicking, our 75th reunion in 2043. GOSH! We'll only be 93 years old in 2043...there should still be some of us still hanging around!
Evenings will be displays from most recent to oldest.
Friends Night - October 21, 2021
Since many classmates are now finding it difficult to drive in the evening, Vicky, came up with a great idea! Since we are all retired now, "why don't we meet during the day?" Well, dah! Why didn't I think of that? Anyway, our next Friends meeting will be a daytime event. Vicky has offered to host at her get-away place on the river (I think on the Little Miami in Morrow, OH). Be watching for more details spring, 2022.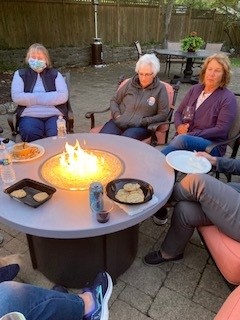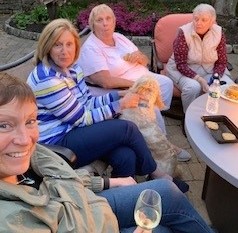 Attendees: RosemaryY, DebD, VickyP, KarenG, JoanK, RuthB, LynnG, KathyW & Me (JulieM)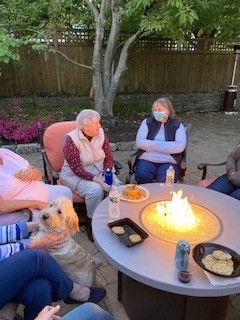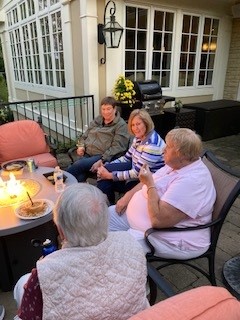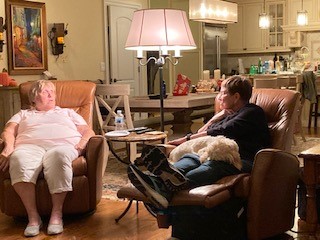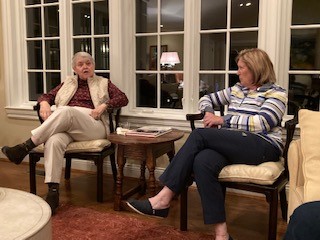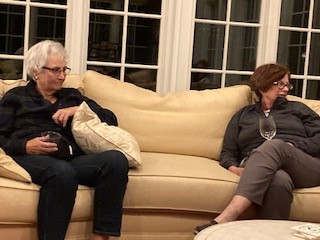 SAD NEWS
Our friend, Joan, lost her husband Ron in September. Our hearts go out to Joan during this difficult time. Ron's obituary is below. Please keep Ron, Joan and their family in your prayers.
Ronald J. Schmidt, beloved husband of 49 years to Joan E. Schmidt (nee Kramer). Loving father of Amy C. (John) Engle and Christopher J. (Michelle) Schmidt. Caring grandfather of Andrew J., Christopher J., Logen J., Ronald M. and Joshua G. Schmidt. Brother of Mary (Robert) Lambers, James Schmidt, Joyce (late Dale) Dyehouse and late Judy Pilgrim. Brother-in-law of Jack Pilgrim. Ronald was a veteran of the United States Army. He was also a member of the Knights of St. John and a lifetime member of St. Peter and Paul Parish. Passed away September 15, 2021, at the age of 77. Visitation will be held Tuesday, September 21, 2021, at St. Peter and Paul Church 330 W Vine St, Cincinnati, OH 45215 from 9 a.m. until the Mass of Christian Burial at 10 a.m. Memorial donations may be made to St. Jude Children's Research Hospital.
In other Friends' News...
Please keep BarbHC and her husband, John, in your prayers as he has a procedure soon .
A lovely note from SueS:
"Mary Ann and I spent 6 weeks in beautiful Oregon this summer. A month was on the coast in Yachats, OR. What a great place! (Also) We recently visited some friend in Flat Rock, NC and bought a very small place to spend summers. 30 miles from Asheville with lots of hiking and temperate summers. We hate FL summers. Best wishes to all and hope to see everyone sometime!"
Note from PamHMc:
"John and I leave for a weeks vacation to Michigan on Monday October 18th. I willmiss seeing everyone. Have a great time and send any updates from friends night."
MarieDR has been traveling around the country attending a plethora of family weddings. She is recently in Colorado on a trip with her sisters. She sends a hello and hopes to see everyone in the new year.
Friends Night - May 6, 2021
Finally, after a crazy Covid year, FRIENDS meet again. Our hostess, KarenKG, is always so accommodating, sharing her beautiful and spacious home for the evening. Our evening is filled with laughter and tears as we celebrate the miracle of vaccinations and the passing of classmates. The photo above really tell the tale as BarbJ ZOOMED in from Brooklyn to join us. We are hoping to catch up again in late September or early October. Watch for the for details...

Where is Marie? She is in the house somewhere, just not with us at that moment!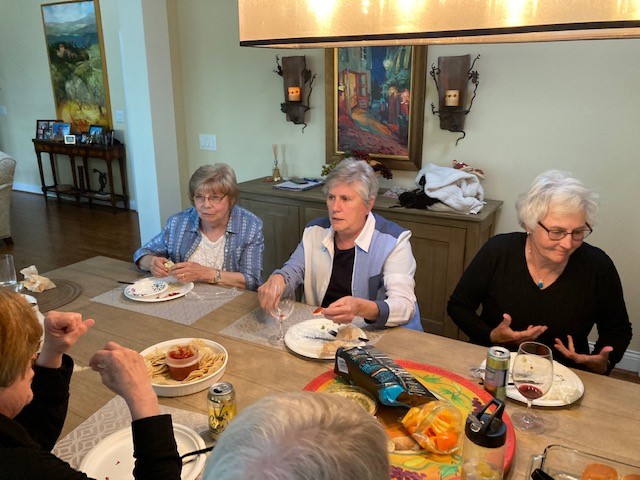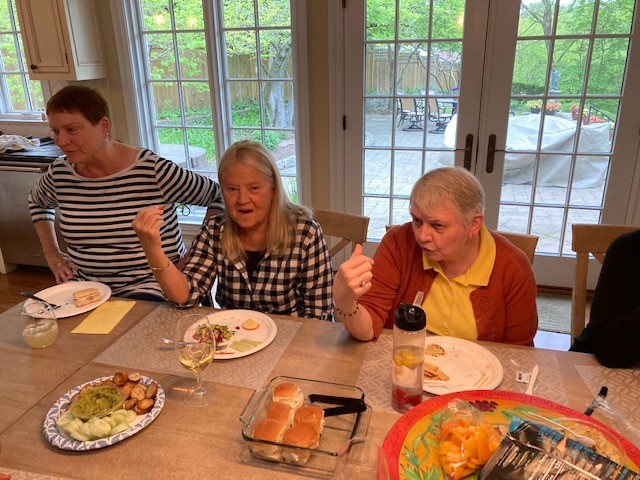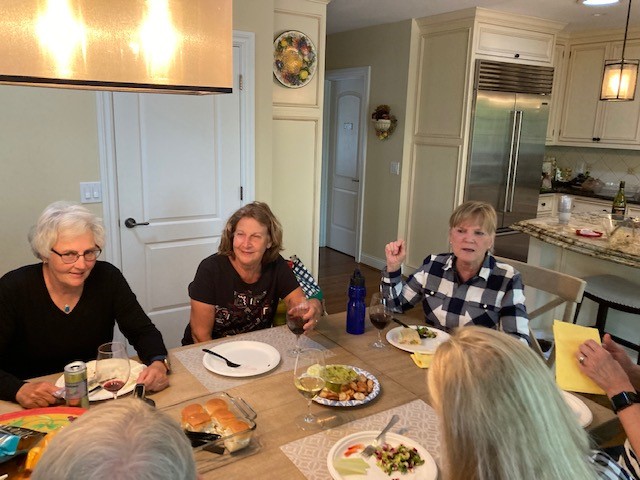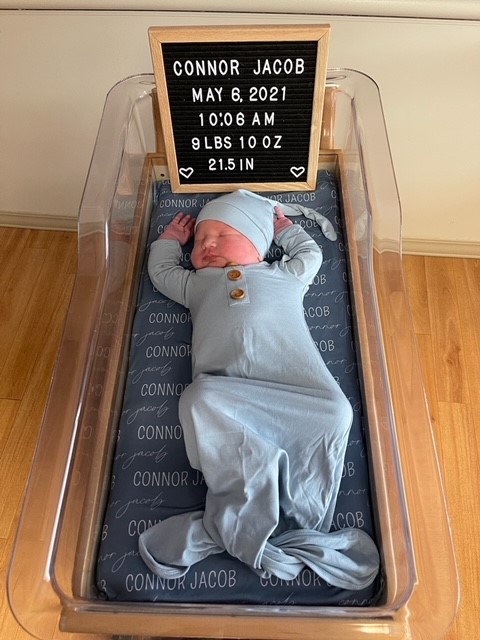 See photo left...while we were all partying hardy, PamHMc shares the birth of her new grandson. How many is that now Pam? I believe Connor is sixth, right? Let us know!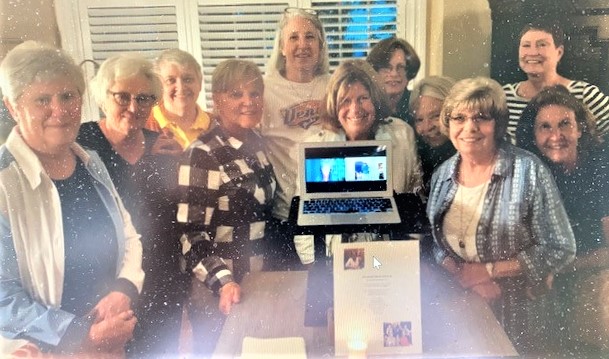 Friends Night at Deb's February 6, 2020                                                       Friends Night  February, 2016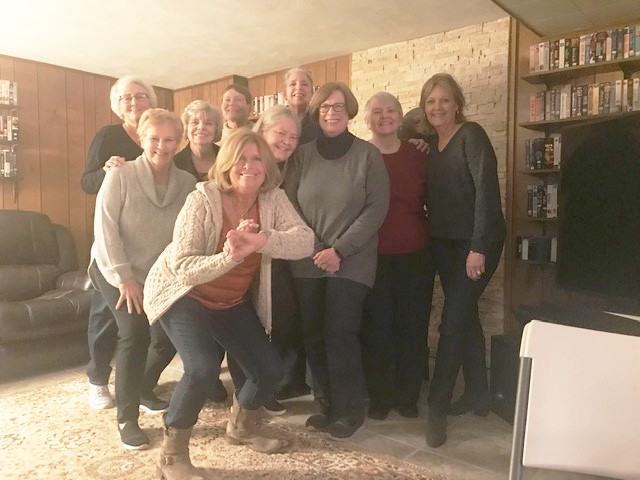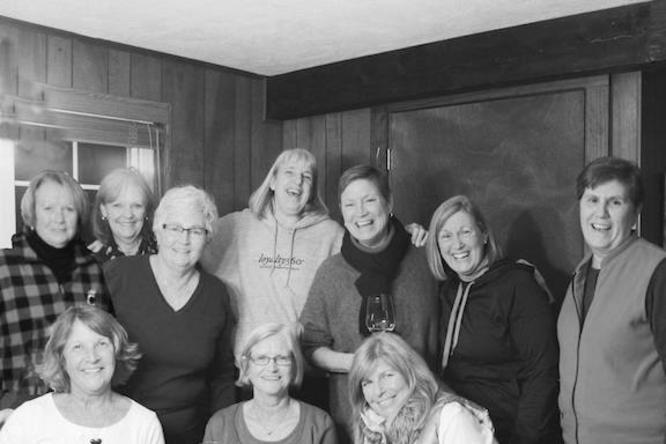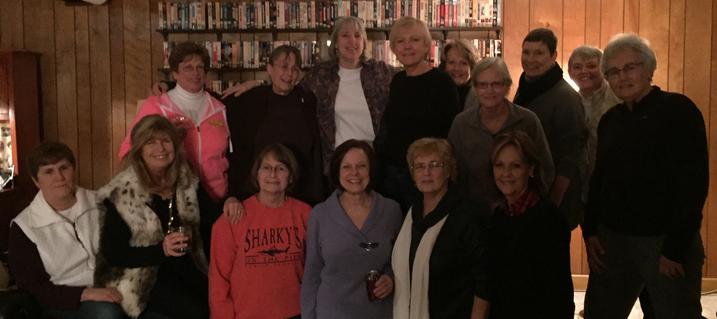 Below: Friends Night at Karen's River Condo August, 2015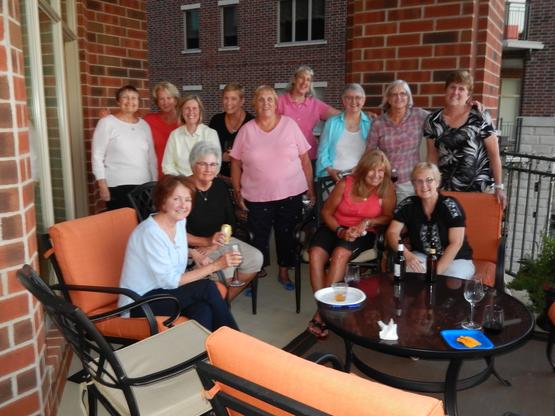 RIGHT: First Friends Night at Deb's House, February, 2015