Our family-friend Joan passed away on July 13, 2020. My first memories of Joan are watching her paint the mural on the walls of the original Casa Grisanti, way back in 1959. Nine years old at the time, my parents stopped by to visit at the old closed G.M.G. Art and Novelty Co. (owned by Albert & Ferd Grisanti with my Aunt Dornia). I have a vivid memory of this visit because Joan was busy painting a beautiful series of scenes depicting the rolling hills of Gromignana Italy where the Grisanti and Mattei families found their roots.
After the restaurant opened, on visits to Louisville, my Grandmother would reserve the private dining room and she would gather her immediate family for a wonderful evening of fun and food. Either when I arrived or before I left, I would walk the walls and follow the paths Joan had some brilliantly illustrated. A talent she obviously used throughout her life for the benefit of others.
I have posted two photos below, one of Joan and Ferd, at a family wedding in 1990. This is the way I will always remember Joan with a smile with Ferdie, as I called him. The second picture is a holiday greeting our family received Christmas, 1965. I recall at the time thinking how creative! This is at a time when this was a very usual greeting to receive. The photo is taken in their living room in Fern Creek, where I have a lot of delicious memories. I just love the photo and obviously it's a greeting idea many families would emulate over the years.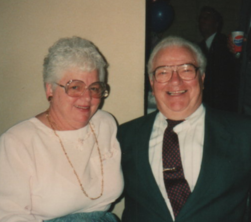 Joan & Ferd Grisanti
April 28, 1990
Julia & Steve's Wedding
Chicago, IL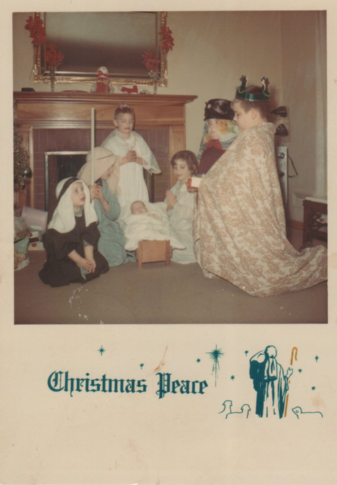 Grisanti Holiday Greeting
Christams, 1965
Vincent - Front King
Paul - Back King
Gemma - Mary
Chris - Joseph
Dominic - Angel
Jerome - Shepard
Greg - Infant