ANN WRITES .. if you like bread and butter pickles, here is a RECIPE (click to view) I tried this weekend,  it is a same day pickle that is a spicy bread and butter, the recipe makes a quart and you store it in the fridge.  (I had enough for two jars).  No need to vacuum seal.  My tweaks: I didn't have ginger, but did use all the other spices- and once the brine came to boil and I added the pickle chips and onion slices, I only simmered for 2-3 minutes Which meant the chips have retained a crunchy texture, even a few days later.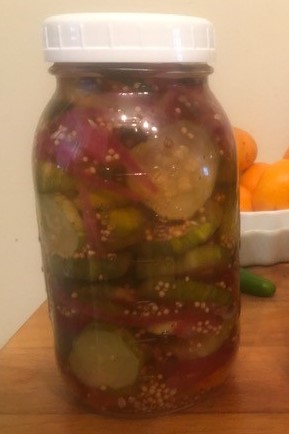 My son just happen to give me a large cucumber from his garden right after receiving Ann's email.  While not a big bread and butter pickle fan, I did especially like the spice combination in this recipe so I eliminated the sugar and made the recipe buy simply combining all the ingredients in a large pan, adding sliced cucumbers and boiling for a about three minutes. After the mixture cooled I added a pack of Stevia to blunt the bite. I refrigerated overnight and I have really enjoyed the results. I'm amazed at my son's small box garden. In a few short months he has grown some delicious memories.
See below...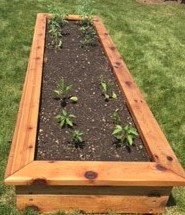 Lou's box garden start June, 2020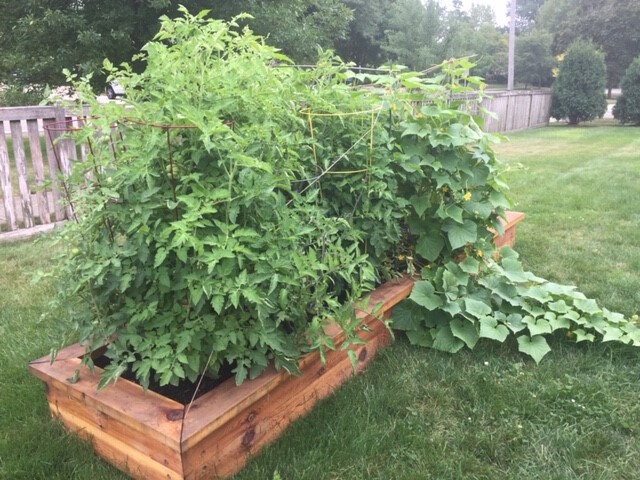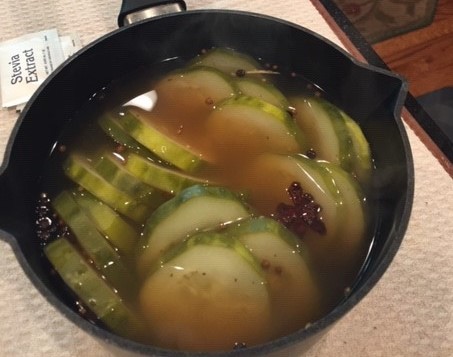 Pickles made from Lou's cucumber. EASY!