Formally the Pizza Challenge Page. 
This is an on-going Scrapbook Page with ideas for pizzas, calzones, focaccias & savory tarts.
Please share any recipes or photos of purchased favorite.
Photos and recipes will be listed as received from the DM community.
From my good friend. Ann:
"Had to share this one with you - an awesome tomato tart with creme fraiche - no cheese - and herbes de Provence. Definitely a treat with home grown tomatoes!"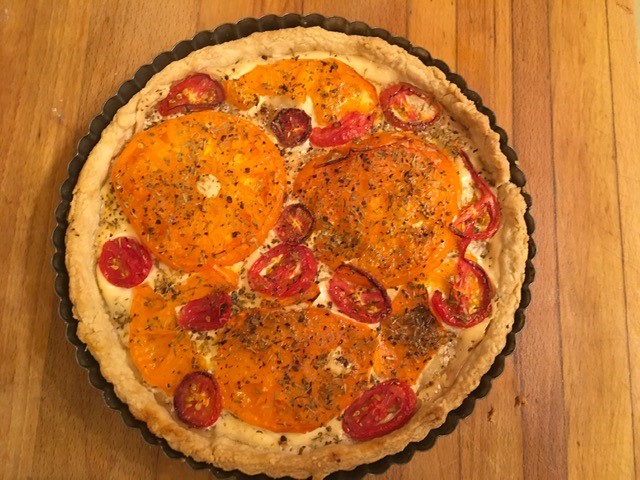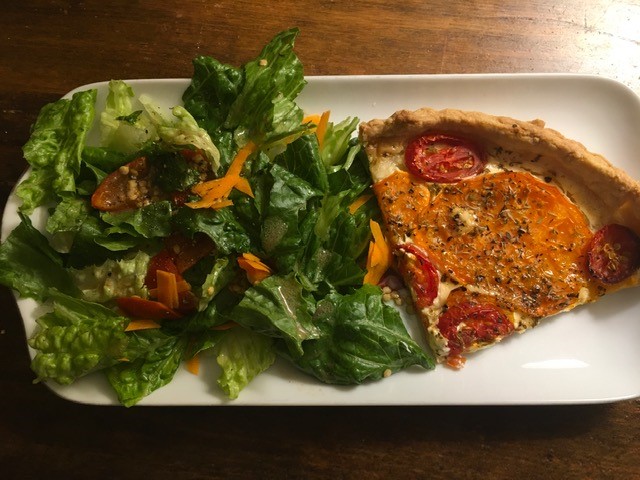 See brief first encounter at Jeff & Joanne's below, October, 2020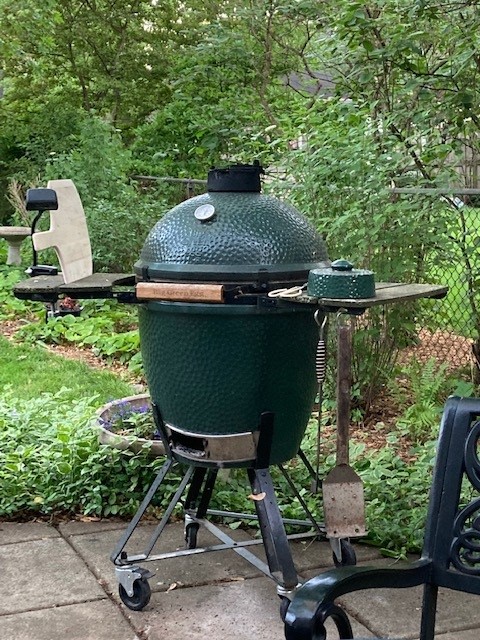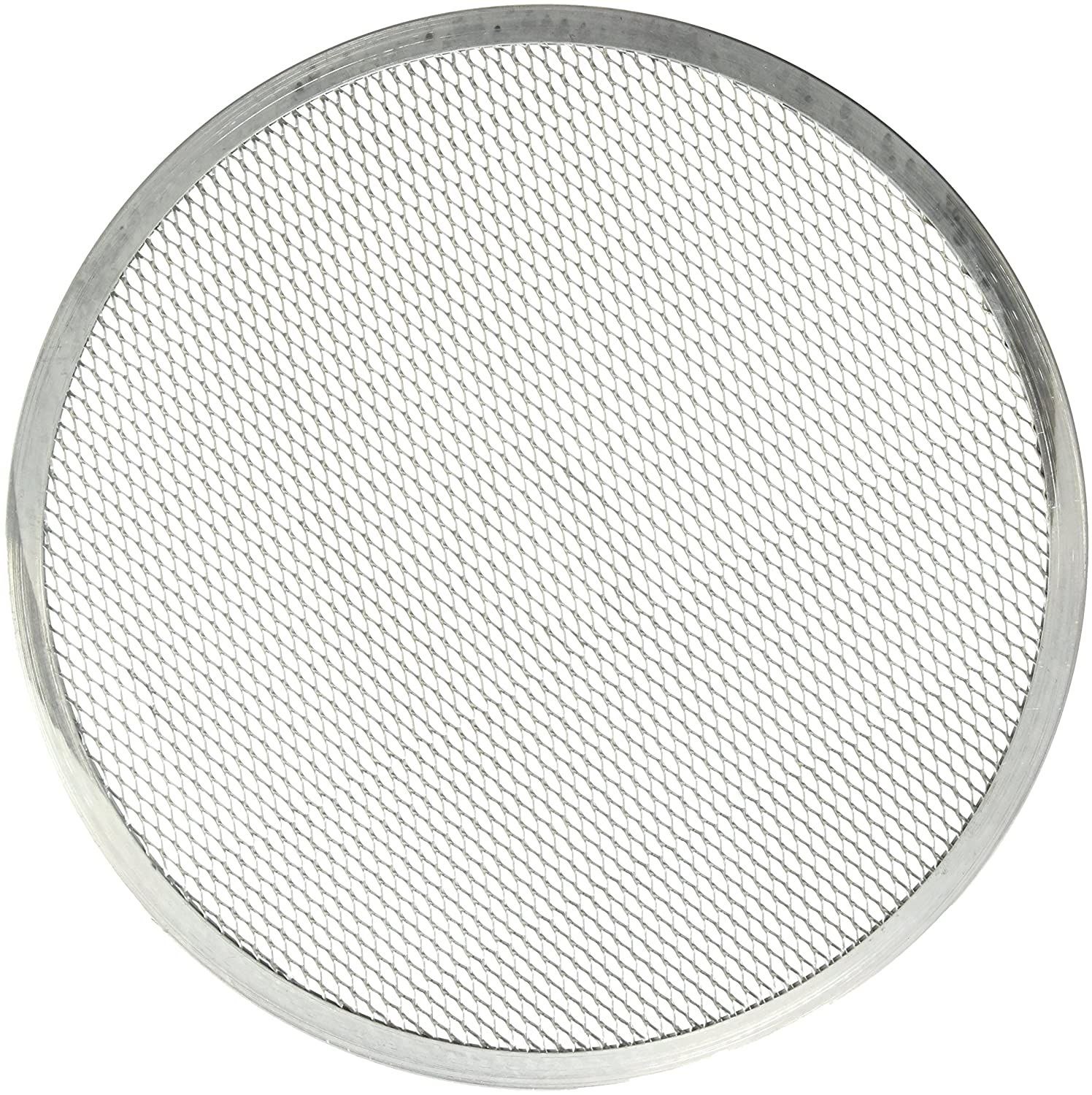 They are only $5.92 each!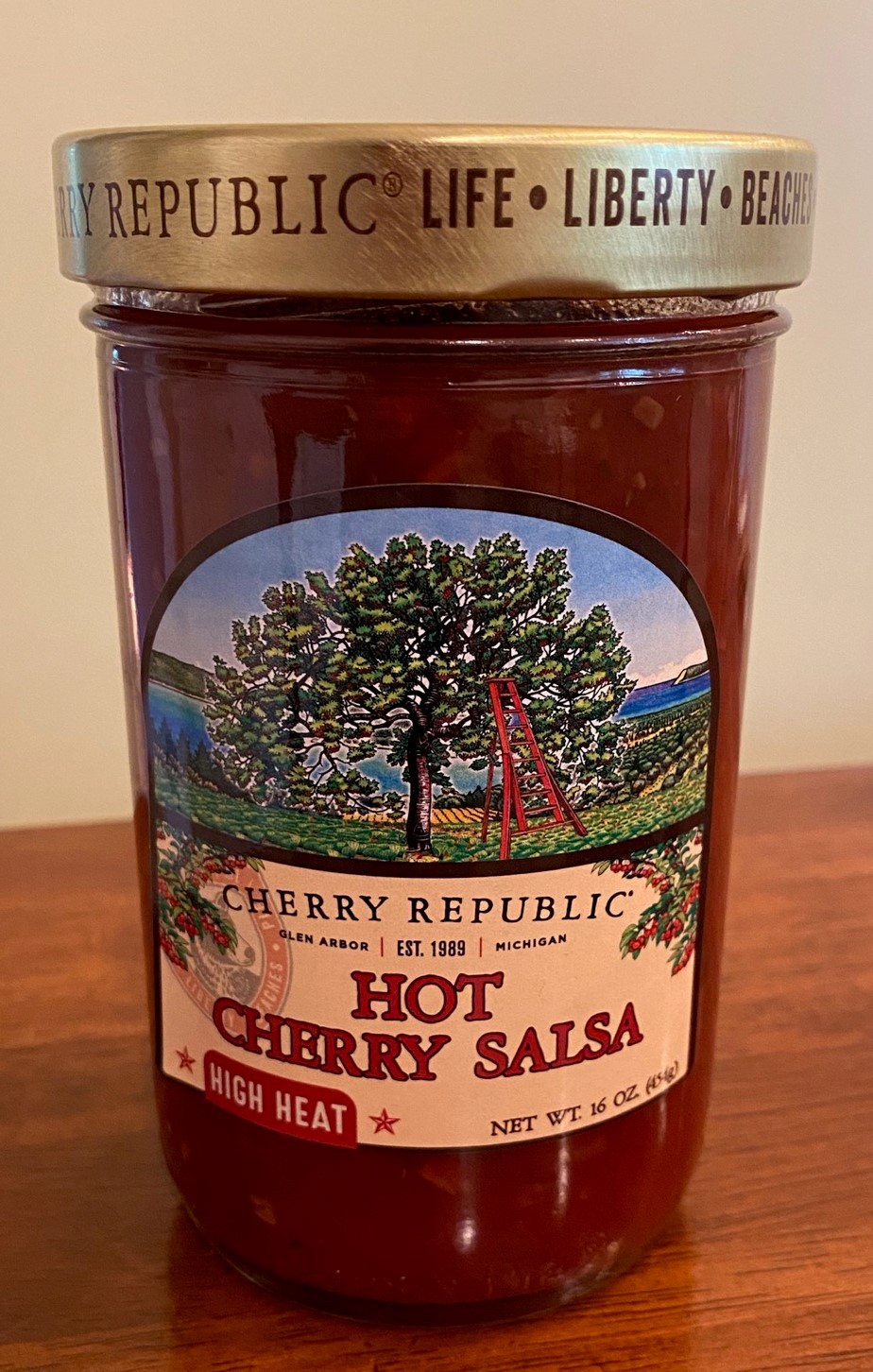 Joanne and Jeff, friends of my daughter, Laura, have mastered the art of pizza baking on their EGG (see above left). They share that they actually purchase freshly prepared dough at Whole Foods. They split each ball for two pizzas. Jeff actually appears to be the master pizza chef, running to and fro from the kitchen to the grill. He places the fresh pizza on a round screen for baking (see above middle middle). Since the EGG heats up well over 500 degrees, the cooking time is minimal. The resulting taste and texture of the pizzas is mucho marvelous. As good as the pizza is a delicious cherry salsa (Jeff purchases by the case in Michigan) served with tortilla chips. I just love anything cherry flavor and while they serve "HOT" I prefer the mild.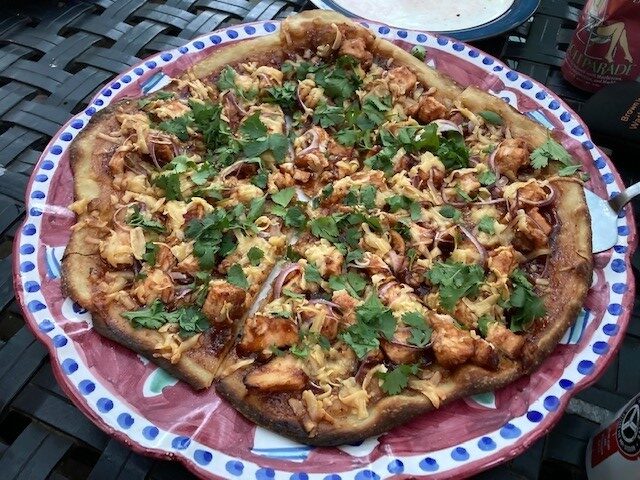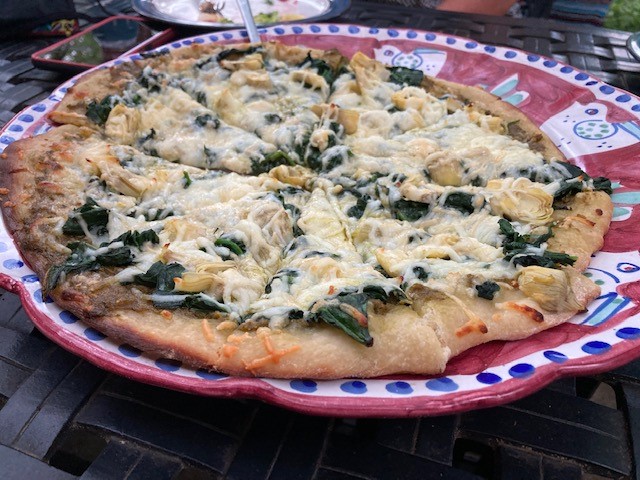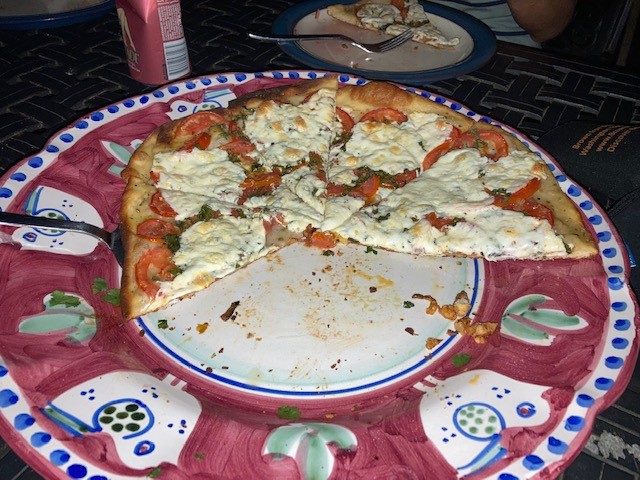 I tried to get a photo of the whole but the diners were too quick!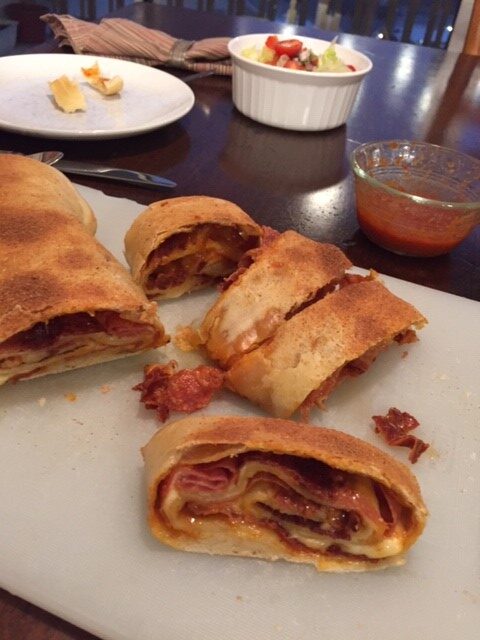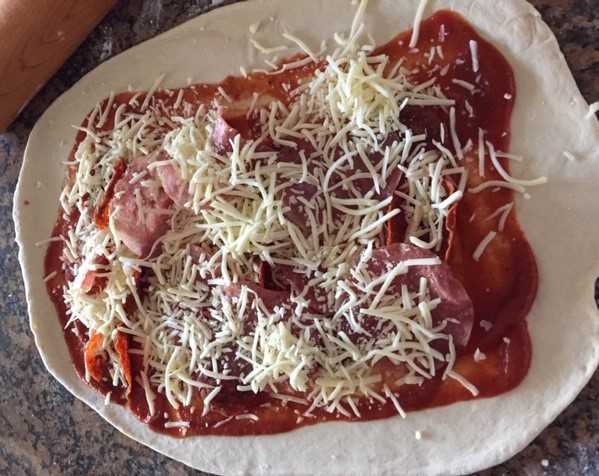 Easy, easy...just fry up (on a paper towel in the microwave) your favorite Italian cold cuts (I used salami, pepperoni, prosciutto and coppocolla). Roll out pizza dough as shown. Sauce, meat, veggies (I also run through microwave on paper towel to dry). Top with cheese.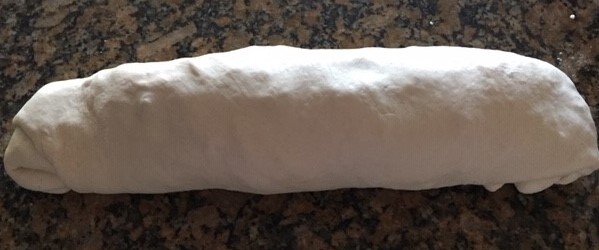 Roll up and fold down edges as shown above.

Place roll on cookie sheet lined with parchment paper. Springle top with garlic powder. Bake in 350 degree oven for 25 to 30 minutes.
"Stromboli is a type of turnover filled with various Italian cheeses (typically mozzarella) and usually Italian cold cuts (typically Italian meats such as salami, capocollo and bresaola) or vegetables. The dough used is either Italian bread dough or pizza dough. Stromboli was invented by Italian-Americans in the United States in Philadelphia.[1]
A stromboli is similar to a calzone, and the two are sometimes confused.[2][3] Unlike calzones, which are always stuffed and folded into a crescent shape, a stromboli is typically rolled or folded into a cylinder, and may contain a thin layer of tomato sauce on the inside." (Wikipedia)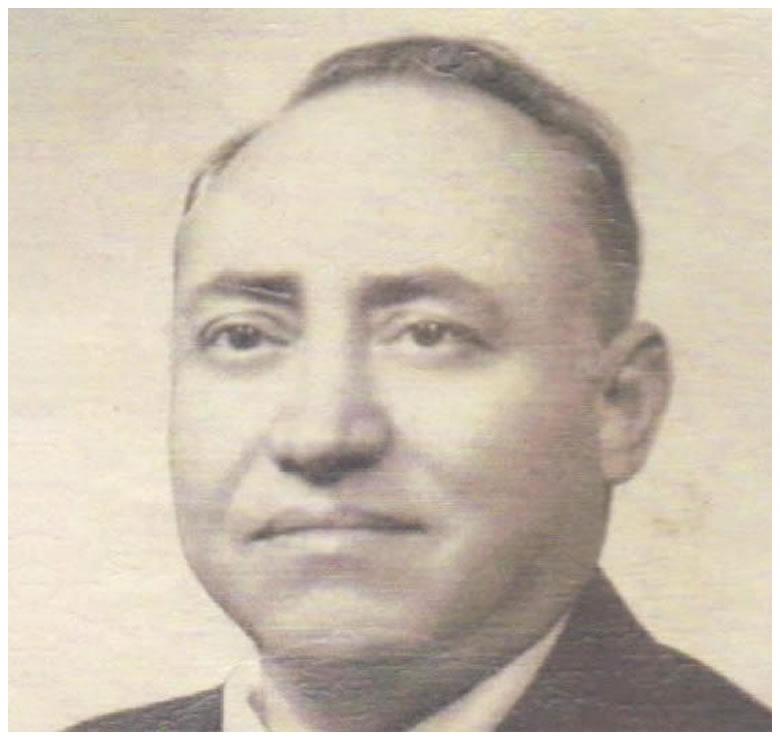 Nazzereno Romano, creator of Stromboli

Let baked Stromboli set for at least 20 minutes before slicing. Serve with pizza sauce.
A postcard from my cousin, Pamela, on the creating interesting pizza and recalling delicious memories from from the 1980s...this is so thoughtful! Thanks, Pam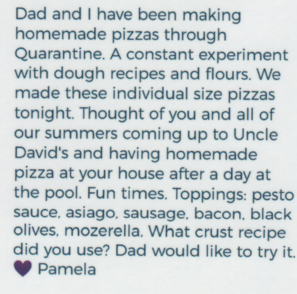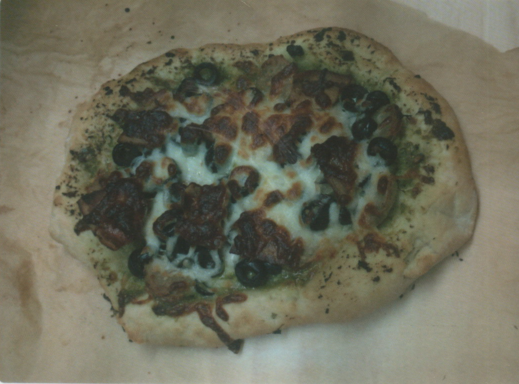 Also in October, we had an exciting evening watching our daughter's friends, Joanne and Jeff, prepare pizza on an EGG! They made two traditional meat topped pizzas but the thrill of the evening is the spinach/feta and a dessert pizza. More to come on this pizza adventure.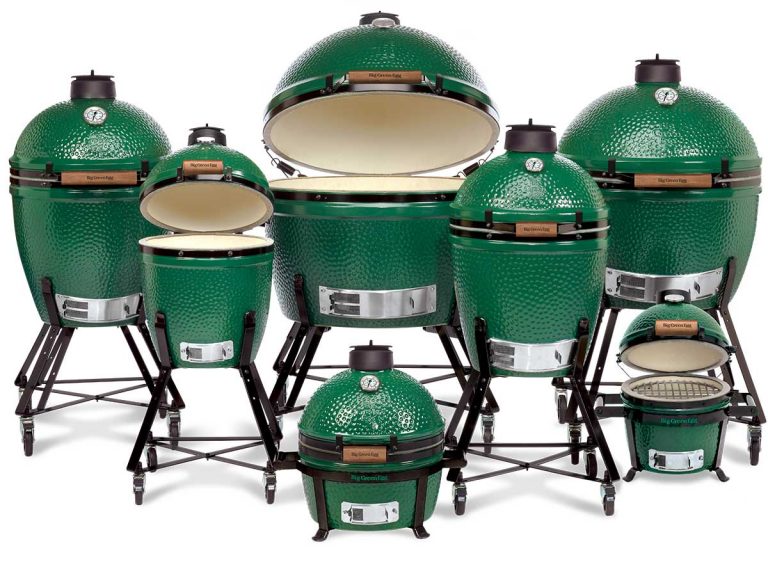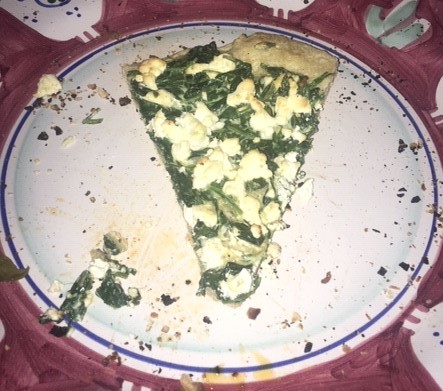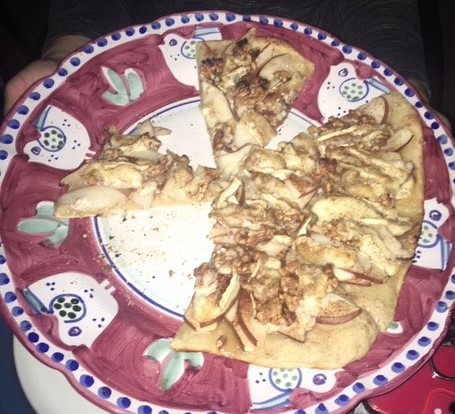 Our daughter, Laura, and son-in-law, Terry gave Steve and I a lovely gift for Christmas, a cooking demonstration at Chicago's famed The Chopping Block. Due to the pandemic it took us until just this month to enjoy our gift. We choose the Brunch Al Fresco Demonstration. Since I recently acquired a Weber Grill this demo provided a real boast for my grilling skills. I am sharing photos and recipes with some very helpful tips.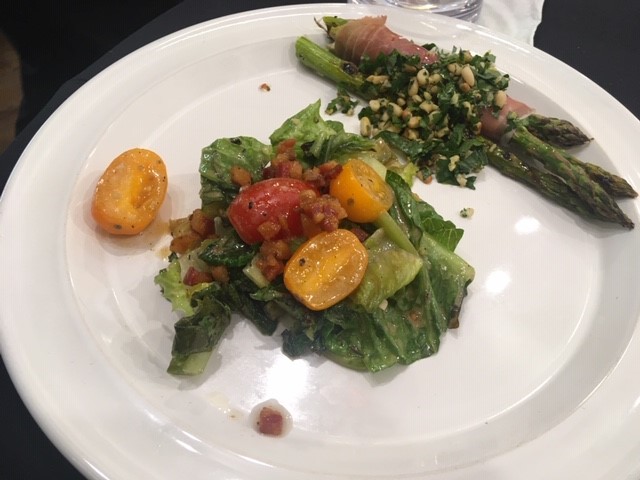 Two views of the appetizer and salad (top & bottom photo)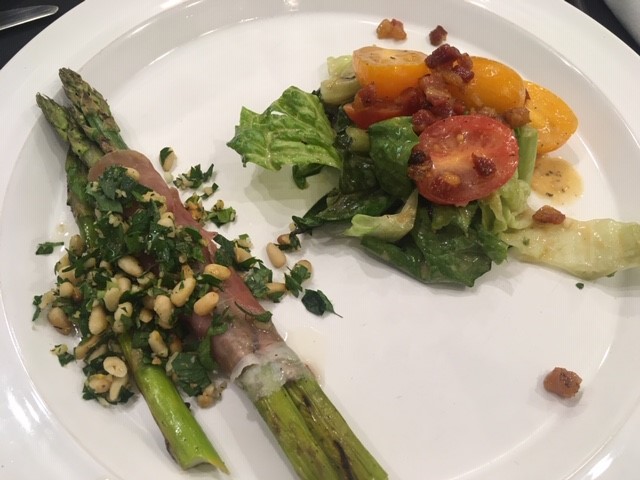 MENU
Prosciutto-Wrapped Grilled Asparagus
w/Toasted Pine Nut Gremoltata
Grilled Romaine Salad w/Crispy Pancetta and Parmesan
Grilled Breakfast Pizza w/Ricotta, Spinach and Egg
Wood Fired Berry Crisp and Amaretti Streusel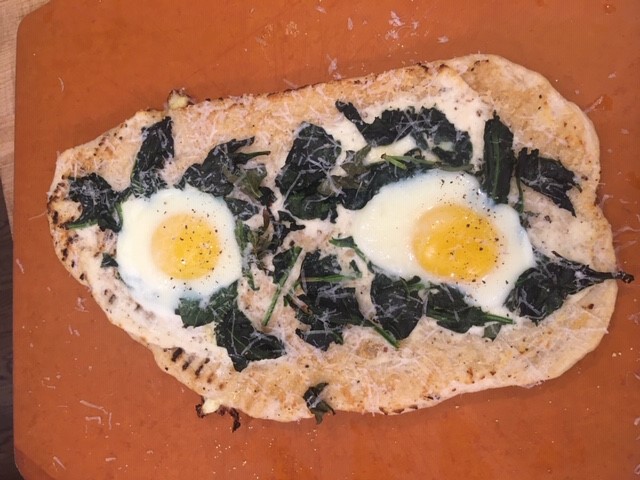 I thought this egg pizza amazing.
Steve thought it quite odd!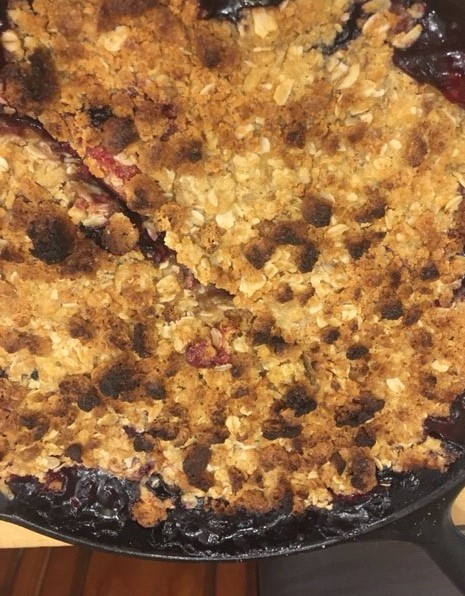 The crisp is to die for!
Everyone agreed.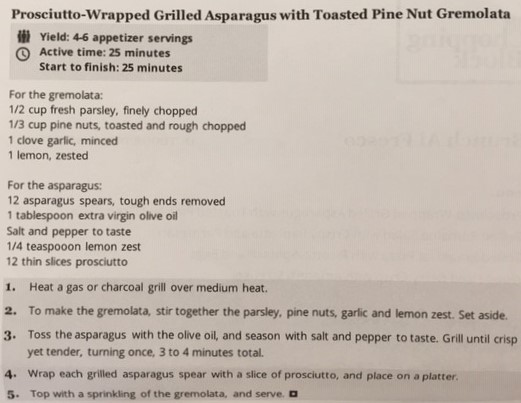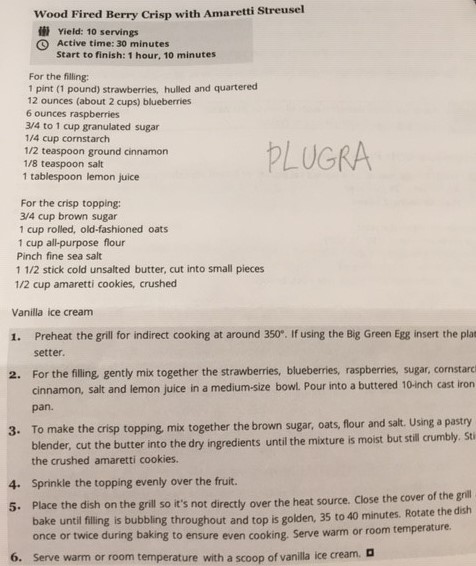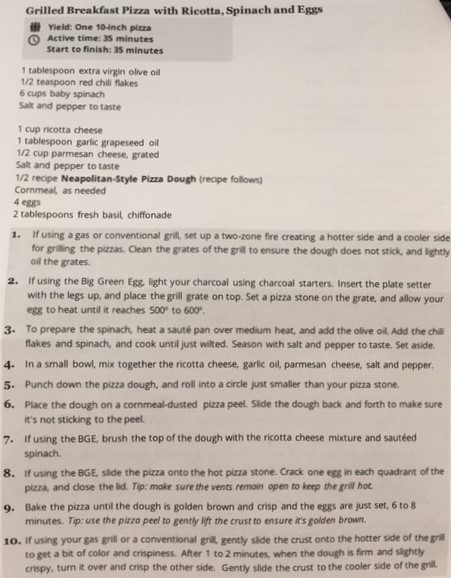 Check out The Chopping Blocks ' video demonstrations., especially the one on vinaigrettes and "how to grill a pizza" CLICK HERE to access demos.
BTW ... I noted PLUGRA which is a European butter. Apparently hard to find in U.S. We also discussed "00" (Double Zero) Flour. CLICK HERE to read more about this unique, also hard to find, finally ground flour.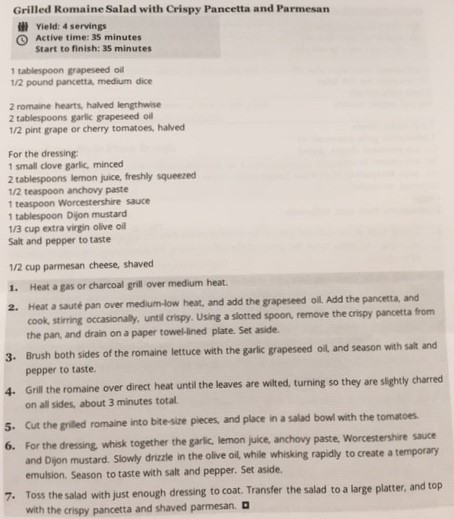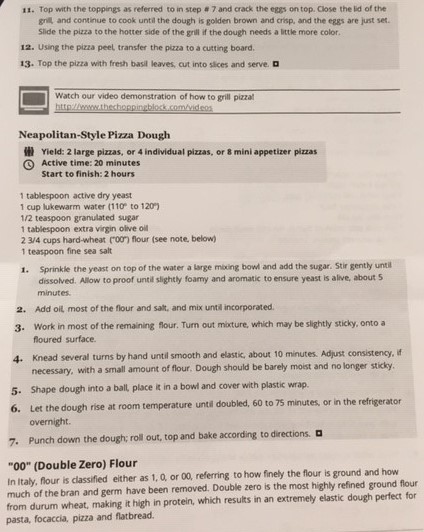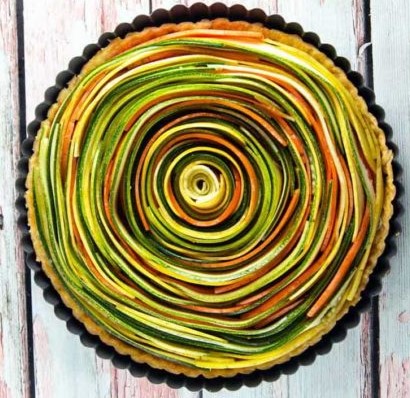 "Thinly sliced summer vegetables are the visual star of this spiral vegetable tart.  With a layer of homemade sundried tomato pesto and a flaky pie crust, this tart is as delicious as it is beautiful." - Bunsen Burner Bakery
My friend, AnnW, comes through again with a surprising idea to use up all our garden produce this summer. While not a pizza, we'll just add tarts to our growing savory pie challenge. CLICK HERE to see the article and recipe Ann shares from the Bunsen Burner Bakery (Click right to read about Julie of BBB. What a great website!). You may find a lot of other recipe ideas there as well. If you attempt this Spiral-Vegetable Tart please send photos to share with the DM community. I am waiting for my garden to grow. Once the crop comes in I'll definitely try this colorful creation!
My friend, AnnW, shared the New York Times article on focaccia breads...
She also sent this email a few days later...
"Doing well here.  Spent the afternoon on focaccia.  Unfortunately, by the time I got the dough going I noticed the yeast packet was out of date.  Not by much, but the rise was inhibited by it.  Anyway, here are before and after shots!"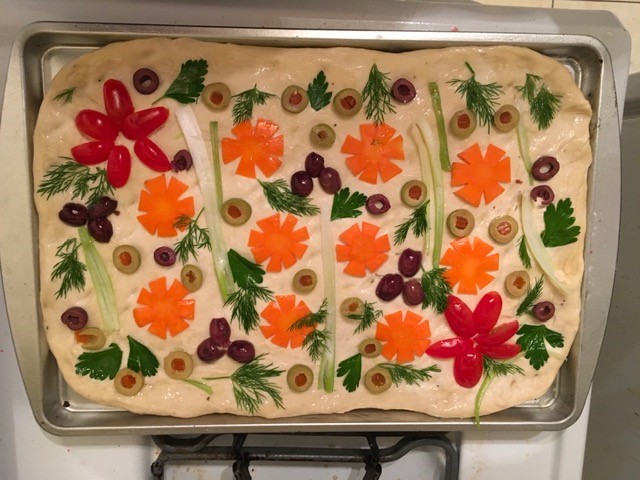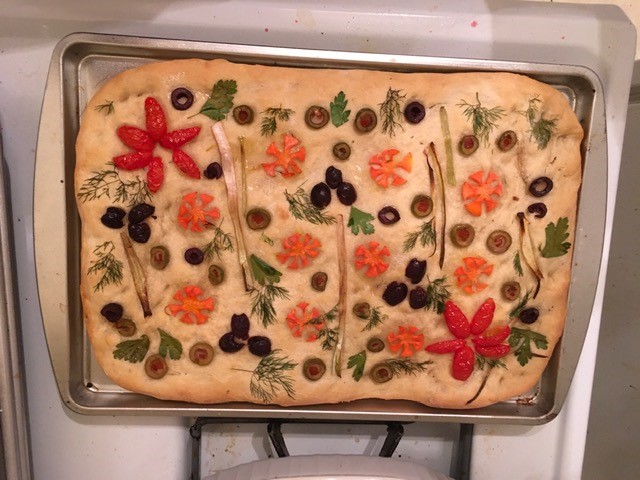 Ann your focaccia looks WONDEFUL! Thanks for sharing the article and recipe.
4/12/2020
Eleanor & Patrick's Pizza
"This is the pizza we made on Friday- homemade sourdough crust, Marcella Hazan butter-onion-tomato sauce, lots of mixed mushrooms, parsley, and mixed cheeses -whatever we had in the fridge (Gouda, white cheddar, and Mexican quesadilla cheese)."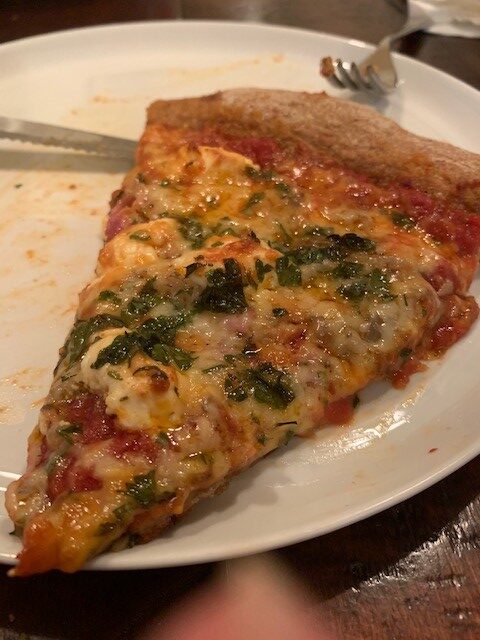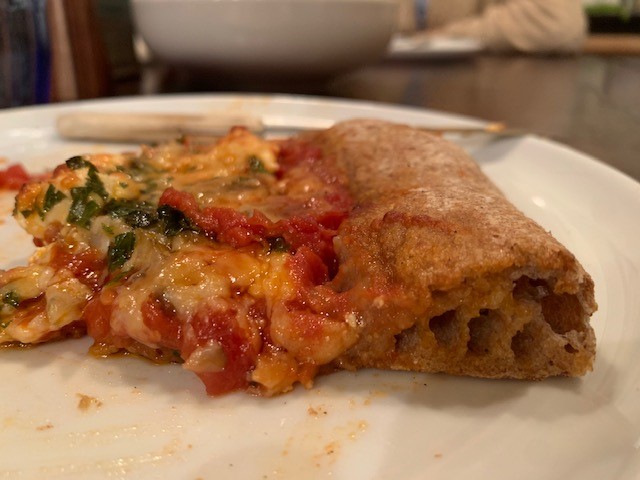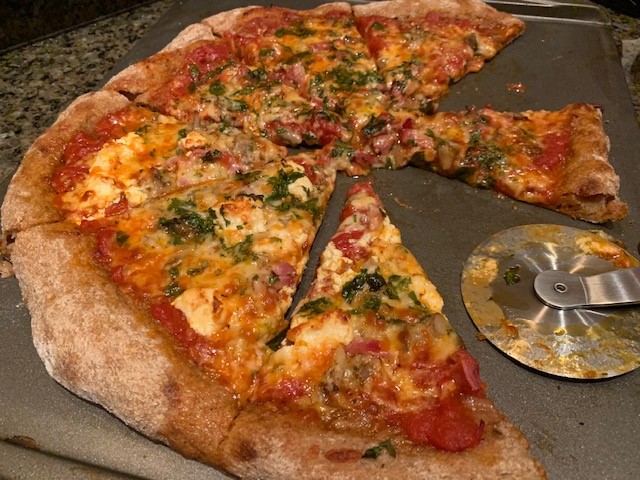 4/10/2020
Try this mock wood-oven pizza using an electric oven. Kinda works!
TOPPING: Mix of ingredients found in pantry and refrigerator.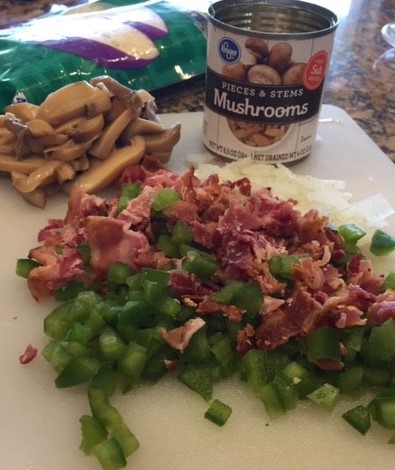 Assemble toppings from 'frig & pantry
I had bacon, green pepper, can of mushrooms, onions and cheese.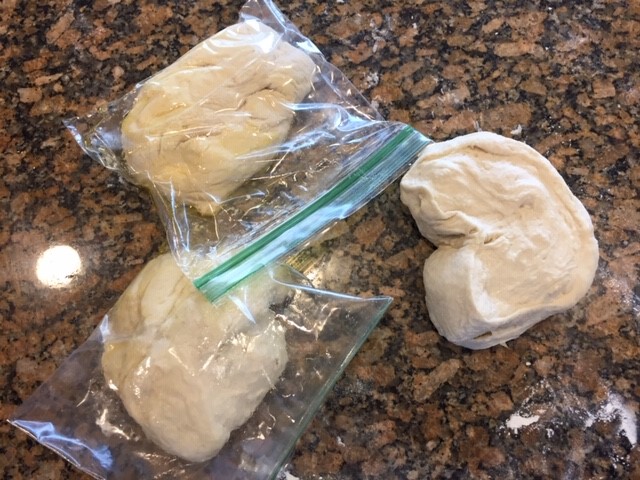 Make a patch of pizza dough. I used my three ball dough and froze two of the balls. CLICK HERE for recipe.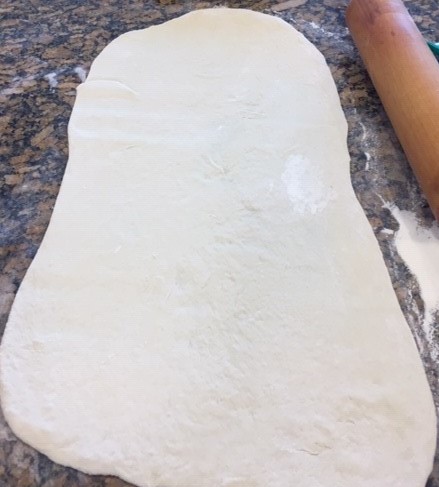 Roll dough thin in rectangular shape.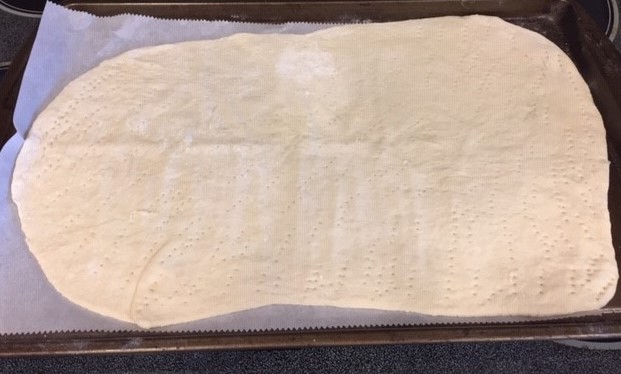 Line cookie sheet with parchment paper and spread dough as shown above.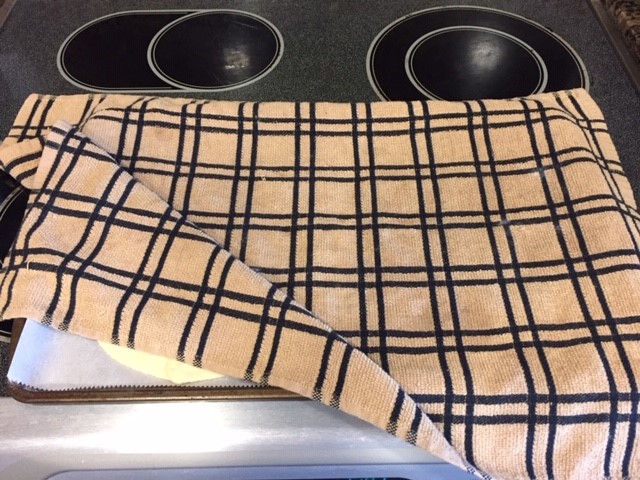 Cover with towel and let rise for 1/2 hour.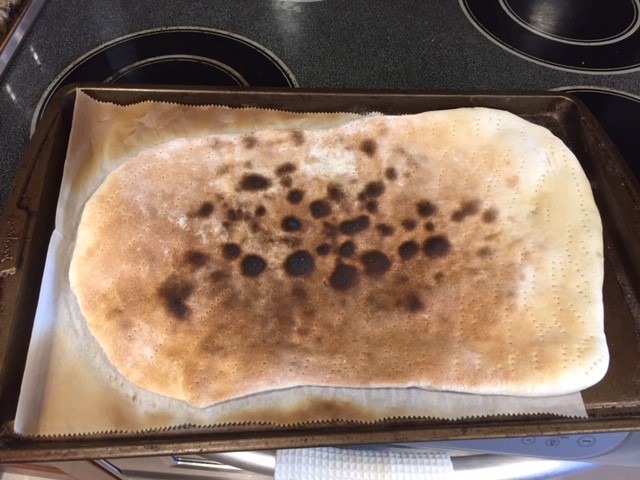 Place raised dough under broiler for 1 to 2 minutes until bubbles appear. Watch closely. This is the bottom of your pizza.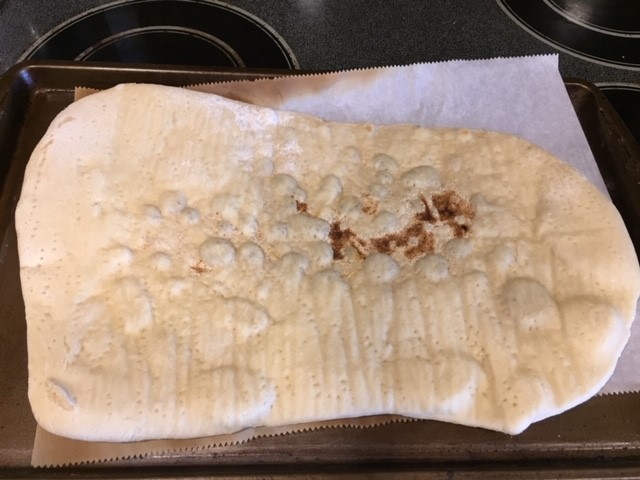 Flip dough and top with favorites.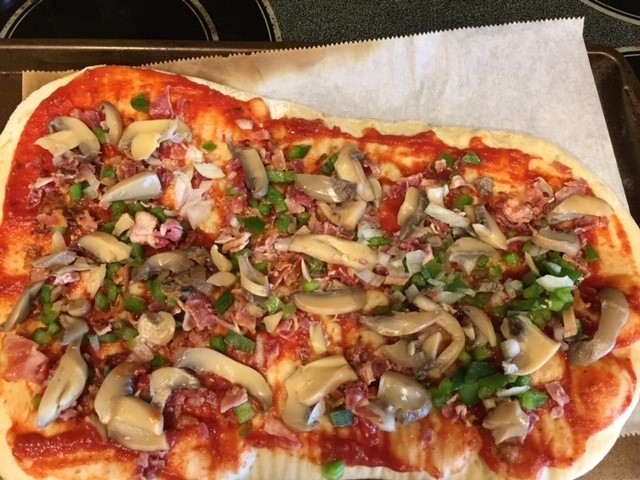 Bake on mid-oven rack at 450 degrees 10-15 minutes.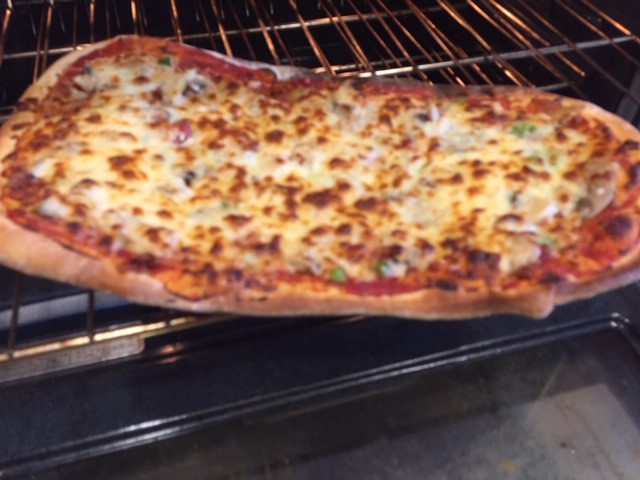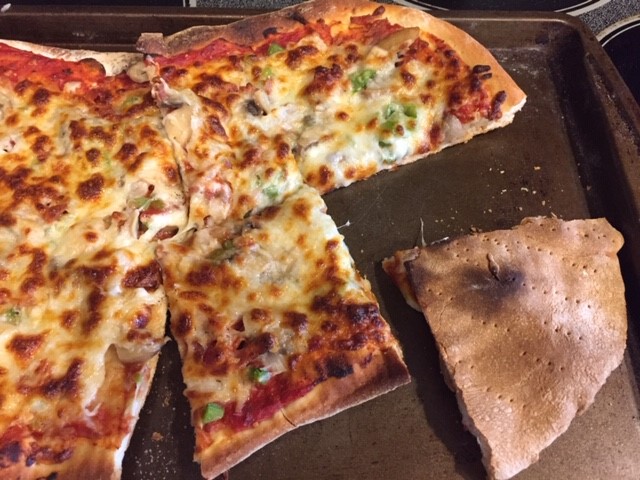 My oven DOES NOT have a bottom electric coil. If yours does then be sure to bake on pan.
4/10/2020
Shrimp, Pesto, Tomato & Onion
ala Mike & T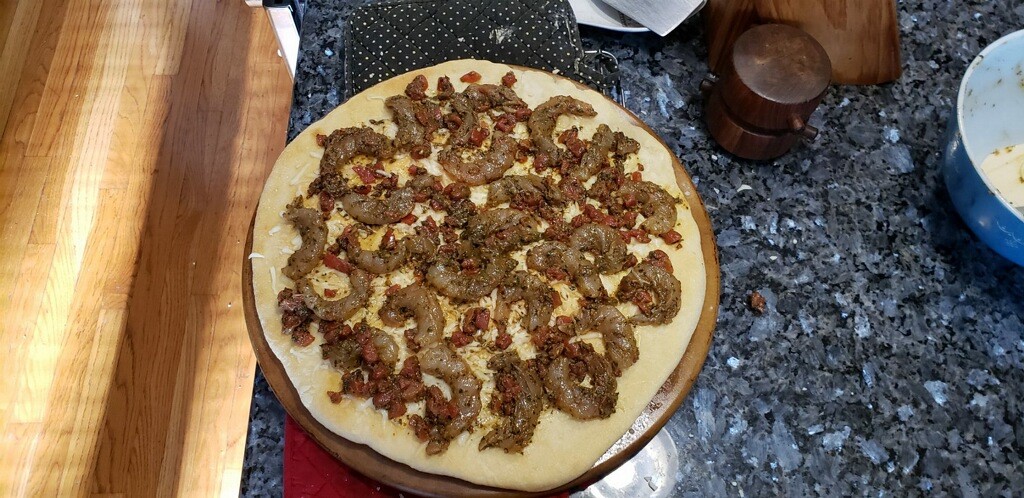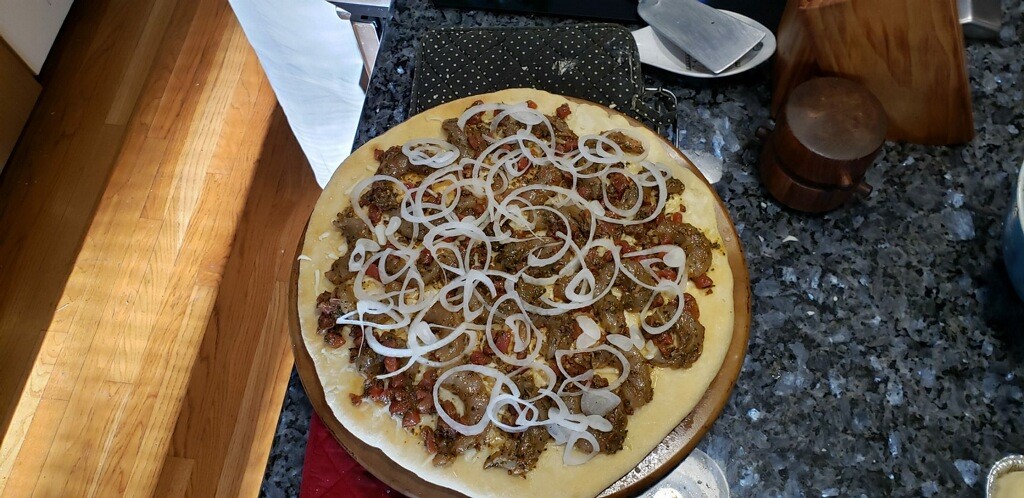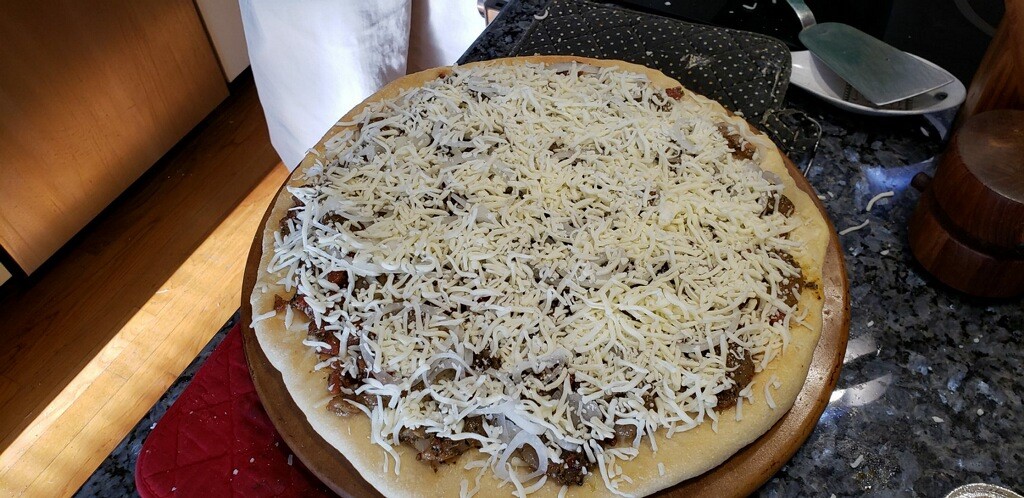 From Theresa 4/4/2020
Here is Mike's special salmon pizza. Sweet onion, yellow squash, salmon, grueyre, asiagio,  mozzarella cheeses, tomato sauce .....with homemade dough.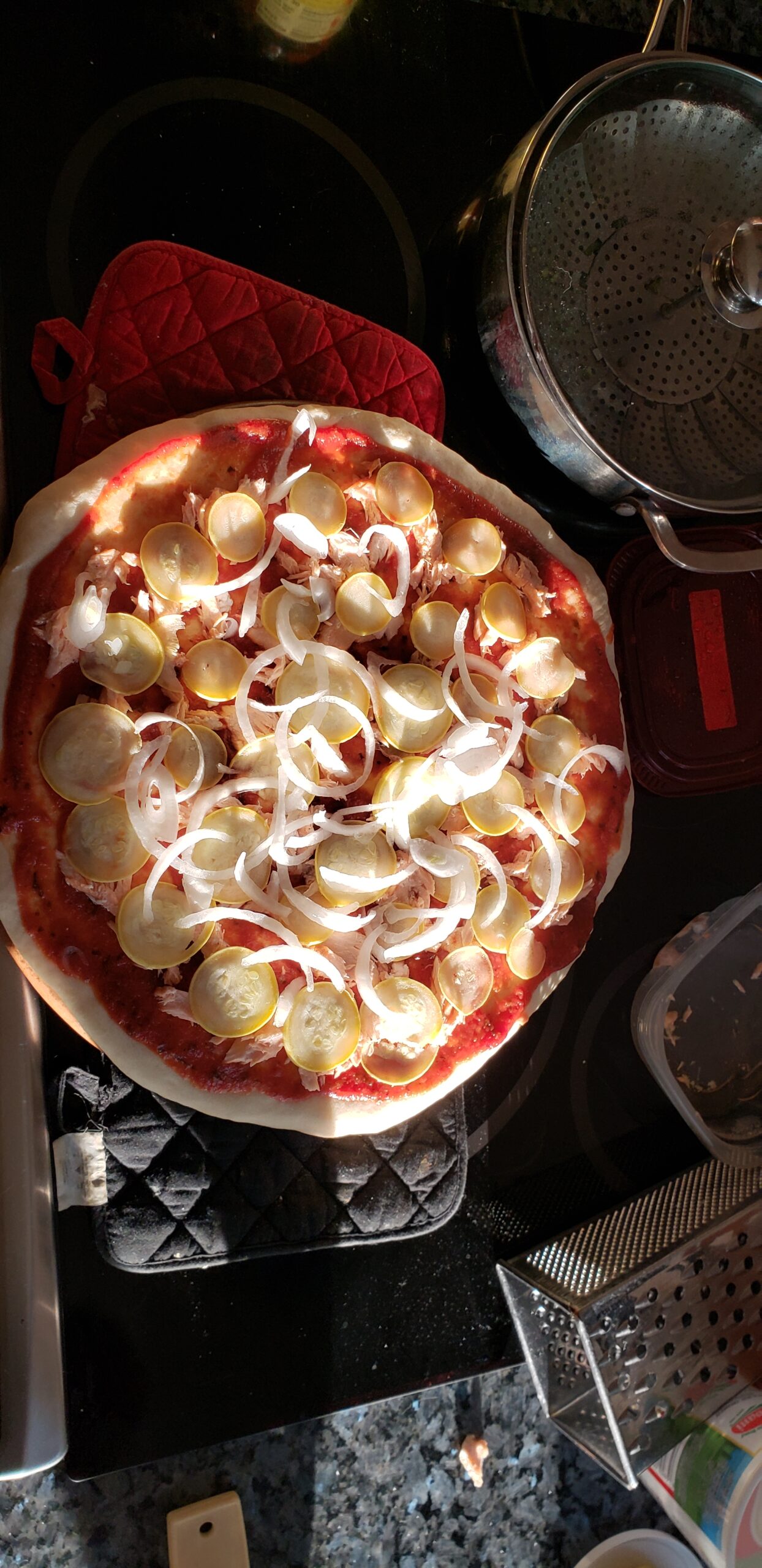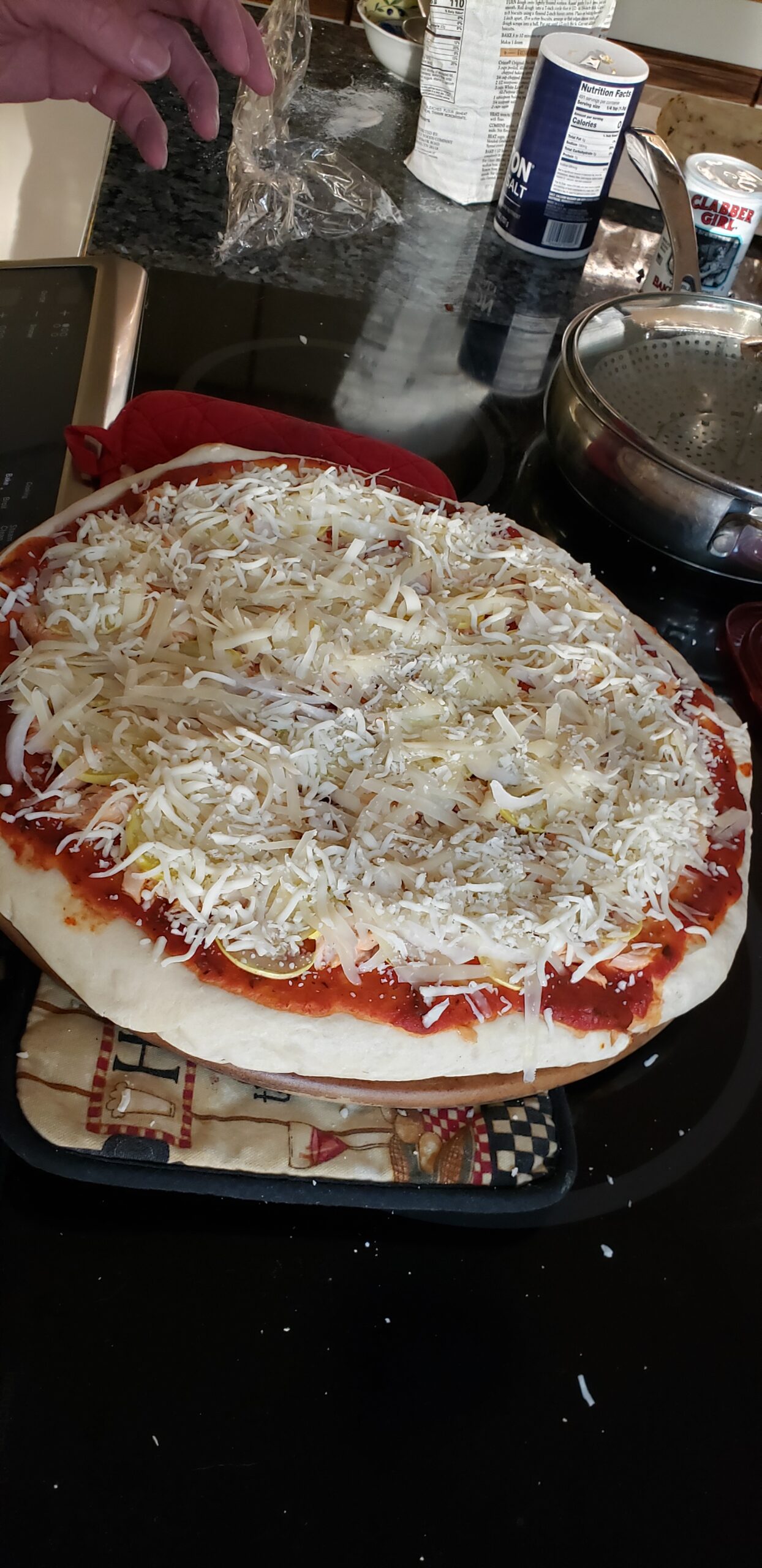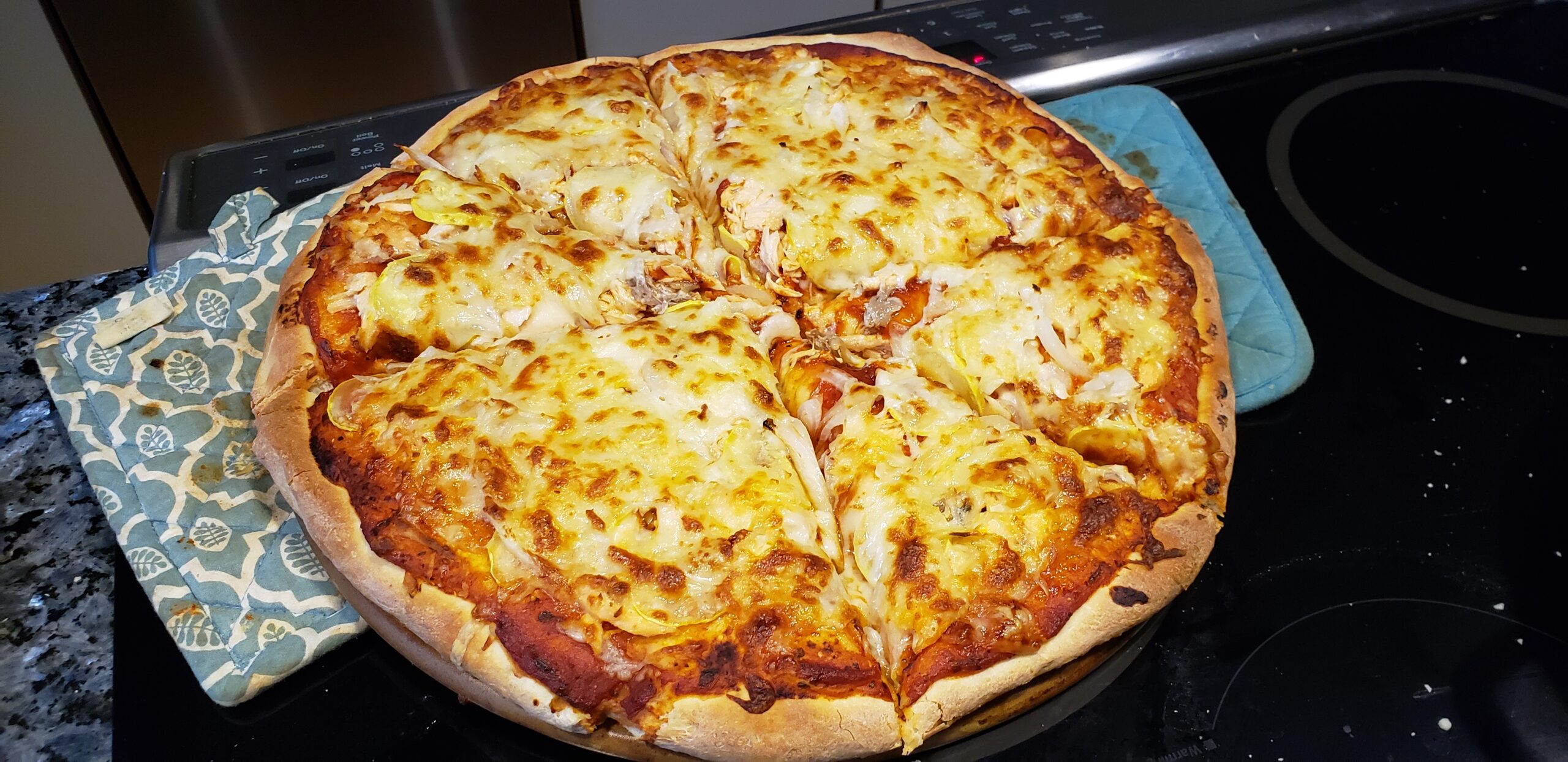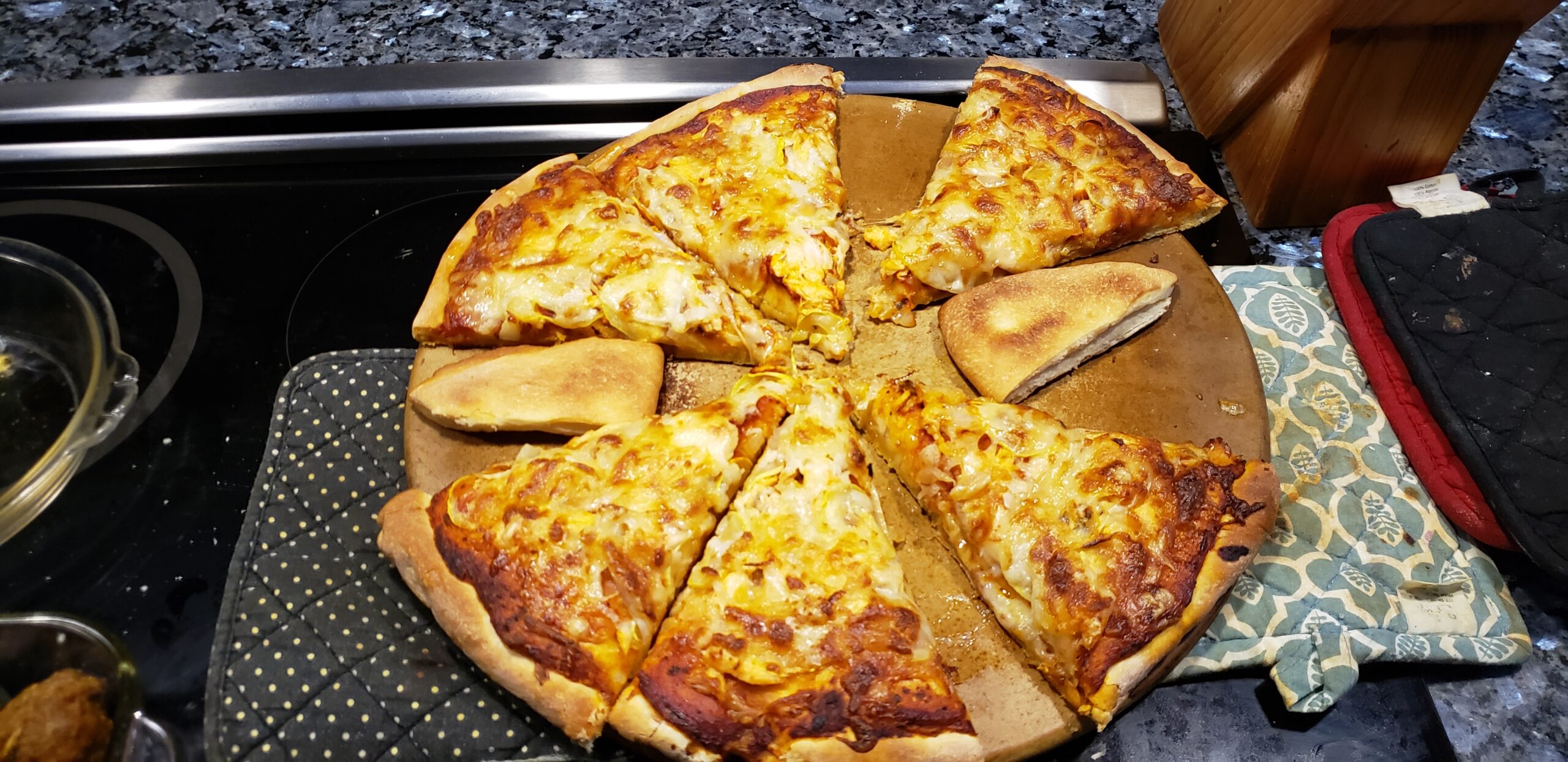 Theresa again...
Turns out we all made pizza last night! Nick, Eric made calzones, Lorraine made pizza too !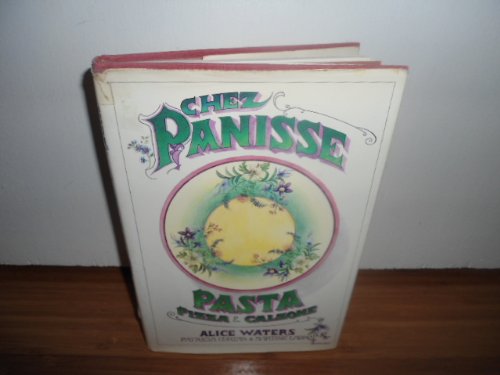 The best Calzone I've ever eaten I had at Alice Water's Chez Panisse. On my first visit to her restaurant was on a business trip and happened to have an evening free. Unable to secure a reservation in the main dining room on last notice I ate upstairs where they served a more casual fare of pizzas and calzones, maybe pasta too, I dn't remember. So taken by the wonderful taste of Alice's calzone, I asked if I could buy a cookbook. "Yes," to my greatest delight! I ordered one and when the waitress brought the book I asked if Alice happened to be in the kitchen. Again, yes! I asked if she might autograph it for me. A few minutes later there was Alice carrying another cookbook. I bought both. I have tried numerous times to make the Calzone recipe but it never, never, never comes out as good as the Alice-restaurant version. I use her pizza dough recipe when I have the time, it special.