The only pumpkin roll I have ever eaten is Susan's. Those first bites of yummy goodness reoccurs each holiday. I have never made a pumpkin roll but now that I have Susan's recipe I may try. There are many sweet roll desserts, my sister-in-law Bess shares that her mother makes a delicious chocolate roll. If you have cake roll recipes please send to [email protected]
Susan also mentions the tradition of broccoli with Hollandaise sauce. I love this family tradition and recall vividly my mother-in-law cooking up the Hollandaise in a double boiler (and always getting hard before we had a chance to serve). One year I discovered a blender version in Gourmet Magazine. From that time forward I/we made this easy recipe using a blender.
(See the recipe below)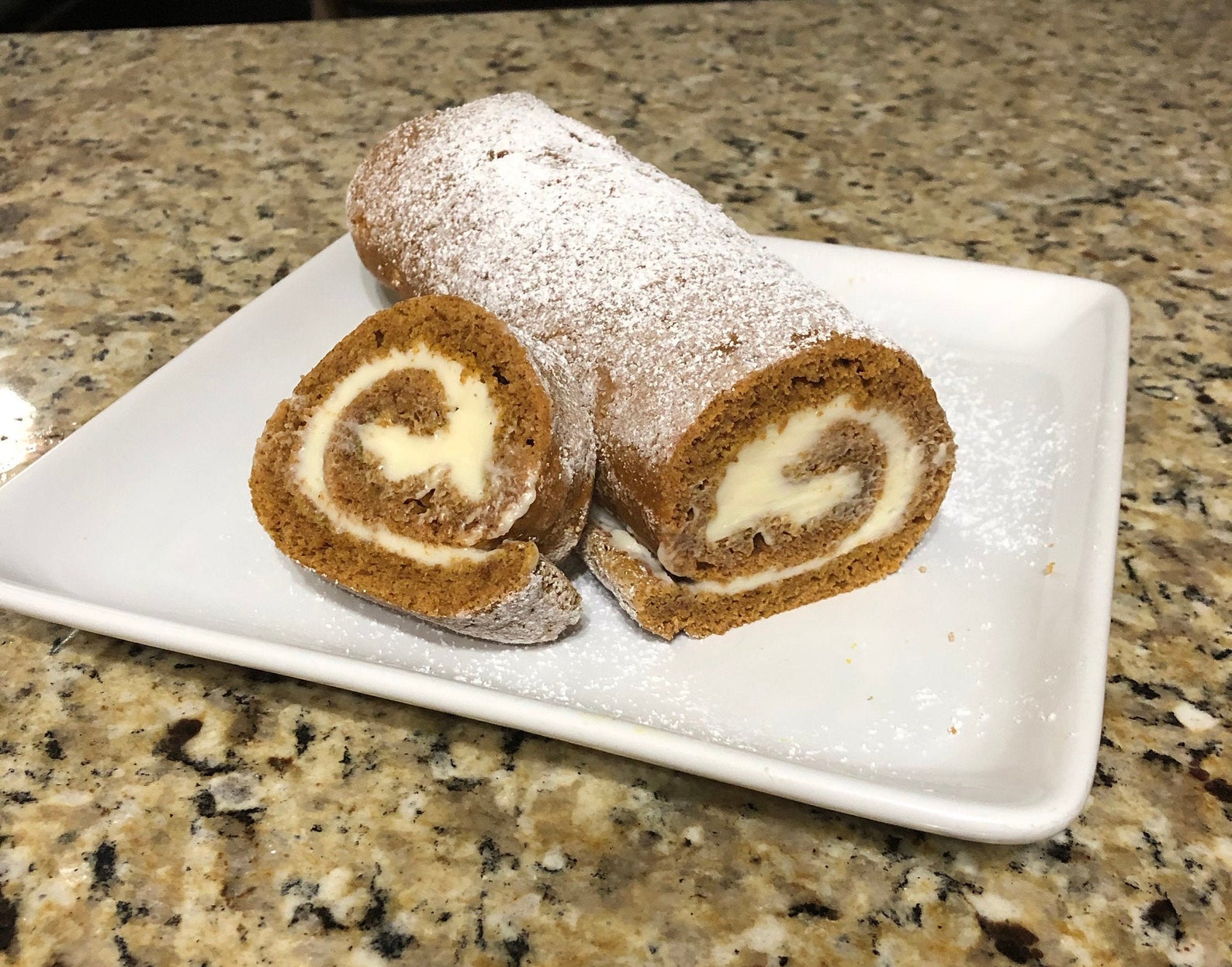 HELLEBUSCH PUMPKIN ROLL HISTORY by SusanHM...
So the pumpkin roll is not any family tradition in a true sense. It's a recipe that I got when we (Jo Ann & Susan )were catering all those years ago with Mardis & Meyer. They used to serve it and I love pumpkin so I got a copy (of a recipe) from them and started making it every year. I used to make it on Thanksgiving but then JoAnn started making pies on Thanksgiving so the pumpkin roll shifted to Christmas instead. And then Amber has made it a few times in recent years instead of me. I know she just uses the basic Libby's (recipe). I like the recipe from mine better but I don't turn down many pumpkin rolls. A traditional (holiday) recipe is Broccoli and Hollandaise sauce – used to be pretty much the only time of the year we had it, but I will say, that I make it occasionally now at other times, because my kids both actually like it. Getting Elizabeth to eat anything vegetable related is a challenge!
This isn't exact….but this one is very, very close.
(What I can't remember is if I double this….I do think I double the filling for sure.)
Pumpkin Roll
3 eggs
1 cup white sugar
⅔ cup pumpkin puree
1 teaspoon lemon juice
¾ cup all-purpose flour
2 teaspoons ground cinnamon
1 teaspoon ground nutmeg
1 teaspoon ground ginger
½ teaspoon salt
1 teaspoon baking powder
FILLING:
1 ½ cups confectioners' sugar
8 ounces cream cheese, softened
4 tablespoons butter, softened
½ teaspoon vanilla extract
Preheat oven to 350 degrees F. Grease a 15x18 inch pan, then lined with waxed paper and then
grease and flour again on top.
• Beat eggs with electric mixer for 2 1/2 minutes.
• Add sugar slowly while still beating. Beat for 3 1/2 minutes more.
• Fold in pumpkin and lemon juice.
• Mix together the flour, cinnamon, nutmeg, ginger, salt and baking powder. Fold into batter.
• Spread batter onto prepared pan.
• Bake for 15-18 minutes. Cake should spring lightly when touched.
• Remove from oven and allow to cool enough to handle.
• Remove cake from pan and invert on thin cotton towel lined with powdered sugar (not a
terrycloth towel)
• Remove the waxed paper
• Roll up the cake by rolling towel inside cake and place seam-side down to completely cool.
• Prepare the filling by blending together the sugar, cream cheese, butter and vanilla.
• When the cake is completely cooled, unroll cake, remove towel and spread with cream
cheese filling, and roll up again without the towel.
• Wrap with plastic wrap. Refrigerate until ready to serve.
• Sprinkle with confectioner's sugar and slice into 12-15 servings.
BLENDER HOLLANDAISE
Ingredients:
4 egg yolks
1/4 teaspoon Dijon mustard
1 & 1/2 tablespoons fresh lemon juice
1/2 cup butter melted (not but not boiling)
Instructions:
Place the egg yolks, mustard and lemon juice in a blender Cover, and blend for about 10-15 seconds.
Next set the blender on high speed, and slowly pour the 1/2 of your butter into the egg yolk mixture in a thin stream. Make sure the butter is hot.
Check and make sure mixture is smooth and combined and not separating. Continue adding in the rest of your butter.