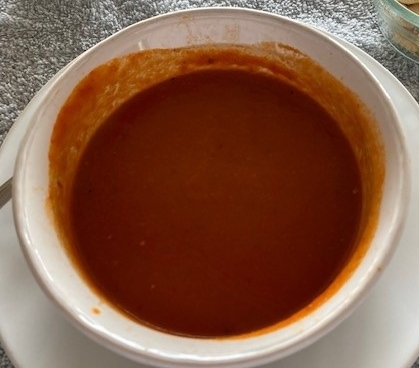 One 28-0unce can of whole peeled tomato, drained (reserve juice)
One small white onion, coarsely chopped
Two gloves of garlic, sliced
1/4 cup olive oil
On a large sheet place chopped onions, sliced garlic and whole tomatoes. Coat all with olive oil. Bake in preheated 350 degree F oven for 45 minutes. Turn vegetables once or twice during baking. Be careful not to brown, you want softened onions and garlic and ruby red tomatoes. Remove from oven, sprinkle with salt and pepper and cool slightly.
To finish soup transfer baked vegetables to blender or food processor, adding reserved tomato juice to thin soup to desired consistency. Serve with a drizzle of olive oil or pesto (OPTIONAL). This soup is wonderful made ahead and heated for lunch.