Thieneman Family Sugar Cookies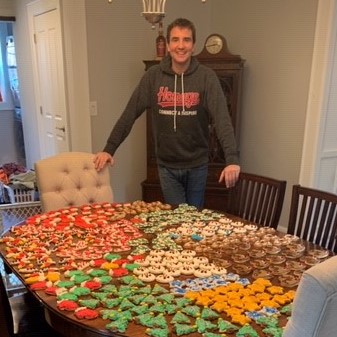 Michael's cookie prep 2019
Mary Sue, daughter of Dominic, kindly shares their holiday cookie recipe. Ironically the recipe is from Mary Sue's mother's family. Grandma Thieneman's SUGAR COOKIE recipe is wonderful! The tradition continues in the family with her son, Michael, pictured left. See the recipe below, a little worn but DELICIOUS. I am making a batch this year (2019) for the first time. I'm sure it will become a family favorite.
2023 UPDATE: This year I made a full recipe the week after Thanksgiving. I divided the dough into 12 portions and froze them in a plastic bag. When I have time I pull out one or two small dough balls and I make a dozen or two cookies. In this way I am not overwhelmed with cookie making.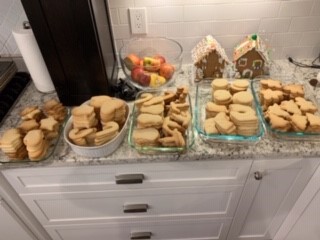 Michael's stash ready for decorating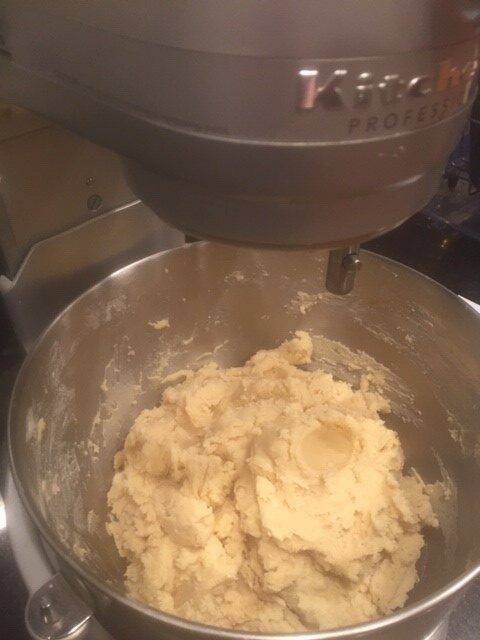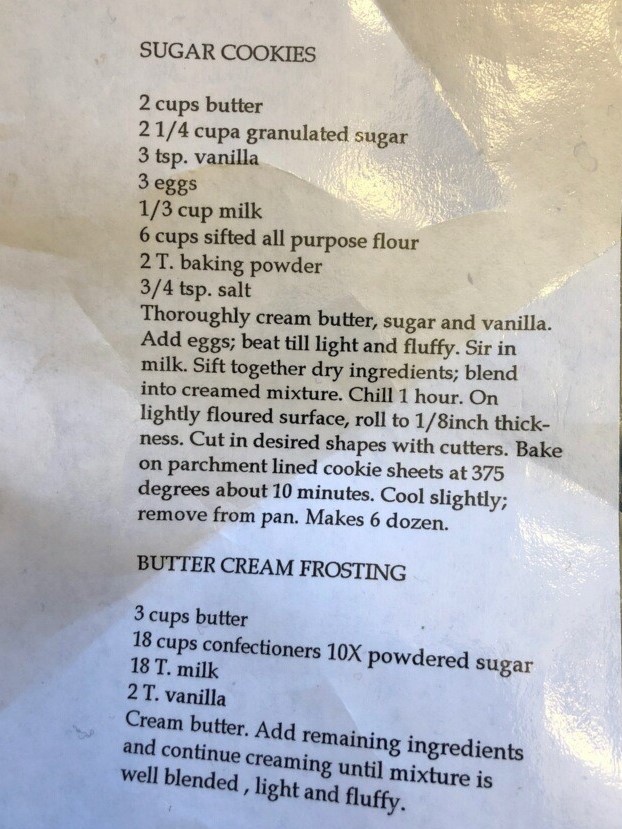 This recipe makes a monster mix of dough! Mary Sue's grandmother had 9 children, so I guess that's why this recipe is HUGE! I mixed all the ingredients in the Kitchen Aide mixer and finished off by hand (wearing gloves). I split the dough into four portions to refrigerate. This recipe made a lot of cookies.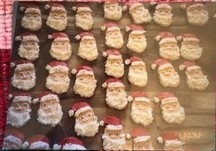 FOLLOW UP NOTE FROM MARY SUE:
Omg! I'm so sorry.
One batch is actually 3 small batches. I have made up to 1800 cookies. Over the years I have reduced the amount I make to about 750. This year (2019), I only made 4 batches.
I made them in Houston this year and Gina (Mary Sue's sister) and Jennifer (Mary Sue's daughter) helped.
Louis (Mary Sue's brother) usually helps. It takes us about 5 hours to icing all the cookies. No one is allowed a break!  The cookies must sit about 18-24 hours before you can stack them.