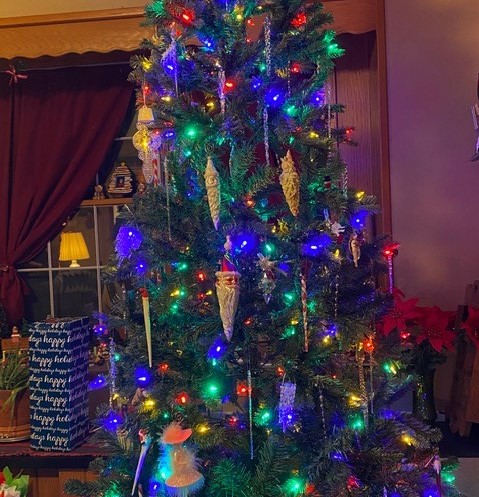 An Icicle Tree to Brighten this Covid Christmas!
The start of a joke turns out to be a budding tradition! While a tradition, as we know, takes about three generations to take hold, Jim's Icicle Tree has the potential to be an annual family ritual. The story begins with Jim purchasing a 1000 plastic glow-in-the-dark icicles one Christmas many, many years ago. When the icicles arrived everyone just laughed at the poor quality of the trinkets and the imagined glowing-icicle tree never materialized.
The story, repeating many time to lots of laughs, gave Jim's brother, Steve, and sister-in-law (me) an idea. The next Christmas, we thought it would be cute to buy a pretty icicle for Jim as a gift, a small tongue-in-cheek gift. He seemed to really appreciate the thought. So from that holiday on we would watch for a unique icicle for Jim as a special gift to replace his plastic 1000. From that Christmas on (circa 1990), we would always look for unique icicles in our business and personal travels. More than thirty holidays later, this year Jim's family (I think his daughters and a few grandkids), erected a special tree with just his icicles. Who knew a tree could be so enchanting. While most all the icicles are lovely, this year the icicle gifted reflected this Covid Christmas. I am told those three wood-like boop drops were hung on the back of the tree! Hopefully, there will be many more beautiful icicles in Jim's future.