My grandchildren's favorite Summer Sunday Breakfast
Easy To Cook Breakfast & Brunch Recipes
(Edited Daily Memories and Menus from original Delicious Memories)
     Everyone looks forward to weekend to relax and enjoy activities with family and friends. Whether at the turn of the century or today, weekend eating patterns and activities remain generally the same across the country. During the early 20th century the 40-hour work week became a standard. My grandparents worked on Saturdays but after World War II most people were off on both Saturday and Sundays. I recall a brief period when my father worked a half day on Saturdays, but eventually that half day disappeared. Most people in my family had regular jobs with the luxury of the weekends free. The exceptions were family members involved in the restaurant business.
My great aunt Dorina with two of her cousins, Albert and Ferd, opened a restaurant in Louisville in 1959. I have warm, wonderful and delicious memories of the Casa Grisanti. On weekend visits to family in Louisville we frequently had dinner at the restaurant. My grandparents would reserve the private dinning room for our family for the evening. Soon after their opening, on our first visit, there was a grand tour. A cocktail lounge, a large dining room, with a mural of Gromingnana Italy throughout painted by Ferd's wife, Joan. And a big, spanking-clean kitchen where we found Aunt Dorina hard at work preparing fresh ravioli by hand.
Along with all my cousins, I'd order a kiddie cocktail followed by those perfect pillows of flavor, topped with meat sauce. Sides included Italian bread, salad, potato torta and chocolate torta for dessert. The ravioli will always be my most delicious memory. There would be other Grisanti restaurants to follow and, later, my Uncle Dominic and Aunt Bernice opened their restaurant, Trattoria Mattei, and then another called Becco (Uncle Dominc's nickname). Through the following decades there  was always a place to find delicious, Italian-flavored food at these family establishments.
While my Mother's family lived in Louisville and we'd visit often, most family weekends were spent in the Cincinnati area where my father's family resided. Weekend memories revolved around families coming together to relax and chat. As the older generation passed on, my parents developed friendships outside their close-knit family circle. Outside of the fact that they spoke two languages they were much more like their friends than  older family members. When they were in high school, weekends were spent hanging out, often downtown in their respective cities, going to the movies, arcades, parks. In Cincinnati Coney Island was a big attraction in the summer. There were local ice cream parlors, Graeter's and UDF were favorites, and casual dining restaurants, like Fritsch's Big Boy, to enjoy an inexpensive hamburger. These were all part of my life too growing up in Reading OH.
My high school years were a whirl wind of fun and the weekends were the best part. Friday night was usually spent at Moeller football and basketball games. Saturday was the night to cruise around the carry-out lot at Fritsch's. Never finding many boys interested in talking with a carload of giggly girls, we generally finished off the evening with a full meal of Big Boy, French fries, coke and, in season, we'd all split a piece of strawberry or pumpkin pie. Out of season there were hot fudge sundaes, malts and shakes to enjoy. Later in high school, when we could get away with fake IDs, or had finally turned 18, we'd cruise the street around University of Cincinnati often stopping at the local bars in Clifton to listens to deafening rock music and drink 3-2 beer. Skyline Chili became a favorite end-of-the-evening stop to munch down Cheese Coney's or a Three Way. Those weekends were some of the most delicious memories of my life.
Weekend routines remain relatively unchanged except many of us are starting to wonder how we will age if we continue our weekend eating habits. Will we be able to walk without a walker through our seventies, eighties and nineties? Will our minds remain sharp? Will we be able to get on the floor and play with our great-grandchildren as we do with our grand kids? We know our diet plays a key role in whether we'll live out a quality life. We have experienced how weight and different foods effect our mobility and moods.
I have my daily eating patterns under control, but weekends are my biggest challenge! Even when I have a great week of eating right and exercising, a bad weekend indulgence can undo all my efforts. Controlling weekend feasting is difficult as I enjoy all the delicious foods of my past. How can I figure out a way to continue to enjoy pizza, fast foods and all the wonderful tastes I've come to love without destroying the quality of my lives going forward? Sharing ideas through this website might help solve this dilemma.
Weekend are made to create delicious memories.
There must be a way to have my cake and eat it too!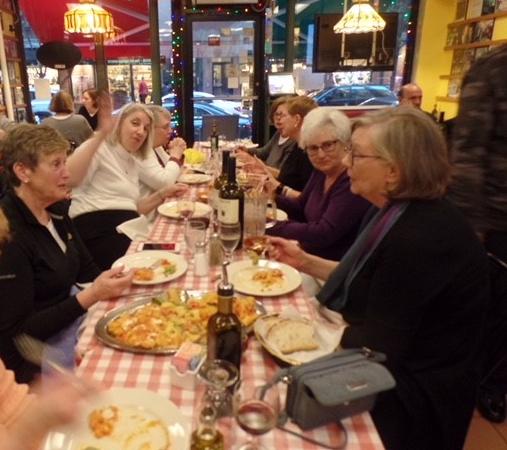 Me, center left, with high school friends in
Little Italy, NYC enjoying too much wine and food.
MND class trip redo as part of our 50th reunion celebration
Spring, 2018 
(Weekend Menus from original Delicious Memories plus updates)